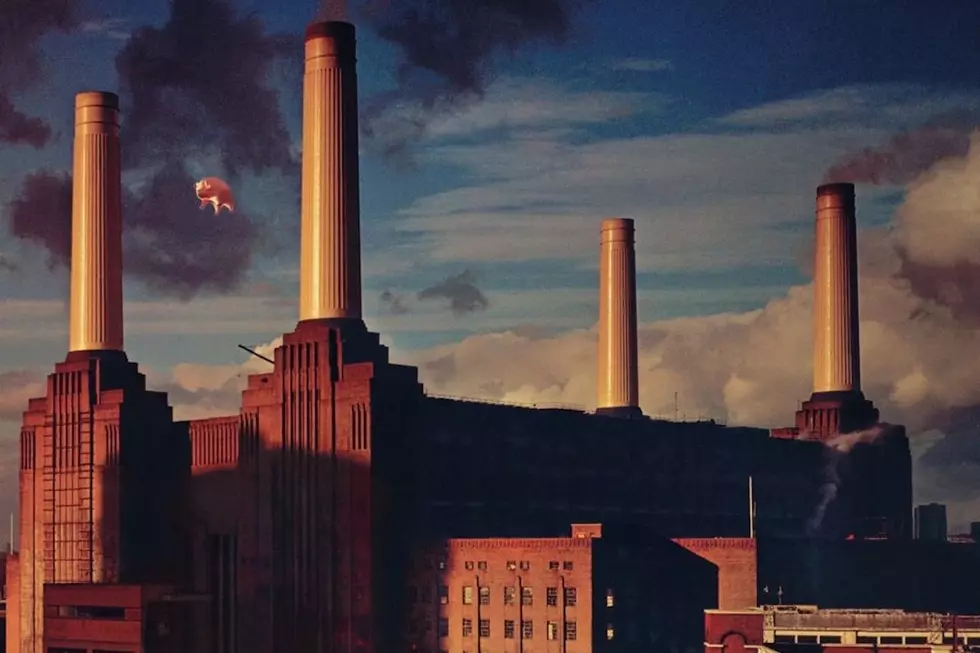 How Pink Floyd's Muscular, Political 'Animals' Changed Everything
Columbia
Pink Floyd reached a career crossroads with Animals, a hard-eyed rebuke of greed and the power structure driven by Roger Waters' quickly awakening muse.
David Gilmour had only one co-writing credit, while Richard Wright receded almost completely into the background. Waters also took a more dominant role at the mic, as he dove into a savage theme straight out of George Orwell's Animal Farm.
Gone were the glacial musical explorations that had dominated albums like 1975's Wish You Were Here, or the shared vocals by Gilmour and Wright that propelled the band to new heights on 1973's The Dark Side of the Moon. Instead, Animals arrived on Jan. 23, 1977, as Pink Floyd's hardest-rocking, most visceral project.
"It is a very violent album," Waters conceded in an interview with Capitol Radio in 1977. "They're quite violent songs, so I think that's why the music is a bit punchier." Gilmour, in a separate interview, agreed that "there's not a lot of sweet sing-along stuff on it."
Perceived at the time as a push back against the emerging punk ethos, Animals actually grew out of two pieces that had been part of the Pink Floyd repertoire for some time. "Sheep" was an update of "Raving and Drooling," while "Dogs" had been reworked from "You Gotta Be Crazy." Waters completed the album by refashioning these existing songs into an agreed-upon new theme pairing dark human emotions with everyday animals, and then creating companion pieces to round out the project.
"I've had the idea of Animals in the back of mind for many years – many years," Waters told Capitol Radio. "It's a kind of old chestnut, really. Sometime in the middle of the recording, it seemed like the right thing to tie it all together. It gave me the lead to rewrite the lyrics. [Before then] 'Raving and Drooling' was just another shout, but it was a rather incoherent shout of abuse – in the way that 'Pigs' is a fairly compassionate scream of abuse, if you can scream abuse in a passionate way, just by virtue of the last lines."
Along the way, however, Gilmour and – to a much larger degree – Wright began to find themselves shut out. "By now Roger was in full flow with the ideas," fellow co-founder Nick Mason told Mojo in 1994. "But he was also really keeping Dave down, and frustrating him deliberately."
Animals helped Pink Floyd again reach the U.S. and U.K. Top 5; again, they went multi-platinum. But the band's delicate alchemy had changed. Waters took to arriving at the venues alone, departing as soon as each performance was over. "That was the first one I didn't write anything for," Wright told Nicholas Schaffner for the book Saucerful of Secrets. "And it was the first album, for me, where the group was losing its unity as well. That's when it was beginning where Roger wanted to do everything. There are certain bits of music that I quite like, but it's not my favorite album of the Floyd."
Listen to Pink Floyd Perform 'Dogs'
Gilmour's contributions were not insignificant: "Ninety percent of the song 'Dogs' was mine," he told Mojo in 2008. "That song was almost the whole of one side, so that's half of Animals." Still, there was no getting around the band's foundational changes.
Waters was closing himself off from the others, as Wright – dealing with a crumbling marriage – struggled with writer's block. "I like my playing on the album, but it wasn't a fun record to make. Compared to, say, Wish You Were Here, where we were really pulling together as a band – we had our disagreements but it was still a nice creative process – Animals was a slog," Wright told Mark Blake in 1996.
The seeds of didactic fare like 1983's The Final Cut, to say nothing of the demise of this group's best-known lineup, can be found in "Pigs (Three Different Ones)" as Waters takes a political tack that would dominate Pink Floyd's output for the rest of his tenure. Themes more fully explored on 1979's The Wall take root on "Sheep," a song that traces the line between government and religious oppression.
That said, by all accounts Animals featured a few final flourishes of studio camaraderie. With looming issues still over the far horizon, Pink Floyd took part in a bit of their heralded earlier experiments.
On "Sheep," Gilmour suggested cross-fading a synth note with Waters' vocal – "just to make a strange effect," Gilmour told the Source in 1984, "and it worked." Similarly, Gilmour took over bass on that track, so that Waters could play a favored rhythm part. Barking canines on "Dogs" morph into a keyboard solo by Wright.
Waters apparently attempted to lightened things up, bookending the project with two parts of an acoustic song called "Pigs on the Wing," dedicated to his former wife Carolyne. "I thought it was very necessary," Waters told Capitol Radio, "otherwise the album would have been a kind of rage."
Yet, the song-ending image of a stone that drags down the gluttonous businessman during "Dogs" tends to resonate the most, decades later. As Waters' vocals became more prominent, his work became more personal. Pink Floyd transformed from a collective effort into a vehicle for Waters' narratives, with this album as the fulcrum.
"Animals was, in a way, the beginning of the departure of me from the Floyd," Wright told the Source. In fact, by the time The Wall arrived, Wright had been ousted; he wouldn't return as a full-time member until 1994's The Division Bell. The latter was the second of three career-closing Pink Floyd albums without Waters, as Gilmour, Mason and Wright regrouped to carry on without their former bandmate.
Eventually, they began to view projects like Animals in a much different light. "Roger conducted a long and deliberate campaign to try and insure that he did all the writing," Gilmour told Creem in 1988. "For a long time, he effectively attempted to demoralize everyone else around him, for some strange reason of his own. I don't think it worked: The more it became all Roger, the less really interesting it became."
Rock's Ugliest Band Breakups
Ugly band breakups are a sad fact of life in the world of classic rock – along with death, taxes, hair loss and yes, profitable reunion tours.
When Alice Cooper Got Stoned with Pink Floyd
More From Ultimate Classic Rock