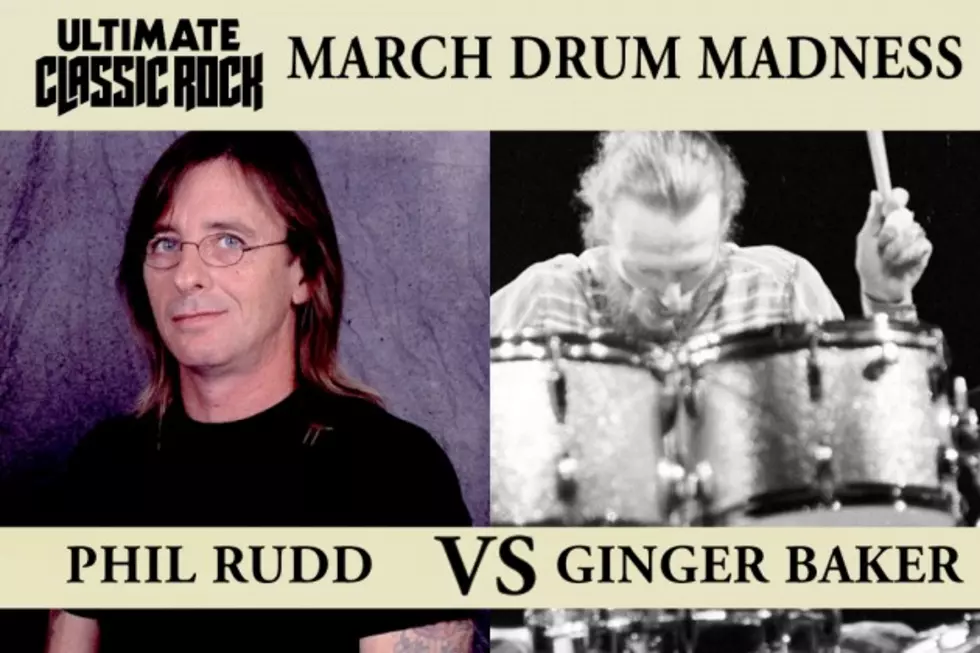 Phil Rudd Vs. Ginger Baker: March Drum Madness
Atlantic Records / Michael Ochs Archives, Getty Images
We've placed 32 of the most famous drummers in classic rock history into our March Drum Madness bracket. Over the coming weeks, their ranks will be cut in half in each of five rounds until we arrive at your choice for the greatest rock drummer of all time.
Rudd joined AC/DC in 1975 and quickly established himself as the master of no-frills drumming. His minimalist approach put him in lock-step with the bassist (first Mark Evans, then Cliff Williams) and created space for Angus Young's trademark riffs, as evidenced on such classics as "Back in Black," You Shook Me All Night Long" and "Highway to Hell." Baker took the opposite approach. With Cream, he used his jazz influence to expand the language of rock drumming on "Crossroads" "White Room" and even added African tom-tom work on "Sunshine of Your Love."
So who's going to make it to the round of 16? You can vote once per hour in each of our opening March Drum Madness battles until the first round closes on March 23 at 11:59PM ET. The ultimate winner will be revealed on April 7.
See AC/DC and Other Rockers in the Top 100 Albums of the '80s