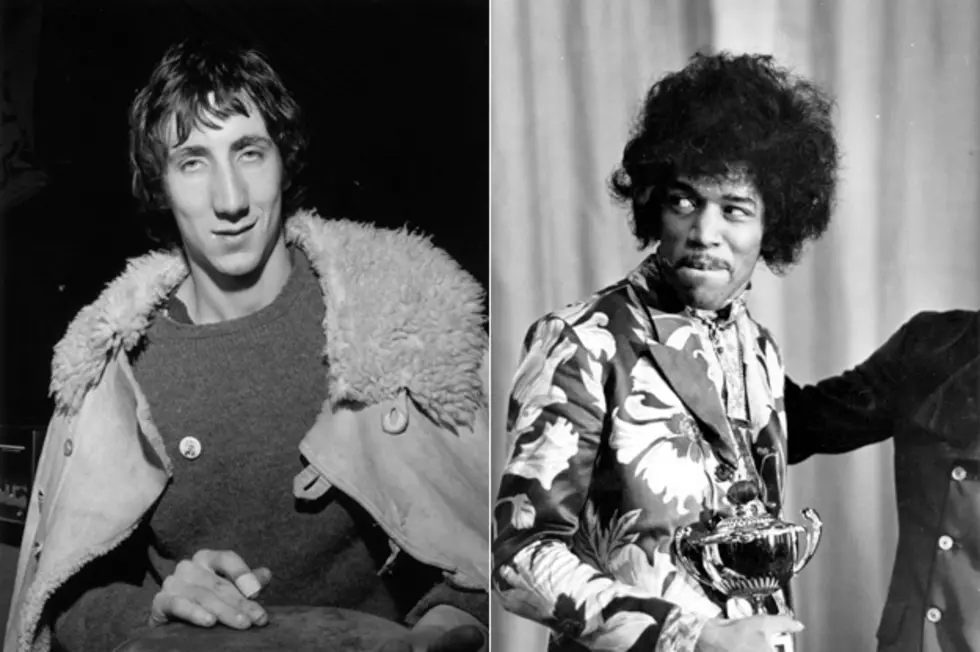 Pete Townshend Recalls Negotiating with Jimi Hendrix at the Monterey Pop Festival
Lou Adler's legendary 'Monterey Pop' festival is the subject of a brand new coffee table book release called 'A Perfect Haze,' which features a foreword by Adler, and personal recollections from a number of performers who appeared at the event, which occurred prior to Woodstock in June of 1967.
The performance by Jimi Hendrix was unquestionably a highlight of the event (and man, don't we wish we had a time travel machine to go back for that) and recalling that weekend, Pete Townshend of the Who set the record straight on the supposed "jam" that he shared with Jimi.
Townshend says "I've heard Roger talk about it as a jam session, but it wasn't a jam session. It was just Jimi on a chair playing at me. Playing at me like 'Don't f—k with me, you little sh-t.'" (Townshend's comments previously appeared in 'The History of Rock and Roll' documentary.)
The musical quarrel came down to Townshend's insecurity over The Who playing after Jimi Hendrix at Monterey, a gig that he considered to be a "critical concert." Attempting to negotiate with Jimi didn't go well, as Hendrix said "that's not what you really mean. What you really mean is that you don't want me to go first. You want to be first up there with the guitar smashing," to which Townshend replied "Jimi, I swear, that's not what it's about."
In the end, the discussion cooled down and Hendrix suggested a coin toss to determine who would go first and The Who came out on the winning side of that toss.
Watching Hendrix's performance later from the crowd with Mama Cass, she told Townshend, "he's stealing your act" and Townshend said "no, he's not stealing my act – he's doing my act." Explaining further, Townshend says "for me, it was an act and for him, it was something else. It was an extension of what he was doing."
The Who will revisit their classic 'Quadrophenia' album with a definitive "Super Deluxe" box set that will be released on Nov. 15.
More From Ultimate Classic Rock