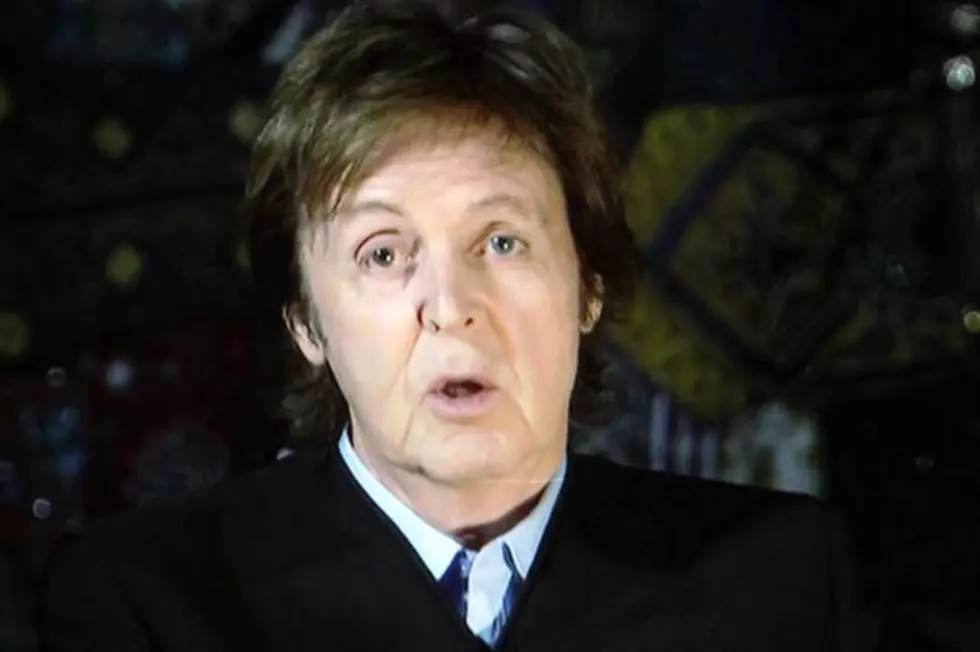 Paul McCartney Falls Victim to Phone Hacking
Phone hacking! It's all the rage in the media in 2011. After a phone hacking scandal toppled News of the World, one of the longest running and best-selling papers in England, forcing it to cease publishing when it was revealed that reporters were hacking into the cell phones of celebrities and missing persons, Sir Paul McCartney has revealed that he, too, was a victim of an unrelated phone hacking.
The BBC reports that Macca will take the matter to the authorities upon his return to his native land, since he is currently touring in the US. His announcement to the US media that he may have been hacked comes hot on the heels of the news that his ex-wife Heather Mills accused a Mirror Group journalist of hacking into voicemails that the former Beatle left for her.
Apparently, in 2001, when McCartney and Mills were dating, they had a spat and he left her an apologetic message while she was in India. That message was compromised, as a Mirror Group Newspapers reporter phoned her upon her return, quoting the phone message verbatim. Nothing is sacred or private in the digital age, is it?
McCartney called the matter "a horrendous violation of privacy." That's putting it mildly, Paul. He revealed that once he returns to Britain, he will investigate the matter with police. "I don't know much about it because they won't tell anyone except the person themselves," McCartney said. "So I will be talking to them about that."
He also mused about the prevalence of hacking, saying that "I do think it has been going on for a long time and I do think more people than we know knew about it." Despite these comments, McCartney said he will wait to hear the facts before he comments further.
Earlier this week, Mills said that she accused the journalist who phoned her of hacking into her phone, to which they responded, "OK, OK, yeah we did hear it on your voice messages, I won't run it."
Former Mirror Group editor Piers Morgan has reportedly acknowledged having heard the message in question back in 2006. "At one stage, I was played a tape of a message Paul had left for Heather on her mobile phone," he wrote. "It was heartbreaking. The couple had clearly had a tiff, Heather had fled to India, and Paul was pleading with her to come back. He sounded lonely, miserable and desperate, and even sang 'We can work it out' into the phone."
However, in response to Mills' claims about being hacked, Morgan responded, "I have never hacked a phone, told anyone to hack a phone, nor to my knowledge published any story obtained from the hacking of a phone." Notice, that's not the same as saying he never listened to a message from someone who hacked into a phone.
What a mess. Damn hackers.
More From Ultimate Classic Rock