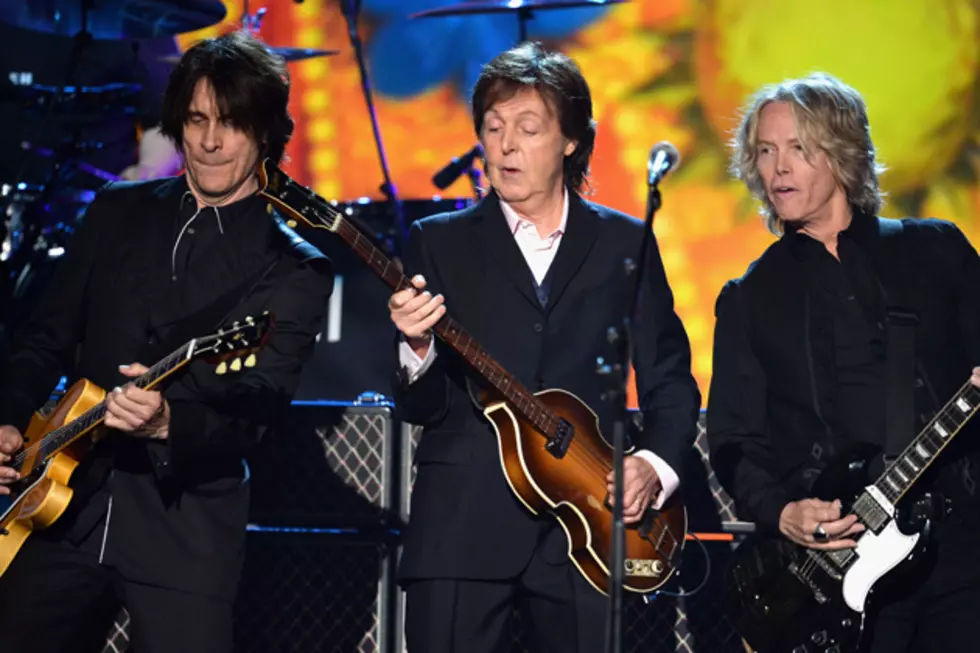 Paul McCartney: 'We're A Real Band'
Kevin Winter, Getty Images
The stretch of fine albums Paul McCartney has released in the last decade or so, which includes last year's 'New,' can possibly be attribute to having worked with the same musicians. In a new interview, he speaks highly of the four men who have comprised his touring band since 2002.
"I trust the guys," McCartney told KCSN. "They know what I'm going to do, I know what they are going to do. We surprise each other — and even if it's like, 'I didn't know you were going to do that,' we can all follow it. That's the great thing with a band. And all of us just come to play music. There's no other thing on the agenda. We just love playing together."
Something Else! notes that, with 12 years in his employ, Brian Ray, Rusty Anderson, Paul "Wix" Wickens and Abe Laboriel, Jr., have now played with McCartney for a longer period of time than the Beatles (1962-70) and Wings (which only had three constant members in its decade together). Wickens has been with McCartney since he returned to the road in 1989. McCartney admitted that the time they've spent together kind of snuck up on him.
"A couple of years ago, I kind of looked at them and said: 'You know what guys? We're a band. We're a real band,'" he continued. "I think up until then we'd just been thinking: 'We're getting together, and playing some songs.' But we're a band now — and that elevated our performance, I think. When we realized that, we sort of felt so much better about what we were doing."
More From Ultimate Classic Rock