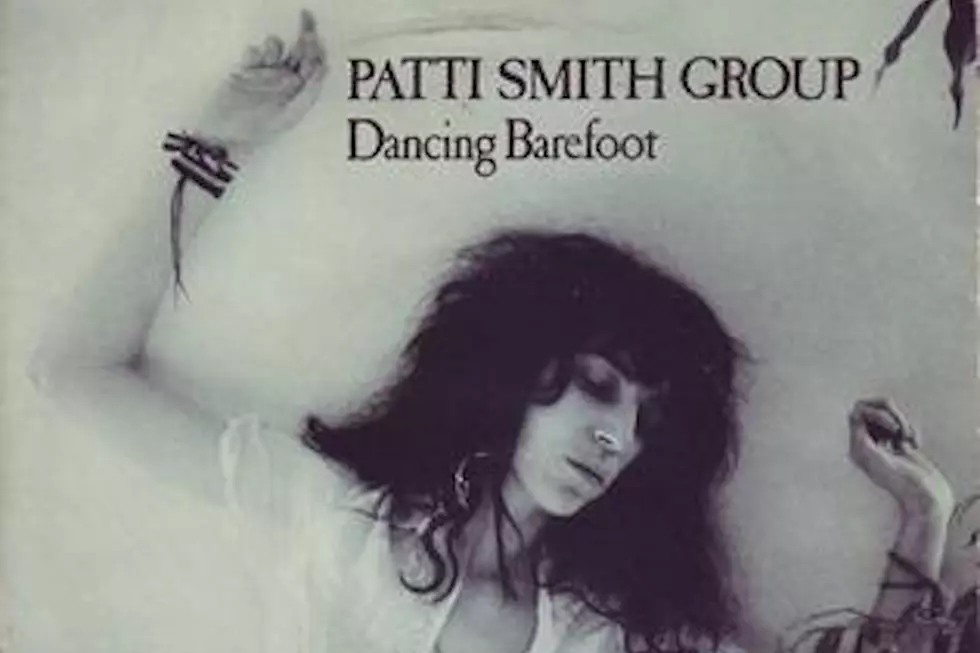 Why Patti Smith Pictured Jim Morrison Singing 'Dancing Barefoot'
Arista
Patti Smith's "Dancing Barefoot" begins with a description of a mystical woman: "She is benediction / She is addicted to thee / She is the root connection / She is connecting with he."
The song was designed to blur the lines between male and female power, an androgynous ode to the sexes and their relation to a higher power. "I had the concept to write a lyric line that would have several levels — the love of one human being for another and the love of one's creator," Smith said of her 1978 song. "So in a sense, the song addresses both physical and spiritual love. Truthfully, I always imagined Jim Morrison singing it, which resulted in me singing and recording it in a lower vocal register. I wanted the verse to have a masculine appeal and the chorus to have a feminine one."
The late Doors singer had long been a source of insight to Smith. "I went to see Jim Morrison in, like, '67 I think, and was sitting there thinking, I could do that," Smith told CBS in 2013. "I just felt this strange kinship. I mean, you have to figure — I was just a girl from South Jersey working in a bookstore. I don't why I thought that. It was a mystery to me. Of course, I admired [him] and still do."
"Dancing Barefoot" was co-written with Ivan Kral, who played guitar and bass for the Patti Smith Group. Kral had given Smith a cassette tape labeled "Rock and Reggae" that contained a few starter ideas; one was an acoustic guitar riff that formed the basis for "Dancing Barefoot." The song's bass line was written and played by producer Todd Rundgren
Listen to Patti Smith's 'Dancing Barefoot'
"I spin so ceaselessly," Smith sings. "Could it be he's taking over me?" The track was dedicated to Jeanne Hebuterne, a French painter and the common-law wife of the artist Amedeo Modigliani. The day after Modigliani died in 1920, Hebuterne threw herself out of a fifth-floor window, killing herself. She was buried alongside her husband, with an epitaph that reads, "Devoted companion to the extreme sacrifice." In "Dancing Barefoot," Smith concludes with an eerie mantra: "Oh, God, I fell for you."
In the song's chorus, Smith selected the word "heroine" as it pertained to the feminine version of "hero." She was asked to reconsider, particularly for American audiences. "It was suggested that I change the word 'heroine' and consult the thesaurus for a suitable replacement," she said. "I am happy with my decision to let it stand as written."
"Dancing Barefoot" was released as the second single from Smith's 1979 album, Wave, which would be the final album released by the Patti Smith Group. (Smith later recorded as a solo artist.)
In 1998, the song was featured on the soundtrack to Whatever, a coming-of-age movie about a New Jersey teen who yearns to be an art student in New York — a plot that vaguely mirrored Smith's life. In 2023, the song was featured in the beginning credits of Daisy Jones & the Six, a five-part miniseries on Amazon Prime about a Fleetwood Mac-like band "and their beautiful lead singer, revealing the mystery behind their infamous breakup."
Watch Patti Smith Perform 'Dancing Barefoot' Live in 1979
Top 100 '70s Rock Albums
From AC/DC to ZZ Top, from 'Bridge Over Troubled Water' to 'London Calling,' they're all here.
More From Ultimate Classic Rock