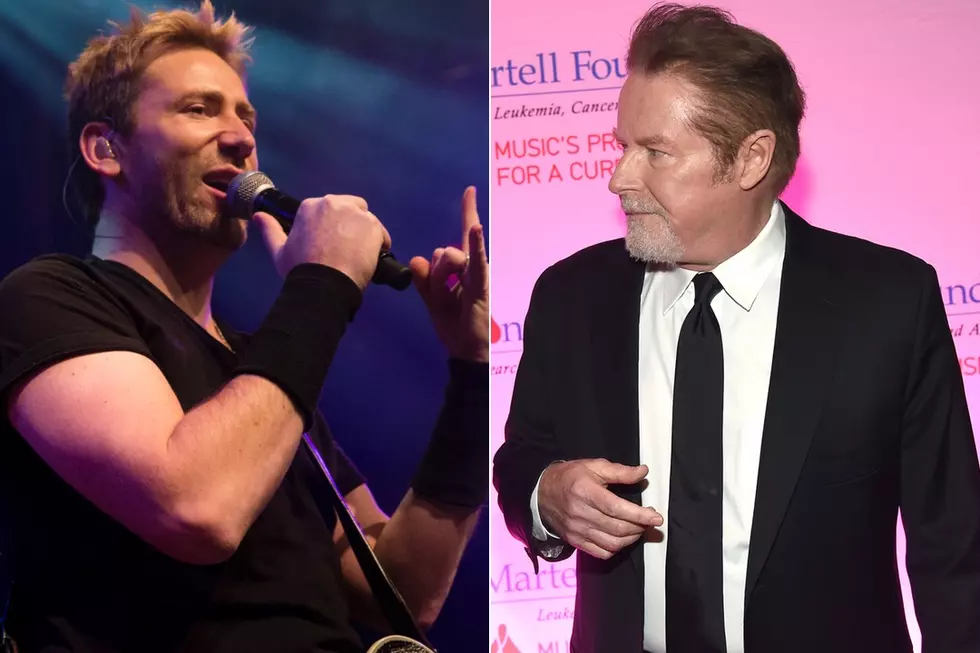 You May Now Listen to Nickelback's Cover of Don Henley's 'Dirty Laundry,' If You Wish
Mark Davis / Rick Diamond, Getty Images
The members of Nickelback blew off a little steam by recording a cover of Don Henley's "Dirty Laundry" during the sessions for their next album, and now they're sharing the results with fans.
"Sometimes you play a song in the studio for fun," explained the band on Twitter. "Sometimes it's so fun you have to record & share it with everyone!"
Nickelback's version of "Dirty Laundry" is now available through Spotify and Apple Music, and is being promoted as something of a teaser for the group's upcoming European tour, which is scheduled to begin Sept. 2 in Helsinki and continue through late October, when they wrap up their currently announced dates with an Oct. 25 show in Newcastle, England. The group also remains at work on its ninth studio album, which serves as the follow-up to 2014's No Fixed Address and is reportedly tentatively scheduled for early 2017.
It's a sweet tribute to Henley, but as his fans are well aware, it's anyone's guess as to how he'll react to the idea of the Canadian rock titans putting out a cover of his first major solo hit. In 2014, Okkervil River attempted a similar gesture toward the Eagles co-founder by recording a version of his "The End of the Innocence," only to reportedly be slapped with a cease-and-desist letter from Henley's legal team.
The track, initially part of a series of mixtapes released by the group, was ultimately taken down in response to what Okkervil River frontman Will Sheff referred to as "a real dick move."
See Don Henley and Other Rockers in the Top 100 Albums of the '80s
More From Ultimate Classic Rock