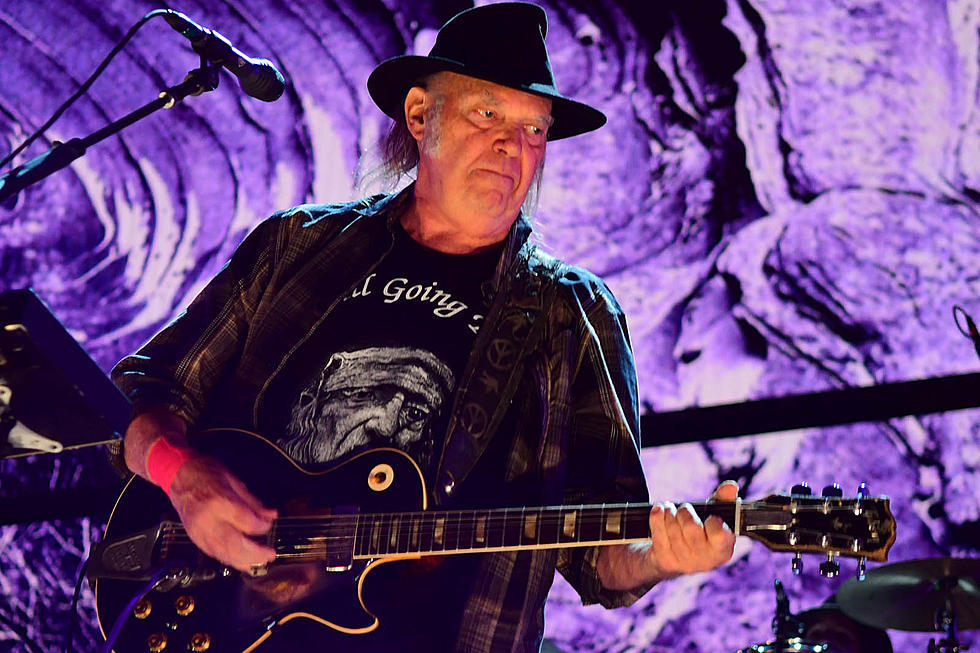 Neil Young Announces West Coast Acoustic Tour
Matt Kincaid, Getty Images
Neil Young has announced a solo acoustic tour of the West Coast that starts on July 1 in Los Angeles.
He unveiled the news on Zoom to paid Patron subscribers to the Neil Young Archives, noting that the tour will focus on songs he's never played live.
"I don't want to come back and do the same songs again," Young said [via Rolling Stone]. "I'll feel like I was on some sort of carnival ride. I'd rather be doing these other songs I haven't done. … I won't have to compare how I'm doing 'Heart of Gold' to [how I played it in] 1970, 1980, 1990, 2000, 2010, 2020."
According to Young, he's been rehearsing roughly 15 songs, including "Song X" from his 1995 album with Pearl Jam, Mirror Ball, "Prime of Life" from 1994's Sleeps With Angels and "If You Got Love," an outtake from 1982's Trans.
"I did a demo of ['If You Got Love'] a few years [after Trans] with a Synclavier, a drum machine, harmonica and some effects," Young explained. "I listened to it [recently], and it turned me on again. I'm now doing it with the organ and harmonica. It's pretty cool."
Young added that "they're not new songs. They're old songs. But I wake up with them in my head every morning. They are songs that apply to my life right now and apply to everyone's lives in this era that we're in. Some of them were written 10, 20, 30, 40 years ago but never really played live."
So far, 13 dates have been announced. In addition to the first four shows at John Anson Ford in Los Angeles, other dates include concerts in San Diego, Berkeley, California, and Auburn, Washington. You can see the list of dates below. Tickets go on sale June 14. According to a press release, more dates will follow.
The singer-songwriter has not toured since 2019, citing concerns about COVID-19, environmental damage and ticketing practices. He appeared briefly at the United for Old Growth Rally in British Columbia earlier this year; he also made appearances at Stephen Stills' Light Up the Blues charity show and Willie Nelson's 90th birthday concert.
Even though Young did not mention any specific locations for the upcoming tour, he noted that the run will begin with a four- or five-night residency at a "tiny, little unknown theater that's close to one of the most well-known theaters in the world" on the West Coast.
Neil Young Coastal Tour 2023
July 1 – Los Angeles, CA – John Anson Ford
July 2 – Los Angeles, CA – John Anson Ford
July 4 – Los Angeles, CA – John Anson Ford
July 5 – Los Angeles, CA – John Anson Ford
July 7 – Santa Barbara, CA – Santa Barbara Bowl
July 8 – Paso Robles, CA – Vina Robles Amphitheatre
July 11 – San Diego, CA – The Shell
July 13 – Los Angeles, CA – The Greek Theatre
July 15 – Berkeley, CA – The Greek
July 17 – Bend, OR – Hayden Homes Amphitheater
July 18 – Ridgefield, WA – RV Inn Style Resorts Amphitheater
July 20 – Auburn, WA – White River Amphitheatre
July 23 – Napa, CA – Oxbow RiverStage
2023 Rock Tour Preview
Reunions, farewells and long-awaited shows are on the horizon.
More From Ultimate Classic Rock