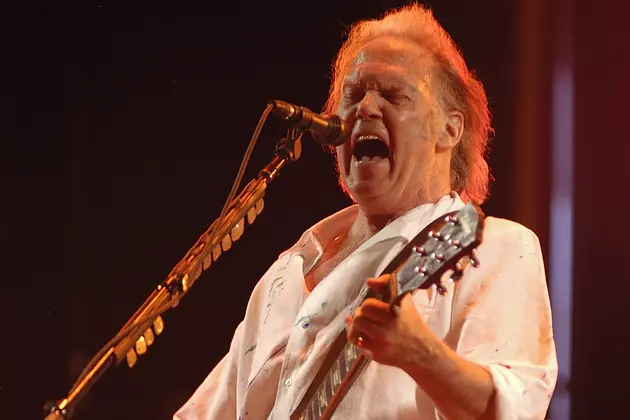 Neil Young Releases Details, Track Listing and Release Date for New Album, 'Earth'
Carlos Muina, Getty Images
Neil Young's new live set does more than reinterpret favorites from across his storied career. Earth, set for release on June 17, combines new concert readings with the Promise of the Real band along with ambient elements like car horns, insects and animal sounds.
"Ninety-eight uninterrupted minutes long, Earth flows as a collection of 13 songs from throughout my life, songs I have written about living here on our planet together," Young says in a press release announcing the album. "Our animal kingdom is well represented in the audience as well, and the animals, insects, birds and mammals actually take over the performances of the songs at times."
You can see the track listing, which traces back to 1970's After the Gold Rush through 2015's The Monsanto Years, below. There's also one previously unreleased song: "I Won't Quit." The Promise of the Real is fronted by Lukas Nelson and Micah Nelson, sons of country legend Willie Nelson. Their 2015 tour found Young performing solo and with the band in a full electric set.
Young will celebrate the release of Earth during an event on May 6 at Los Angeles' Natural History Museum. Included will be an opening talk in which Young will provide insights\ into the making the album, as well as the first public unveiling of Earth. The project will be presented in its entirety that night in Pono high-definition fidelity audio.
Young is also releasing restored versions of Human Highway, a post-apocalyptic 1982 musical comedy, and the concert film Rust Never Sleeps on June 10 in both DVD and Blu-ray formats. Both have been out of print for years.
Neil Young, 'Earth' Track Listing
"People Want to Hear About Love" (originally from The Monsanto Years)
"Big Box" (from The Monsanto Years)
"Mother Earth" (from Ragged Glory)
"The Monsanto Years" (from The Monsanto Years)
"I Won't Quit" (previously unreleased)
"Western Hero" (from Sleeps With Angels)
"Vampire Blues" (from On the Beach)
"Hippie Dream" (from Landing on Water)
"After The Gold Rush" (from After the Gold Rush)
"Wolf Moon" (from The Monsanto Years)
"Love & Only Love" (from Ragged Glory)
Neil Young Albums Ranked Worst to Best
More From Ultimate Classic Rock