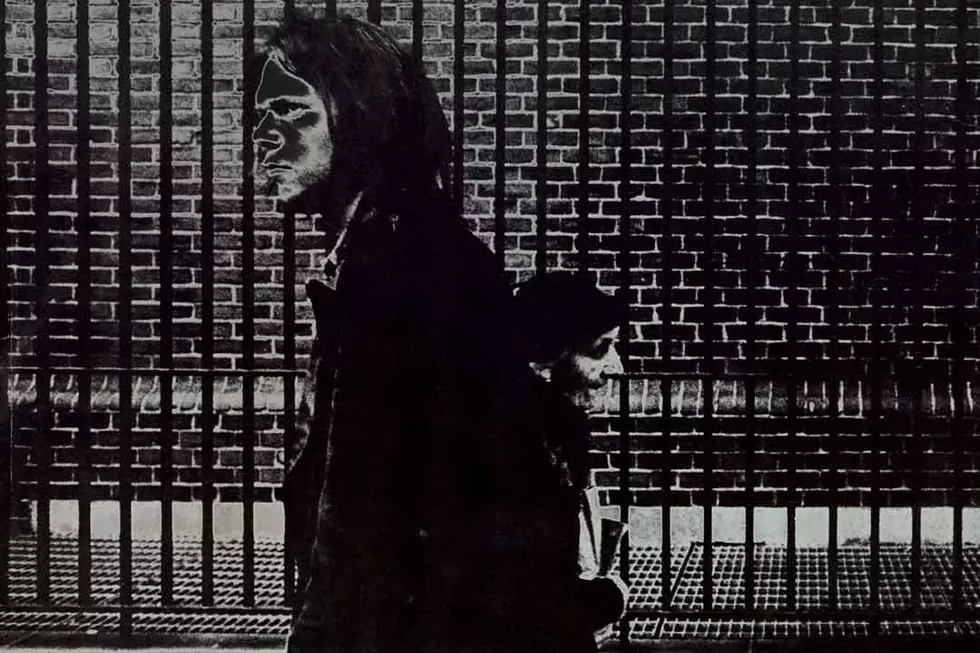 How Neil Young Turned 'After the Gold Rush' Into a '60s Requiem
Reprise
The '60s were barely over and the '70s just starting when Neil Young recorded a requiem for the era. The mournful title track to his third album, After the Gold Rush was ostensibly an ode to the environment, but viewed from other angles, deeper implications surface.
Released on Sept. 19, 1970, it's also the end of an early chapter in Young's career. After breaking from Buffalo Springfield and releasing his debut solo album in 1968, the singer-songwriter would begin what would become the first of many career left turns. On 1969's Everybody Knows This Is Nowhere, he plugged in and scraped away at the scabs with the young Crazy Horse.
But by the following year, when he was set to make a follow-up LP, he had fired them (but retained a few songs they had already laid down) and retreated to his basement in Topanga, Calif., where he started recording tracks for the follow-up record, a 360-degree turn into acoustic country and folk music with a group of musicians whose approach was a bit more delicate.
Rubbing against the plugged-in numbers left over from the Crazy Horse sessions, the new songs – which featured 18-year-old Nils Lofgren on guitar and piano, an instrument he was mostly unfamiliar with – helped create a ragged and almost disjointed record that's never quite sure if it's electric or acoustic, part of the '60s or part of the '70s.
And it's a brilliant juxtaposition, one that gives After the Gold Rush a feeling of frustration and resignation. It's a romantic album too – the soft "Only Love Can Break Your Heart" is a highlight – but the sting of "Southern Man," which immediately follows in the track listing, tempers the mood.
Listen to Neil Young's 'After the Gold Rush'
The entire album is like that: soft, hard. Quiet, loud. Acoustic, electric. It's almost as if Young was carrying around too many ideas – his first album with Crosby, Stills & Nash, Deja Vu, had only come out in March – and decided to pour them all out onto a 35-minute LP that serves as both a literal and metaphorical link between the abrasive Everybody Knows This Is Nowhere and the plaintive Harvest.
But more than any of this, After the Gold Rush puts an end to '60s idealism through a mix of songs that cut specifically – the meditative title track, a piano-driven ballad that ranks among Young's very best – and more abstractly (the album's opening cut, "Tell Me Why") into the deep, overriding sorrow that runs throughout the record. "Look at Mother Nature on the run in the 1970s," he sings on "After the Gold Rush," pretty much sealing a fate nine months into the new decade.
After the Gold Rush became Young's first Top 10 album, making it to No. 8 (he'd score his only No. 1 two years later with Harvest). Two singles were pulled from the record – the acoustic waltz "Only Love Can Break Your Heart" and "When You Dance I Can Really Love," recorded with Crazy Horse – but neither cracked the Top 30. It eventually sold more than two million copies.
And it remains one of Young's greatest works, a summation of his career up to that point and a sign of things to come. He'd explore the album's two opposing sides many times over the years, sometimes together (like on 1979's Rust Never Sleeps) but more often on separate projects that occasionally struggled to make sense of his whims and genre jumping.
Here, it all comes together to pay tribute to the era that helped define him.
The Albums That Almost Killed Their Careers
Even the biggest bands and solo stars can find themselves suddenly out of favor and plummeting down the charts.
The Best Crosby Stills Nash and Young Fight Stories
More From Ultimate Classic Rock