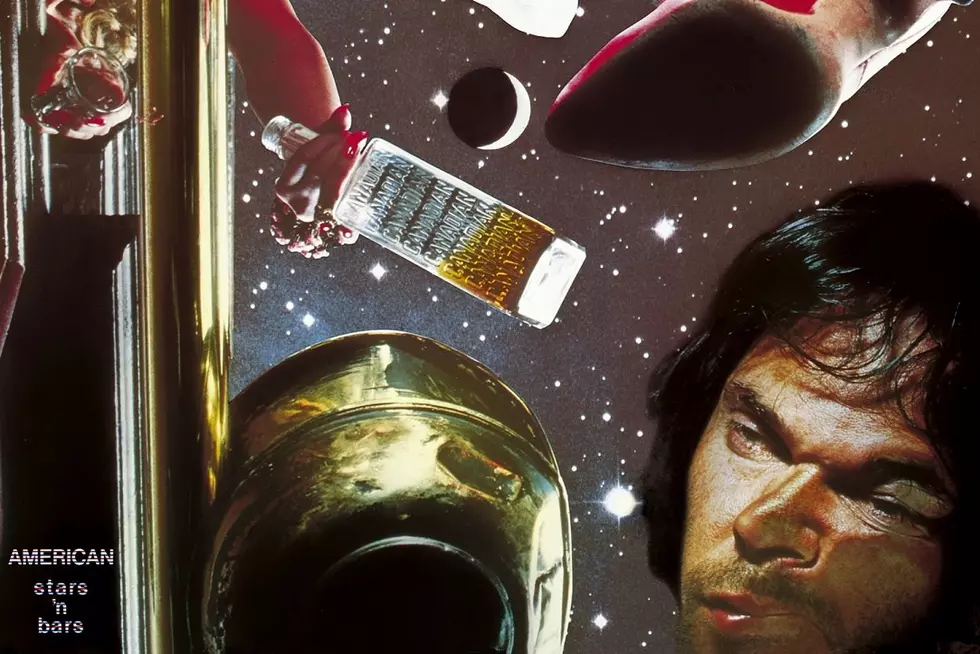 40 Years Ago: Neil Young Stitches Together 'American Stars 'n Bars'
Reprise
In the mid-'70s, Neil Young couldn't decide what to do. He'd record a full album, plan to release it and – at the last minute – shelve it in favor of something totally different (which is what happened in 1975 with the aborted Homegrown, which gave way to Tonight's the Night). These were years of hard drinking, hard living and, apparently, hard decisions. In late 1976, he made another hard decision.
While hanging out with Cameron Crowe, who was with Neil to write a Rolling Stone profile, Young abruptly changed his mind about Decade, a three-LP retrospective of his career, which also included some new material. Some 300,000 copies of the compilation were being pressed when Young began to have second thoughts.
"What if I just save Decade for a year, then put out a new album?" Young asked Crowe. "The new stuff sounds so good – I've got this song called 'Hurricane' that just soars – I think I'd feel better releasing something new. It's not time to look back yet."
Before long, record label head honchos were meeting with Neil at a tour stop to discuss delaying – but not ditching – Decade. He played Warner Bros. President Mo Ostin and Executive Vice President Ed Rosenblatt the album he wanted to put out first: something he was calling American Stars 'n Bars. He explained the title in the pages of Rolling Stone.
"One side is about American folk heroes and the other is about getting loose in bars," Young revealed. Ostin and Rosenblatt granted the singer-guitarist's wish to first focus on a new LP of original material.
But the material that the guys from Warner Bros. heard wasn't exactly what ended up on the final version of American Stars 'n Bars. In the run-up to releasing the album in the spring of 1977, Young changed course yet again, removing songs such as "Powderfinger," "Captain Kennedy" and "Sedan Delivery" from the record. (Instead, he offered them to Lynyrd Skynyrd, but that's another story.)
Listen to "Saddle Up the Palomino"
In place of those tunes, he quickly recorded a batch of new songs with Crazy Horse in April at his ranch in La Honda, California. Young was in a country mood at the time, which showed on twangy, shuffling songs like "Hey Babe" and "Saddle Up the Palomino." Adding some extra country flavor was Ben Keith with his pedal steel, as well as backing vocalists Linda Ronstadt and Nicolette Larson. Ronstadt would later recall being tricked into delivering a more rustic performance.
"Neil and his band were in an old barn and it was set up like a live gig with a P.A. and vocal monitors," she recalled, via engineer Richard Bosworth in Neil Young: Heart of Gold. When the day was over, Ronstadt commented on how good the songs sounded and that she looked forward to recording them. "Neil took us out back of the barn and there was a remote recording truck that unbeknownst to us had been recording us all day. And Neil said we were done."
But the five songs that came from those sessions only made up Side One of American Stars 'N Bars. For the second half of the album, Young decided to release some songs that had been kicking around a while. "Star of Bethlehem" – featuring Emmylou Harris – originated in the Harvest days, then was set for Homegrown, then Chrome Dreams, both of which went unreleased. "Homegrown," obviously, dated from its namesake LP, while "Hold Back the Tears" (on Side One) and "Will to Love" could have seen release on Chrome Dreams. The same goes for the song Young mentioned as the impetus for releasing American Stars 'n Bars: "Like a Hurricane."
Listen to "Like a Hurricane"
This most epic of Young's recorded works had its origins in the summer of '75, when the musician was recovering from throat surgery and couldn't talk or sing. According to Jimmy McDonough's biography, Shakey, the song's key line was inspired by an attractive woman that Neil saw when he was drinking with his buddies: "You are like a hurricane / There's calm in your eye."
"As was our habit between bars, we had stopped at Skeggs Point scenic lookout on Skyline Boulevard up on the mountain to do a few lines of coke," Young said in his book, Waging Heavy Peace. "I wrote 'Hurricane' right there. ... Then when I got home, I played the chords on this old Univox Stringman mounted in an old ornate pump-organ body set up in the living room. I played that damn thing through the night. I finished the melody in five minutes, but I was so jacked I couldn't stop playing."
"Like a Hurricane" turned into a swirling, "Runaway"-referencing epic when Young recorded the song with Crazy Horse in November '75. He took a different approach to another very long song, "Will to Love," in which Young imagines himself as a salmon swimming upstream. The seven-minute track is a home recording of Neil playing acoustic guitar in front of his fireplace (which you can occasionally hear crackling). It's a dreamy, meandering song – with overdubbed vibes and drums from also by Neil – which Young has never performed, because he doesn't recall the intricacies of the vocal melodies. It remains a divisive song among fans and critics, although Young has said it "might be one of the best records I ever made."
With its country-rock first side and its hodgepodge second side, American Stars 'n Bars came out on May 27, 1977 – becoming Young's eighth full-length studio LP to see release. Actor – and Young pal – Dean Stockwell created the album cover, referencing the "Bars" portion of the record with Neil's face smashed against the floor of a tavern, seemingly on the verge of passing out.
Fans seemed to like it about as much as any of Neil's post-Harvest releases as the LP made a respectable showing on the charts in many countries, going silver in the U.K. and gold in the U.S. (just like the last three albums). Reviewers were kind, if restrained, in their appreciation of American Stars 'n Bars, mostly focusing on the power of "Like a Hurricane." And when Decade finally appeared in the fall of 1977, "Like a Hurricane" joined the tracklist.
Neil Young Albums Ranked Worst to Best
More From Ultimate Classic Rock