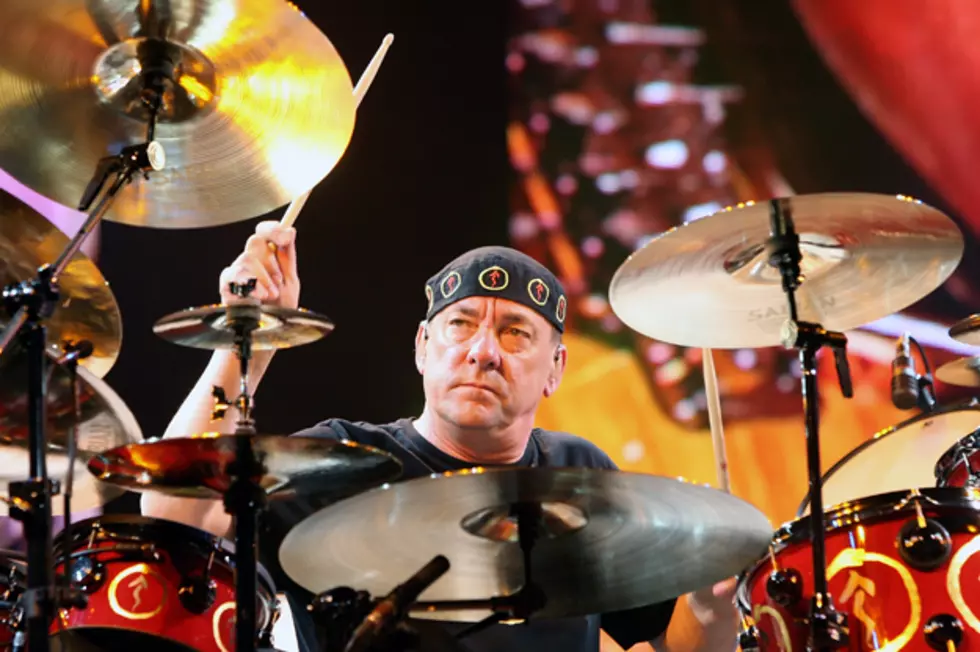 Neil Peart Shares New Lyrics From Upcoming Rush Album
Rush drummer Neil Peart recently logged a large update on his official website covering his recent activities, including some new lyrics that will be found on the upcoming 'Clockwork Angels' album from Rush, which is one of the year's most anticipated releases.
The October passing of Peart's longtime drum teacher Freddie Gruber found its way into one of the songs on the new album. As Peart writes, Gruber was 84 "and had lived life entirely by his own lights, so it was a natural time" for him to pass, with a decline that was "mercifully brief."
Gruber had gotten to be close with Peart's wife Carrie and Neil recalls a conversation shared by the two in which Gruber said "I had quite a ride. I wish I could do it all again."
Struck by the power of the statement, Peart wove a lyrical tribute to his friend into one of the songs on 'Clockwork Angels,' "with one character reflecting on his life in that fashion." Peart shares the following lyrics as part of his update.
"Some days were dark/ Some nights were bright/ I wish that I could live it all again."
Producer Nick Raskulinecz, nicknamed by Peart as "Booujzhe," was a crucial part of the 'Clockwork Angels' sessions, working hand in hand with Neil as he worked to get his parts down. Peart writes:
"In recent years I have been working deliberately to become more improvisational on the drums, and these sessions were an opportunity to attempt that approach in the studio. I played through each song just a few times on my own, checking out patterns and fills that might work, then called in Booujzhe. He stood in the room with me, facing my drums, with a music stand and a single drumstick—he was my conductor, and I was his orchestra. (I later replaced that stick with a real baton.)"
'Clockwork Angels' is expected to be released this year, just in time for the band to hit the road again for more tour dates in support of the new effort.
More From Ultimate Classic Rock