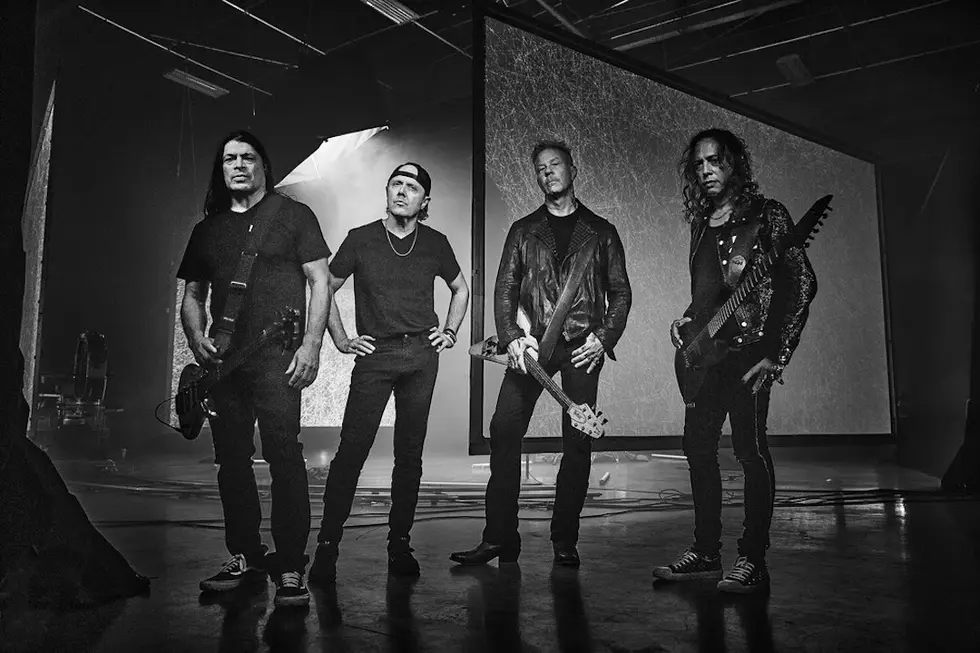 Listen to Metallica's New Song 'If Darkness Had a Son'
Tim Saccenti
Metallica has released a new song titled "If Darkness Had a Son," the third offering from their upcoming album 72 Seasons. You can watch the video below.
The song opens with a martial drum beat and guitar chugs before breaking into a midtempo stomp that's not far removed from "Enter Sandman." Frontman James Hetfield once again uses the song as a vehicle to exorcise his demons, bellowing in the chorus, "If darkness had a son, here I am / Temptation is his father / If darkness had a son, here I am / I bathe in holy water / Temptation, leave me be."
Metallica teased the new song on TikTok over the past several days. On Feb. 25, they shared a video of Lars Ulrich playing the song's drum build-up with the caption "duet this." Ulrich's bandmates — first Robert Trujillo, then Hetfield and finally Kirk Hammett — obliged over a series of videos, until the whole band could be seen jamming on the song's intro.
"If Darkness Had a Son" follows 72 Seasons' thrashing lead single "Lux Æterna" and the anthemic, rock-oriented follow-up "Screaming Suicide." The album comes out on April 14; Metallica will premiere it with a global listening party in cinemas one day before its release.
Hetfield described the album's concept in an official statement: "Seventy-two seasons. The first 18 years of our lives that form our true or false selves. The concept that we were told 'who we are' by our parents. A possible pigeonholing around what kind of personality we are. I think the most interesting part of this is the continued study of those core beliefs and how it affects our perception of the world today. Much of our adult experience is reenactment or reaction to these childhood experiences. Prisoners of childhood or breaking free of those bondages we carry."
Metallica will support 72 Seasons with the massive M72 world tour, which is currently scheduled to run from April 2023 through September 2024. The band will play two-night stints in each city, promising different set lists and lineups on each night to create a "No Repeat Weekend." They'll be supported variously by Pantera, Mammoth WVH and Greta Van Fleet.
Metallica Albums Ranked
There are moments of indecision when compiling this gallery of Metallica Albums, Ranked Worst to Best. After all, we really could have had – for the first time ever – a three-way tie for first.
More From Ultimate Classic Rock