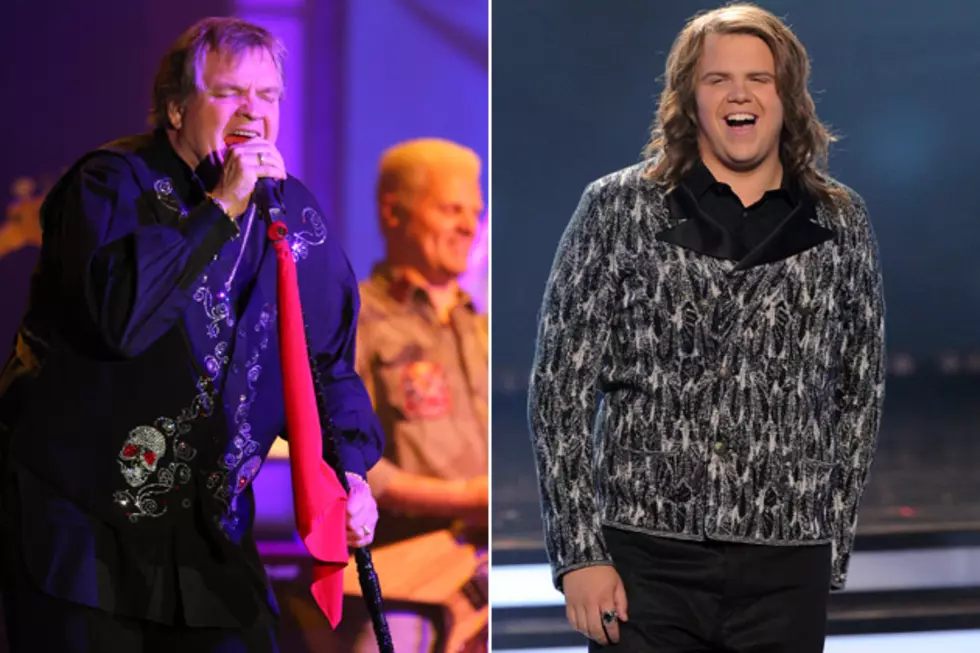 Meat Loaf Congratulates Doppelganger Caleb Johnson on 'American Idol' Win
Adam Bettcher / Kevin Winter, Getty Images
When we watched the season finale of 'American Idol' earlier this week (solely to see Kiss, of course), we noticed that finalist Caleb Johnson bore more than a passing resemblance to a young Meat Loaf. Apparently we weren't the only ones, because the classic rock singer has been joking about it with fans on his Facebook page.
"Some of you guys are funny," he wrote. "I've had a lot of congratulations messages and tweets for MY American Idol win!!!"
Johnson took home the main prize of the 13th season of the show, which has seen ratings steadily declining since its peak a decade ago. The Washington Post reports that only 10.1 million people watched Wednesday's finale, a 30 percent decline from last year's conclusion and a 75 percent drop-off from its peak in 2003. And although the show hasn't produced a bona fide superstar in a long time, Meat Loaf nonetheless wished his lookalike all the best in his career.
"But jokes aside, let me take a second to really congratulate Caleb Johnson," he continued. "It's great to see him tearing it up and putting some real rock 'n' roll back on prime time TV! Congratulations Caleb, GOOD LUCK and don't you ever stop rockin''!"
More From Ultimate Classic Rock