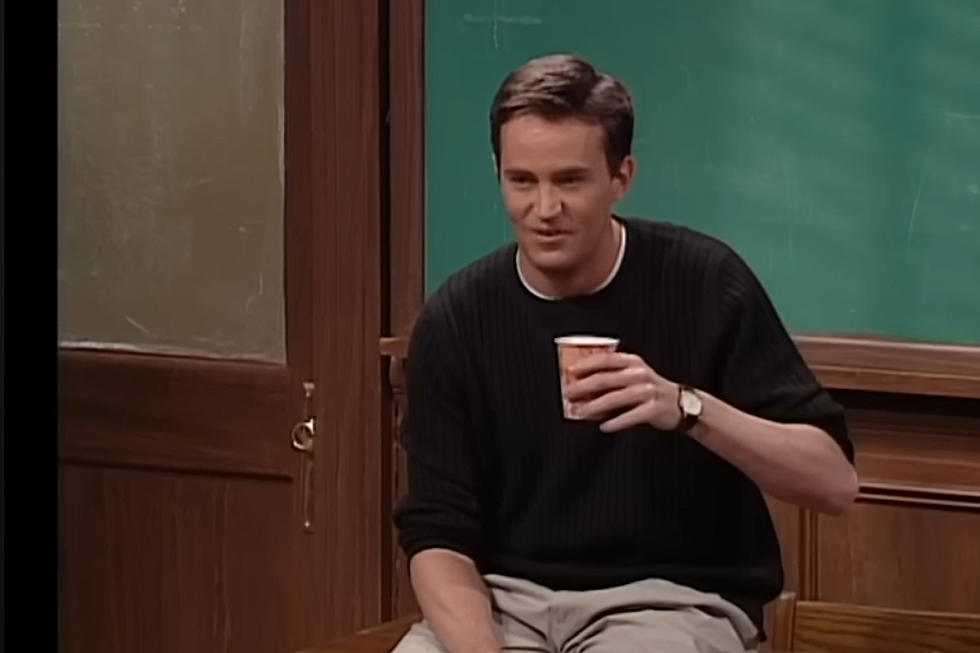 Watch Matthew Perry Teach 'Sarcasm 101′ on 'Saturday Night Live'
YouTube
Matthew Perry, famous for playing Chandler Bing on the hit series Friends, played a professor teaching 'Sarcasm 101' while hosting Saturday Night Live on Oct. 4, 1997.
You can watch the sketch below.
It begins with students such as Cheri Oteri, Will Ferrell and Tim Meadows going over their homework by taking turns mocking British cooking. "Boiling everything is a really super smart way to cook," Meadows offers. Norm MacDonald also shines as the class dunce who can't wrap his head around the concept of sarcasm.
During the skit Perry employs many of the same mannerisms and catchphrases ("could you be any meaner?") that made his character one of the highlights of Friends. The NBC sitcom had just begun its fourth season when he landed the SNL hosting job.
Perry died Saturday at age 54. According to the Los Angeles Times, he was found unresponsive at his home. Sources said no drugs or signs of foul play were found at the scene.
In his 2022 memoir Friends, Lovers and the Big Terrible Thing, Perry was open about his long struggle to overcome drug and alcohol addiction, and the pressure he felt to be funny. "As I admitted at the [Friends] reunion in 2020, I felt like I was gonna die if the live audience didn't laugh. And it's not healthy for sure. ...That pressure left me in a bad place, and I also knew that of the six people making that show, only one of them was sick."
In the book Perry also discusses how sobriety made both his work and personal lives better. "Nine was the only year I was completely sober for a Friends season. Care to hazard a guess as to which was the only year I got nominated for an Emmy for best actor in a comedy? Yup, season nine. ... What did I do differently? I listened. I didn't just stand there and wait for my turn to speak. Sometimes in acting, it's more powerful to listen than to talk. I have tried to incorporate that in real life, too. Know more, say less. That's my new mantra."
In addition to his career-defining role on Friends, Perry starred in TV shows such as Studio 60 on the Sunset Strip, Go On and a remake of The Odd Couple, and in hit films including 2000's The Whole Nine Yards.
Read More: 15 Guests Who Were Banned from 'Saturday Night Live'
Watch Matthew Perry Teach 'Sarcasm 101' on 'Saturday Night Live'
30 Best 'Saturday Night Live' Characters
Much of the show's humor stems from impersonations, but 'Saturday Night Live' has also created a long list of memorable recurring characters.
Gallery Credit: Corey Irwin
More From Ultimate Classic Rock