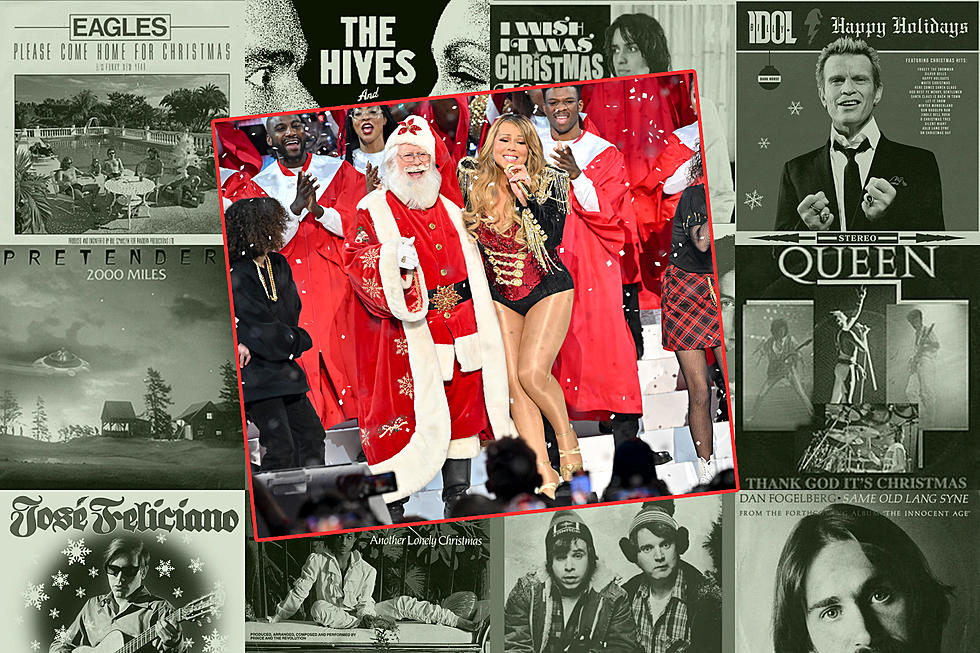 20 Christmas Songs Everyone Should Play Instead of Mariah Carey
UCR
Mariah Carey's "All I Want for Christmas is You" is a delightful holiday song. We're not here to hate. But can we all admit that the annual hype around it has gotten to be a bit too much?
Each year, Carey reportedly earns millions of dollars in royalties and merchandise sales as her 1994 single is endlessly played in every department store and on every Christmas-themed radio station in the world. Popular memes depict the pop diva being thawed out every November 1st, and then returning to the sea like a conquering Godzilla on Dec. 26.
Essentially, "All I Want for Christmas is You" has turned into a gigantic monolith that blocks the sun's rays, keeping other wonderful songs from getting the attention they deserve. This year all we want for Christmas... is some variety. Here's 20 Christmas songs, from famous to virtually unknown, that deserve a bigger slice of the holiday spotlight.
The Pretenders, "2000 Miles"
From: Learning to Crawl (1984)

In a more perfect world the righteous, uncompromising and eternally restless Chrissie Hynde would be the one cashing all those huge Queen of Christmas royalty checks. (It would be fun to see what she did with all that money.) In this lesser reality she'll instead have to settle for writing one of the most achingly beautiful holiday songs of the modern rock era.
Billy Idol, "On Christmas Day"
From: Happy Holidays (2021)
15 years after its initial release, Billy Idol spruced up his already charming holiday album with a new remix and much better cover art. He also teamed up with longtime guitarist Steve Stevens for an excellent new original song, "On Christmas Day." This is re-gifting done right!
The Hives and Cyndi Lauper, "A Christmas Duel"
From: Single (2008)
With some help from Cyndi Lauper, the Hives accomplish their goal of making Christmas a little nastier with their 2008 holiday single. Hives singer Pelle Almqvist and Lauper spend most of the song trading insults about sleeping with each other's siblings, before agreeing to make the best of it and enjoy the holiday together.
Queen, "Thank God It's Christmas"
From: Single (1984)
In between releasing the driving hard rock singles "Hammer to Fall" and "One Vision," Queen celebrated the 1984 holiday break with a lovely stand-alone Christmas ballad. "The funny thing is, it doesn't get that much attention in Britain, because it doesn't have a video," guitarist Brian May told UCR in 2018. The following year, the band rectified that problem.
Def Leppard, "We All Need Christmas"
From: The Story So Far - The Best Of (2018)

Def Leppard not only gifted their fans with a lovely original Christmas ballad in 2018, they let them star alongside the band in the song's video.
Jose Feliciano, "Feliz Navidad"
From: Feliz Navidad (1970)

Puerto Rican singer-songwriter Jose Feliciano found himself homesick at the holidays one Christmas. Luckily for the rest of us, he also happened to be in a recording studio, and used that inspiration to write and record one of the most infectious and enduring Christmas songs of all time.
CeeLo Green Featuring the Muppets, "All I Need is Love"
From: Cee Lo's Magic Moment (2012)
CeeLo Green went right to the top when it came time to find guest stars for his 2012 holiday album, recruiting the Muppets for the joyous "All I Need is Love." To make things even better, the song samples the Piero Umiliani's famous Muppet sketch song "Mah Na Mah Na."
Paul McCartney, "Wonderful Christmastime"
From: Single (1979)
Newsflash: You are allowed to enjoy both Paul McCartney's frothy holiday song and his former Beatles bandmate John Lennon's politically charged holiday song.
John Lennon, 'Happy Xmas (War is Over)"
From: Single (1971)
See above.
Prince, "Another Lonely Christmas"
From: "I Would Die 4 U" B-Side (1984)
After already delivering the Purple Rain movie, soundtrack and tour, as well as the incredible B-Sides "17 Days," "Erotic City" and "God," Prince wrapped up his 1984 musical gift-giving with this absolute barnstormer of a Christmas ballad.
Eagles, "Please Come Home for Christmas"
From: Single (1978)
The Eagles bridged the gap between their Hotel California and The Long Run eras with the release of a stand-alone cover of Charles Brown's 1960 holiday chestnut in November 1978. The track also marked the recorded debut of the band's new bassist, Timothy B. Schmit.
Julian Casablancas, "I Wish It Was Christmas Today"
From: Phrazes for the Young bonus track (2009)

Originally written for a 2000 Saturday Night Live sketch by Jimmy Fallon and Horatio Sanz, "I Wish It Was Christmas Today" has since appeared on the show eight more times and been covered by actual real-life rock stars such as Julian Casablancas of the Strokes and the mighty Cheap Trick.
Tom Petty and the Heartbreakers, "Christmas All Over Again"
From: A Very Special Christmas 2 (1992)
There's a hidden surprise at the end of Tom Petty and the Heartbreakers' contribution to the second A Very Special Christmas charity album. If you listen closely at the end, as Petty reads off his holiday wish list, his Traveling Wilburys bandmate and ELO frontman Jeff Lynne makes a timely vocal cameo.
Wham, "Last Christmas"
From: Single (1984)
Although it was released under the band name Wham!, "Last Christmas" was written, recorded and produced solely by George Michael. Although it is one of the most popular and most played holiday songs ever, "Last Christmas" was kept off the top spot during its initial release by the all-star Band-Aid single "Do They Know It's Christmas," which also featured Michael. 36 years later, "Last Christmas" set a longevity record by finally topping the UK charts on New Years Day 2021.
Dan Folgerberg, "Same Old Lang Syne"
From: Single (1980)
Dan Fogelberg recalls a real-life Christmastime encounter with a former flame on this bittersweet Top 10 hit. Years later, he was asked by a fan to explain if the line "As I turned to make my way back home / The snow turned into rain" was meant to convey that his world felt warmer after the conversation. "You've got it almost exactly right," he answered. "Although as I drove home the snow actually did turn from snow into rain! It seemed to be a wonderful metaphor."
The Supremes, "My Favorite Things"
From: Merry Christmas (1965)

Although billed as a Supremes album, Merry Christmas was actually more of a Diana Ross solo effort, as Mary Wilson and Florence Ballard asked for and were granted a vacation during the recording sessions. Ross rises to the occasion with gorgeous versions of many holiday favorites, including The Sound of Music's "My Favorite Things."
Bryan Adams, "Christmas Time"
From: Single (1985)
Adams put a bow on his career-making Reckless era by releasing a stately stand-alone holiday single, "Christmas Time." 34 years later he filmed a humorous video that finds him slowly being completely covered by snow, and three years after the the song served as the soundtrack to one of the best fight scenes in the 2022 movie Violent Night.
The Who, "Christmas"
From: Tommy (1969)

Kicking off the second of Tommy's four album sides, Christmas is not only one of the catchiest songs on Pete Townshend's epic concept album, it also contains the moment when our deaf, dumb and blind protagonist's interest in pinball is first mentioned.
Bob & Doug McKenzie, "12 Days of Christmas"
From: The Great White North (1981)
Edging out Steve Martin's "Strangest Christmas Yet" for the comedy slot on this list, "12 Days of Christmas" finds SCTV stars Rick Moranis and Dave Thomas's McKenzie brothers attempting to re-write the famous gift-giving carol as a drinking game. Naturally they miss a few days..
Badly Drawn Boy, "Donna and Blitzen"
From: About a Boy Soundtrack (2002)
Here's one out of left field. English singer-songwriter Badly Drawn Boy's second album was the soundtrack to the 2002 Hugh Grant-starring movie About a Boy. The movie and the album both conclude at Christmas with the beautiful pianos and strings of "Donna and Blitzen." It's well worth four minutes of your time this holiday season.
Top Classic Rock Christmas Albums
There's only so much goopy seasonal music you can listen to, right?
Gallery Credit: Nick DeRiso
More From Ultimate Classic Rock