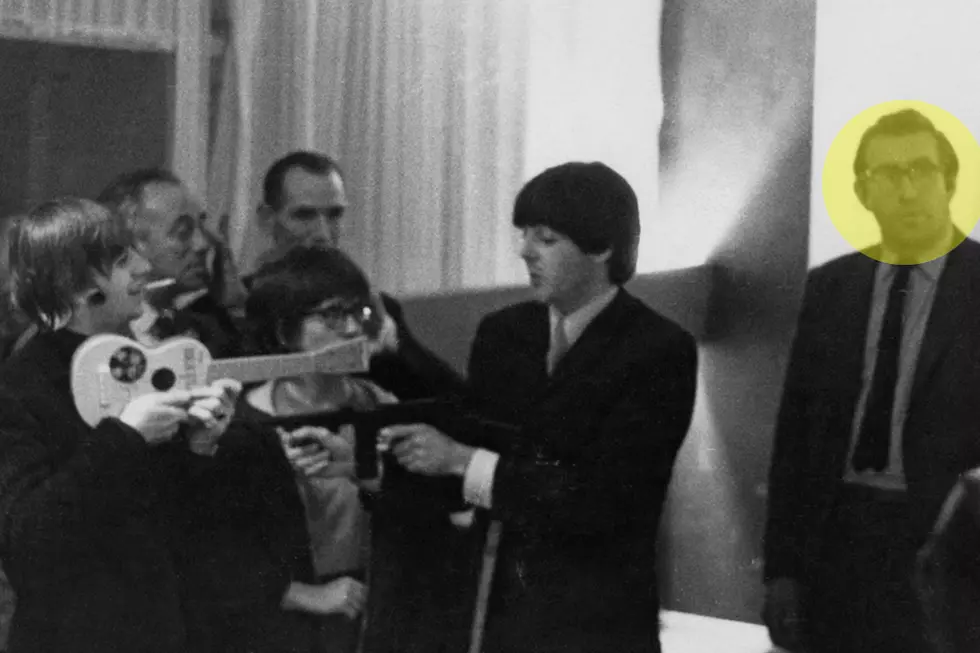 The Day Beatles Assistant Mal Evans Was Killed by Police
Mark and Colleen Hayward, Getty Images
To Beatles fans who pined for an opportunity to be closer to the band, their road manager-turned-personal assistant Mal Evans might have seemed like one of the luckiest guys on Earth — but his luck ran out Jan. 5, 1976, in a bizarre confrontation with Los Angeles police that ended in his death.
Evans first spotted the Beatles during a show at the Cavern Club in Liverpool, and after striking up a friendship with George Harrison, he got his first band-related gig when Harrison recommended that the club owner hire Evans to be the doorman. Big but gentle, he made a perfectly imposing presence, and by 1963, he'd come on board as the group's full-time bodyguard.
That job quickly turned into Evans becoming the Beatles' road manager, where he worked in concert with Neil Aspinall to ensure that every aspect of the band's travel time was as enjoyable as possible. From driving the group to gigs and lugging gear to setting up the venue and making sure they had whatever they needed, he quickly became an essential part of their inner circle — even if his salary didn't necessarily reflect his importance.
Over time, Evans appeared in Beatles movies and contributed to various albums in a number of ways, from adding odd sound effects — like ringing the alarm clock on "A Day in the Life" — to helping organize the various celebrity portraits for the front cover of Sgt. Pepper's Lonely Hearts Club Band. After the Beatles ceased touring and started Apple Records, he was officially promoted again, becoming the band's personal assistant and fulfilling a variety of label-related tasks — including discovering Badfinger and producing some of their early recordings.
As the band splintered, however, Evans' role with Apple sputtered to a stop. He was fired (and later reinstated) by manager Allen Klein, and ultimately ended up moving to Los Angeles after separating from his wife. While living there, he became part of the loose confederacy of rock vets who formed the backdrop for John Lennon's "lost weekend" period, becoming particularly close with Harry Nilsson.
During this period, Evans was also working on his memoirs, which were to be titled Living the Beatles Legend and were scheduled to be delivered to his publishers on Jan. 12, 1976. Unfortunately, he also suffered periods of deep depression, exacerbated by career setbacks (he was Keith Moon's first choice to produce his solo album, but was ultimately fired) and feelings of isolation.
It all came to a head on Jan. 5, when Evans is said to have phoned his co-writer, John Hoernie, and — while drunk and under the influence of Valium — conducted a conversation that left Hoernie worried enough that he headed over to Evans' apartment. After Hoernie arrived, Evans brandished a weapon — whether it was an air rifle or an actual rifle remains contested — and his girlfriend, Fran Hughes, called the police. Refusing to drop his gun after officers arrived on the scene, Evans was shot and killed.
"It was so crazy, so crazy," Paul McCartney later said. "Mal was a big loveable bear of a roadie; he would go over the top occasionally, but we all knew him and never had any problems. The LAPD weren't so fortunate. They were just told that he was upstairs with a shotgun and so they ran up, kicked the door in and shot him. His girlfriend had told them, 'He's a bit moody, and he's got some downers.' Had I been there I would have been able to say, 'Mal, don't be silly.' In fact, any of his friends could have talked him out of it without any sweat, because he was not a nutter."
Unfortunately, many of Evans' effects were lost in the ensuing investigation, including the Living the Beatles Legend manuscript and a suitcase that allegedly contained a motherlode of rare recordings and assorted memorabilia — thus prompting decades of conspiracy theories and rabid speculation.
The truth, at least according to Nilsson, may have been a combination of sadly prosaic and fittingly bizarre. After getting a phone call from Hughes, he recalled sending his wife and a friend to clean Evans' apartment, and later experienced firsthand just how chaotic and sloppy the days after a loved one's death can be.
"I went down to Forest Lawn and said I was sort of new at this, but what happens next? I said that I thought he should be cremated because it's cheaper for the family," said Nilsson. "So they cremated him and as I was walking out, I said, 'By the way, how do you get these ashes to London?' They said, 'Well, we have these cardboard cylinders.' I said, 'You'd send a mother the remains of her son in a cardboard box? What else do you have?' And they said, 'We have this beautiful diamond-encrusted ruby old ... We have this brass thing here with emeralds.' So I picked out a nice sort of shape that looked expensive and was appropriate, and sent that to London."
Sadly, Evans' family wasn't able to immediately appreciate Nilsson's gesture, as he discovered days later upon receiving a frantic phone call from Aspinall informing him Evans' remains hadn't arrived. "I said, 'Well, I sent him.' And he said, 'They couldn't find him, he's not here, and his mother's downstairs and his wife Lil is here, and they're all crying. What am I supposed to tell them?'"
Fortunately, Evans' cremains proved easier to track down than his other effects (which were eventually revealed to have been discovered by Yoko Ono in the '80s and finally sent to Evans' widow). "We sent out tracers at both ends, and eventually I got a call from the airport that they'd found him," Nilsson recalled. "I asked where, and they said, 'In the dead letter office!'"
Regrettable as the circumstances of Evans' death may have been, they contributed to the air of mystery surrounding the Beatles after their split. In 2015, the tragic confrontation with police served as an inspiration of sorts for The Death and Life of Mal Evans, a bittersweet novel imagining a dying Evans being granted the opportunity to travel back in time and create an alternate history where he's able to "keep the Beatles, and his life, together."
 
 
The Best Song on Every Beatles Album
See the Beatles in Rock's Craziest Conspiracy Theories
More From Ultimate Classic Rock