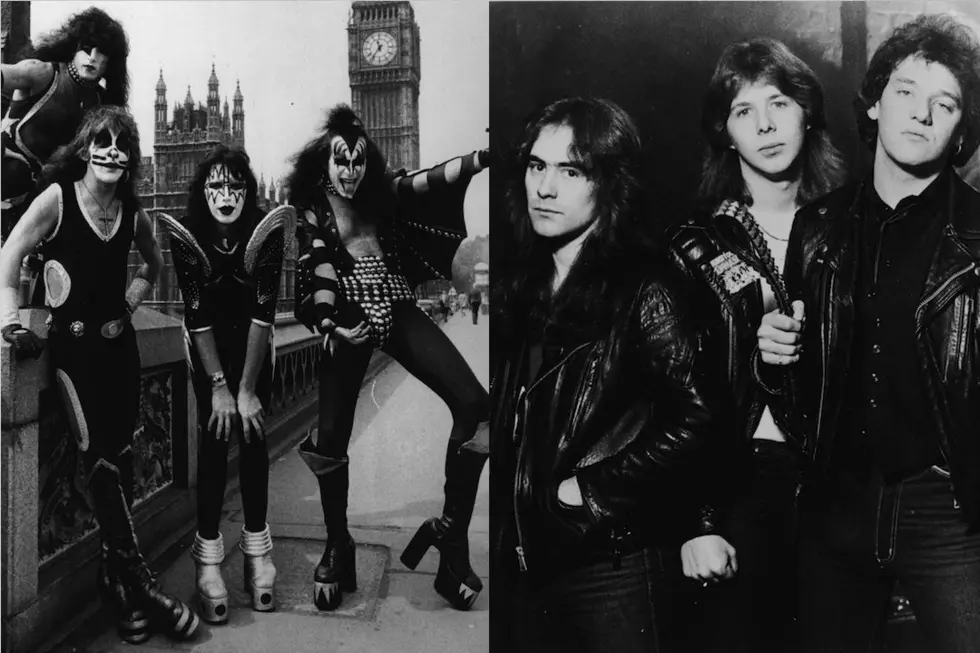 When Iron Maiden Opened for Kiss on the 'Unmasked' Tour
Hulton Archive (2), Getty Images
Two of the biggest names in hard-rock history — Kiss and Iron Maiden — embarked on a European tour together between Aug. 29 and Oct. 13, 1980. At the time, Iron Maiden was just a fledgling outfit.
Just months removed from releasing their eponymous LP, they were still hustling to distinguish themselves from other New Wave of British Heavy Metal hopefuls. As for headliners, the self-appointed "hottest band in the land" was then facing a severe downturn in their career fortunes, as they toured behind their poorly received (and misleadingly titled) Unmasked album.
In other words, everything was in place for a very eventful tour. But let's back up just a little bit first.
The wheels started coming off the previously unstoppable Kiss wagon as early as 1978, beginning with all four members' ambitious but ill-fated solo albums, made worse by 1979's fan-dividing, disco-tinted Dynasty and reaching a crisis point by early 1980, as drummer Peter Criss checked out, refusing to even play (or depending on who you ask, being totally incapable of playing) on that year's Unmasked.
By the time Kiss performed an intimate warm-up show at New York's Palladium on July 25, Unmasked was looking very much like a new commercial low, and Eric Carr had officially taken over drum duties from the fired Criss.
Then it was off to Europe, where Kiss had rarely ventured before (their elaborate stage production being quite expensive to transport) and where Carr, Gene Simmons, Paul Stanley and Ace Frehley would meet their opening act for the first time on their joint tour's opening night, on Aug. 29, in Rome.
What they saw in vocalist Paul Di'Anno, guitarists Dave Murray and Dennis Stratton, bassist Steve Harris and drummer Clive Burr was a hungry and apparently fearless group of East London toughs. Brimming with confidence after a well-received appearance at England's Reading Festival, Iron Maiden was ready to challenge Kiss on stage night after night.
To their credit, Kiss had never hesitated to pick the hottest young bands as their special guests (AC/DC, Judas Priest, Cheap Trick) and, by all accounts, they were very welcoming and professional.
According to Iron Maiden's authorized biography, Run to the Hills, Kiss bassist Gene Simmons made a point of visiting his special guests' dressing room early in the tour to praise their debut album. When challenged by Maiden's impertinent Di'Anno as to whether Gene had even heard it, Simmons immediately rattled off all the song titles – in order.
This camaraderie was misconstrued with dire circumstances by Stratton, who took to spending more time and even traveling between shows with Kiss' road crew instead of his own bandmates. Stratton would later play this down as his gregarious nature. His fellow bandmates, however, were already sensing increasing musical differences in the four-to-five-year age gap separating them from Dennis. They began to wonder if perhaps he wasn't the right man for the job.
After winding their way together through Germany, Belgium, France, Switzerland, back to Germany, then over to the Netherlands, Sweden, Denmark and Norway, Kiss and Iron Maiden finally went their separate ways after Oct. 13. Kiss headed to Australia for what would prove to be Frehley's final shows until their '90s reunion, while Iron Maiden returned to the U.K. where they promptly dismissed Stratton and replaced him with Adrian Smith.
Kiss and Iron Maiden's trajectories would follow largely different roads over the ensuing decade, with Kiss finally coming clean on their threat to take the makeup off and enjoying a platinum career comeback, while Maiden grew from strength to strength, becoming arguably that decade's definitive heavy metal band.
So it's of course always intriguing to look back at the two bands' European tour in the fall of 1980 as a passing of the torch, in some respects, from one generation of hard-rock warriors to the next, while their lucky European fans looked on in wonder.
Iron Maiden Albums Ranked 
More From Ultimate Classic Rock