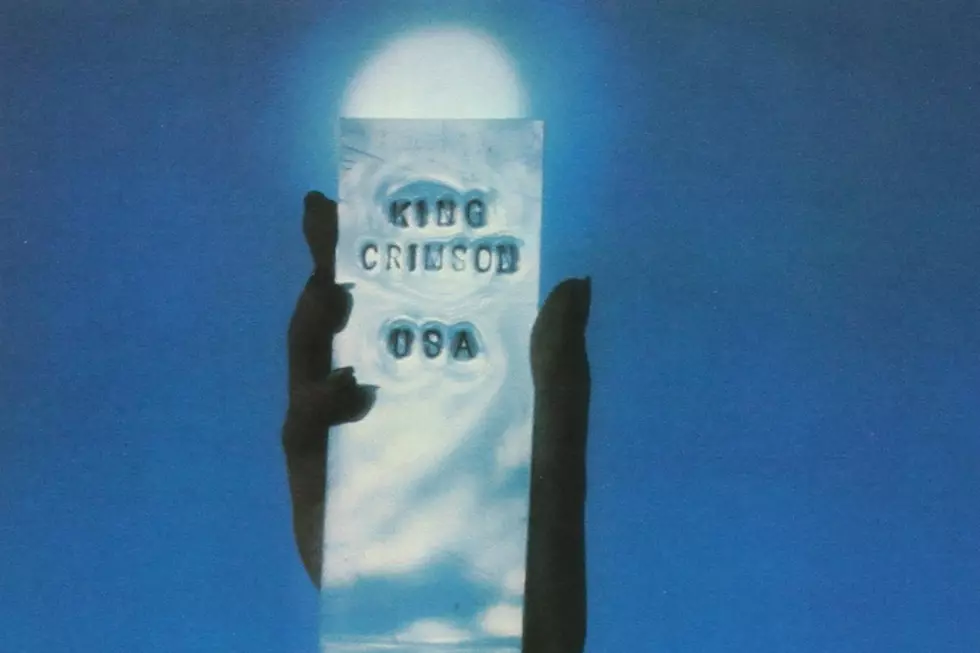 45 Years Ago: King Crimson Ends Classic Era With Live 'USA'
Island
In 1974, King Crimson mastermind Robert Fripp announced the extinction of his legendary prog-rock act, promising that the band was "completely over for ever and ever." That same year, Crimson released Red, a thunderous statement of purpose – ending one of the genre's most legendary studio hot streaks. By 1975, Fripp's eulogy appeared authentic, with the band members dispersed into various collaborations and solo projects. But one knotty piece remained in the puzzle of classic Crimson: the essential live LP USA, which was released on May 3, 1975.
The set was largely cobbled from a June 1974 show at the Casino in Asbury Park, N.J., with one track, the climactic anthem "21st Century Schizoid Man," lifted from a gig that same month at the Palace Theatre in Providence, R.I. Though the band – Fripp, bassist-vocalist John Wetton, violinist-keyboardist David Cross, drummer Bill Bruford – were then touring behind their underrated sixth LP, Starless and Bible Black, the USA material leans heavily on the previous year's undisputed masterpiece, Larks' Tongues in Aspic.
Ambient opener "Walk On ... No Pussyfooting" establishes an atmospheric mood, teasing a snippet of "The Heavenly Music Corporation" from Fripp and Brian Eno's 1973 LP, (No Pussyfooting). But that spaciness is a misnomer on album of such punishing force – from the trashy take of "Larks' Tongues in Aspic (Part II)" to the metallic improv "Asbury Park," which features some spiraling Fripp guitar solos and Wetton's mother lode of fuzz-bass.
Listen to King Crimson's 'Asbury Park'
Though "Asbury Park" is the album's only unreleased track, Crimson's thrilling unpredictability makes even the most familiar tunes feel new. Cross adds an evocative textural violin intro to "Exiles," while "Lament" is electrified in this setting, as the band weaves brutal dissonance with sublime melody. USA's only awkward moment is its most predictable: "21st Century Schizoid Man" lurches toward the finish line, marred by Bruford's sloppy drumming and a general feeling of mutual disinterest.
Fidelity-wise, the album is surprisingly balanced – the lone quality dip is "Larks' Tongues," which suffers from a muddy mix and weak low-end. But the set was far from a post-script afterthought: Eddie Jobson (Roxy Music, Curved Air) was even recruited to overdub violin and keyboards on three tracks. In 2013, Fripp presented a more holistic view of mid-70s Crimson with the LP's 40th anniversary edition (remixed by the guitarist and David Singleton), which features two additional tracks, "Fracture" and "Starless."
USA isn't perfect – but that's also what makes it such an exciting listen. And back in '75, it felt like a relic from a bygone era.
"The first [reason I ended King Crimson] is that it represents a change in the world," Fripp told Melody Maker in 1974. "Second, where I once considered being part of a band like Crimson to be the best liberal education a young man could receive, I now know that isn't so. And third, the energies involved in the particular lifestyle of the band and in the music are no longer of value to the way I live."
"It was a quite superb band, but nevertheless what we were doing wasn't really for me," he continued. "And I don't think for Bill or John either. King Crimson was a democratic band, we each had the power of veto, and would accommodate each other. But we'd got to the point where we discovered we were working together simply because we wouldn't be able to find musicians of that calibre outside of the band. In other words, if I wanted a rock drummer I could find a number of people to work with. But if I wanted a drummer, and not just a rock drummer, I'm stuck. There's Bill and, maybe, Mike Giles [a member of the original Crimson] and perhaps two others in England. And where would I find a better bass player than John?"
Fripp, in the same interview, said that by the mid-70s, Crimson had become "too much of a compromise." So he changed course entirely. Freed from the expectations of prog-rock, Fripp spent the rest of the decade collaborating with and producing for other artists, including Eno and Peter Gabriel. He also dove further inward to analyze his own musical techniques.
"I'm interested in creating a new kind of guitar technique that is really working on three levels of being: heart, hands and head," he told Rolling Stone in 1974. "A way of life. More akin to yoga than formal guitar technique, actually an approach to living. When you listen to Casals, Menuhin or even Ravi Shankar, their music is considerably more than notes on a piece of paper, but most rock musicians are hopelessly inadequate, rooted to the earth. Most rock guitarists are thrashing around onstage using a very low-grade energy and this energy comes from a very nasty quarter. Rock 'n' roll is not very intellectual and neither is it spiritual."
Of course, Fripp's apocalyptic Crimson prediction didn't hold true. In 1981, he revived the brand with Bruford, bassist Tony Levin and guitarist-singer Adrian Belew for the inventive Discipline, an album that blended glossy New Wave production with prog-rock firepower – a fresh approach that freed the band from the "dinosaur" label Fripp so feared.
The retirement-revival cycle has become Fripp's creed in subsequent years, re-tooling Crimson with various line-ups and offshoots before retreating from the public eye. In 2012, he announced his "retirement" from the music industry, claiming it was an "exercise in futility." Then last year, he revived his seminal band with a mostly revamped line-up for an acclaimed tour. "King Crimson is, as always, more a way of doing things," Fripp once wrote on his website. "When there is nothing to be done, nothing is done: Crimson disappears. When there is music to be played, Crimson reappears. If all of life were this simple."
Perhaps King Crimson will always keep trudging on, in spite of itself – evolving organically throughout Fripp's lifespan. But for many fans, USA is a line in the sand – the final page in the band's most essential first chapter.
Masterpieces: The Very Best Albums From More Than 100 Classic Rock Acts
More From Ultimate Classic Rock