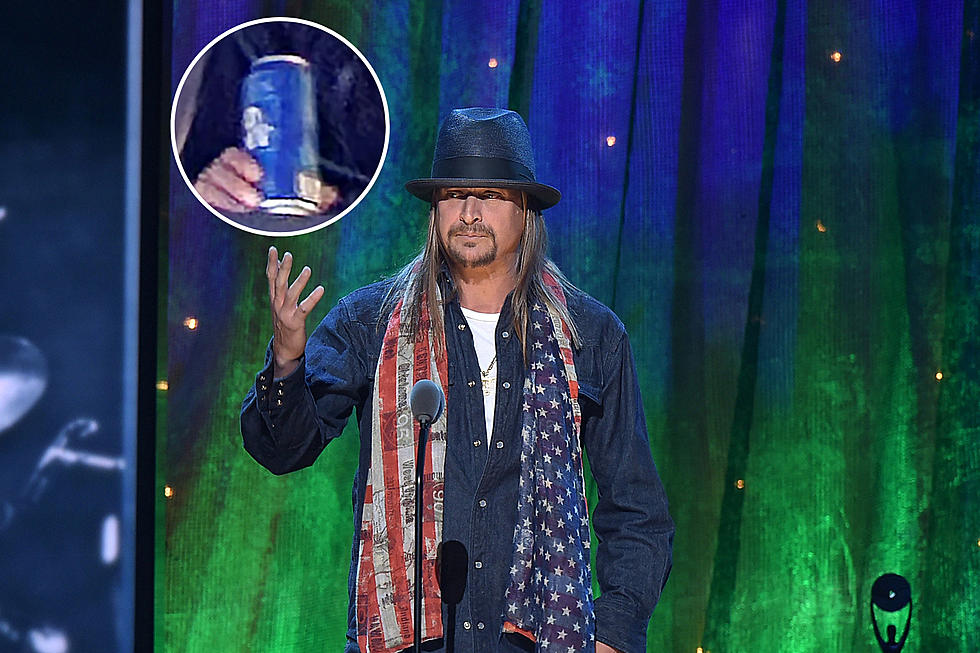 Kid Rock Caught on Video Drinking Bud Light After Boycott
Theo Wargo, Getty Images/Instagram
Kid Rock made headlines when he turned to social media to open fire on a case of Bud Light to make a point about the brand's partnership with transgender influencer Dylan Mulvaney, but it doesn't look like he's putting his money where his mouth is in real life.
TMZ has published a new video that shows the rapper, rocker and sometimes country singer with a can of Bud Light in his hand in Nashville on Thursday night (Aug. 17).
Kid Rock — real name Robert Ritchie — was at Skydeck in Nashville on Thursday evening to watch Colt Ford perform, according to the celebrity news site. Audience footage from the evening that TMZ obtained shows Kid Rock standing by the rail on the second level of the venue, taking in the performance while clearly holding a can of Bud Light in his right hand, sipping from it at intervals.
Mulvaney rose to viral fame for her humorous sketches and upbeat perspective on TikTok before coming out as transgender a year ago. She documented the first 365 days of her transitioning in a viral video series titled 365 Days of Girlhood, and on April 2, she turned to Instagram to share a video of a can of Bud Light that bore her face, sharing that the company sent it to her to mark 365 days of her living as a woman.
The video touched off a firestorm across social media and right-wing media, and an outpouring of openly transphobic posts and commentary, resulting in a broad-spectrum right-wing boycott of the brand that made national headlines.
A spokesperson for Bud Light's parent company, Anheuser-Busch, told Newsweek that the company "works with hundreds of influencers across our brands as one of many ways to authentically connect with audiences across various demographics. From time to time we produce unique commemorative cans for fans and for brand influencers, like Dylan Mulvaney."
The special can "was a gift to celebrate a personal milestone and is not for sale to the general public," that spokesperson added.
Kid Rock reacted to the news by sharing a video of himself opening fire on several cases of Bud Light — presumably after buying them.
John Rich and Travis Tritt were among the other country singers who reacted to the controversy, with Rich turning to social media on April 6 to ask his followers what beer he should replace Bud Light with at his Nashville bar, Redneck Riviera, indicating he intended to stop selling it as part of a conservative boycott.
Tritt weighed in by saying he would drop any and all Anheuser-Busch products from what he will serve backstage on tour, representing the decision as a bold stand:
Maren Morris, Sheryl Crow, Jason Isbell + More Perform at Nashville's 'Love Rising' Benefit Concert
Some of the biggest names in country, Americana and beyond came together to raise money for LGBTQIA+ charities and to voice opposition towards a recent wave of Tennessee bills passed, including a ban on public drag performances.
More From Ultimate Classic Rock