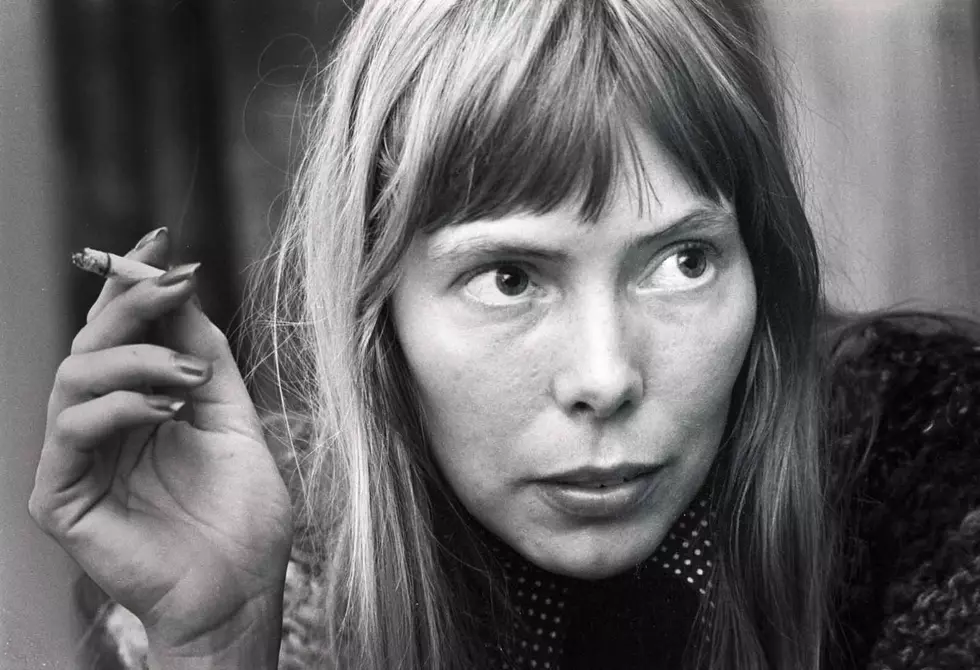 Top 10 Joni Mitchell Songs
Redferns, Getty Images
Before Joni Mitchell, singer-songwriters wrote generally about love, politics and the end of the world at the hands of maniacal world leaders who maybe had access to nuclear weapons. After Joni Mitchell, they wrote about themselves – their loves, their lives, how the egg salad sandwich they ate at lunch could affect the rest of their week. At the peak of her commercial and creative success, she turned away from the acoustic guitar-based confessionals she was best known for and toward more jazzy and sophisticated songs and arrangements. Some great work surfaced during this later period, but the bulk of material that makes up our Top 10 Joni Mitchell Songs comes from the half-dozen or so years in the late '60s and early-to-mid '70s where she helped forge the singer-songwriter genre as we know it.
10

'Woodstock'

From: 'Ladies of the Canyon' (1970)

Crosby, Stills and Nash recorded the more popular version and had the hit with "Woodstock," but Mitchell's original scaled-down version of her tribute to 1969's peace, love and music festival takes a more intimate approach to an event that was anything but. Mitchell actually didn't attend the three-day hippie fest, but her boyfriend Graham Nash was there, and she partly based the song on his most likely fuzzy recollections.

9

'Carey'

From: 'Blue' (1971)

Blue may be the most significant album of the entire singer-songwriter movement of the '70s. It was made in Los Angeles, it's all about Mitchell's personal life and some of it was informed by her stay at a European hippie commune in 1970 – like this song, a tribute to one of the guys she met there. It features one of Mitchell's most popular refrains – "You're a mean old daddy, but I like you" – and one of her most playful melodies.

8

'Raised on Robbery'

From: 'Court and Spark' (1974)

After five albums of increasingly personal songs, mostly guided by acoustic guitar, Mitchell took her time shaping her sixth LP. She didn't want to rush the record – she had released an album each year since 1968 – but she also didn't want it to sound anything like those other ones, which were starting to pigeonhole her as a single-minded singer-songwriter. So she incorporated jazz elements into the songs. "Raised on Robbery," the album's first single, begins as a big-band-style boogie before giving way to one of the hardest-rocking songs in Mitchell's catalog.

7

'You Turn Me On, I'm a Radio'

From: 'For the Roses' (1972)

Between her two undisputed classics Blue and Court and Spark, Mitchell released For the Roses. In its way, this is the quintessential Joni Mitchell album, despite its shortcomings. The record's lead single stems from a meeting with record-company executives, who asked the commercially averse artist to write a hit single. Even though it's delivered with tongue firmly in cheek, "You Turn Me On, I'm a Radio" ended up in the Top 30, one of the few on our list of the Top 10 Joni Mitchell Songs to chart that high.

6

'River'

From: 'Blue' (1971)

The best song on Mitchell's best album has become a seasonal classic over the past couple decades, with artists as diverse as Rosanne Cash, Cee Lo Green and old buddy James Taylor recording cover versions for holiday records. Mitchell's spare, piano-driven take is the most heartbreaking. Like most of Blue's tracks, it's a love song. But this one looks back on a particularly painful breakup that still hasn't settled in as Christmas nears.

5

'Both Sides, Now'

From: 'Clouds' (1969)

Mitchell's best-known song – which Judy Collins took to the Top 10 a couple of years before Mitchell released it – remains her most accessible tune and a highlight of her second album (her 1968 debut, Song to a Seagull, is spotty and unfocused – plus, it's called Song to a Seagull). Clouds takes a turn toward more introspective songwriting, and "Both Sides, Now" (which kinda qualifies as the title track) pairs a lovely melody to Mitchell's meditative lyrics.

4

'A Case of You'

From: 'Blue' (1971)

One of Mitchell's most romantic songs is also one of her most covered: Tori Amos, Diana Krall and even Prince performed "A Case of You" over the years. But it's Mitchell's original version, a highlight of Blue, that remains the definitive one. She accompanies herself on dulcimer, and James Taylor plays acoustic guitar. "A Case of You" is a spare, gorgeous classic, and one of the definitive tracks on our list of the Top 10 Joni Mitchell Songs.

3

'Free Man in Paris'

From: 'Court and Spark' (1974)

Mitchell wrote "Free Man in Paris" about her pal, music lifer and all-around rich guy David Geffen. But the song – Court and Spark's third single and Mitchell's second biggest hit – is more interesting musically than lyrically. That because, like the rest of the album, it reflects Mitchell's increased interest in sophisticated jazz arrangements – a new direction that did wonders for her career. Court and Spark reached No. 2, her highest-charting record, and it remains her bestselling album.

2

'Help Me'

From: 'Court and Spark' (1974)

Mitchell's biggest hit (it reached No. 7, her only Top 10 showing) is also one of her instantly likable songs, thanks to an impeccably played melody that splits the difference between soft rock and smooth jazz. Backed by an ace session group fronted by L.A. saxophonist Tom Scott, Mitchell breezily works her way through this distress call that goes down like a cool, cool cocktail on a hot summer day.

1

'Big Yellow Taxi'

From: 'Ladies of the Canyon' (1970)

Mitchell's first chart hit (which stalled at No. 67 in 1970) is also her most poppy song, a pro-environment warning released at a time when people still tossed Styrofoam cups from their cars. It's had a few lives since then, including remixes in the mid '90s and a 2003 cover version by Counting Crows. The original is incredibly engaging, and it includes one of the most inspired rhymes in the history of popular music: "They took all the trees and put 'em in a tree museum / And they charged all the people a dollar and a half just to see 'em." That line alone merits a spot on our list of the Top 10 Joni Mitchell Songs.
More From Ultimate Classic Rock