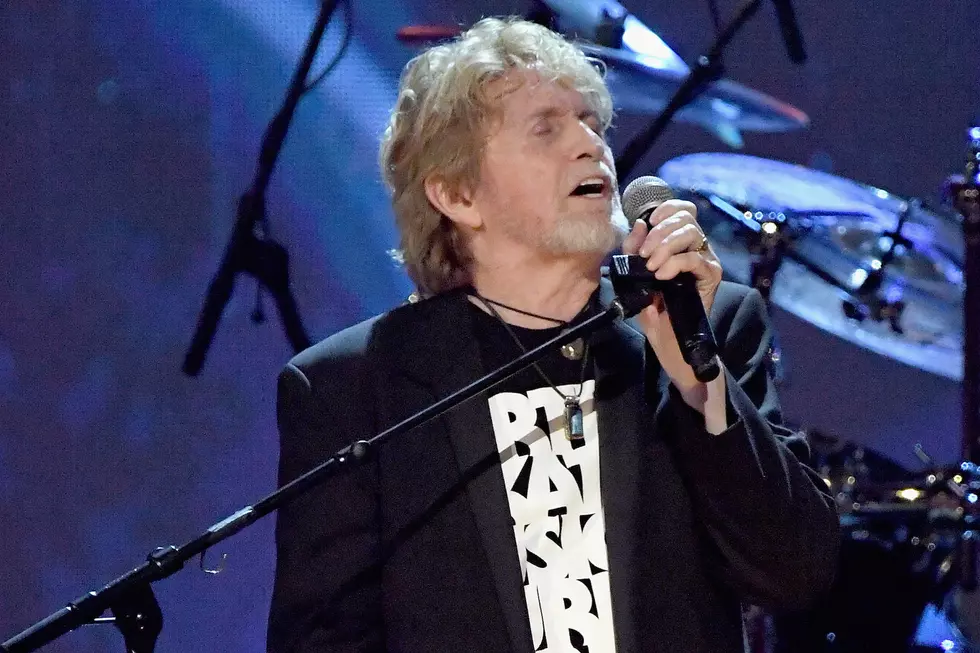 Jon Anderson Announces New Solo Album and Spring U.S. Tour
Mike Coppola, Getty Images
"I've spent long periods of time making some records, but I've never taken a journey quite like this one," Anderson said in a news release. "To say that 1,000 Hands has been a long time in coming would be quite an understatement, but I'm thrilled that it's finally a reality and that my fans will now be able to hear it. And I think they'll be delighted to hear music that's timeless. It's one of the best things I've ever done."
Ian Anderson of Jethro Tull, Billy Cobham, Jean-Luc Ponty and Chick Corea also take guest turns on 1,000 Hands, which will be accompanied by a spring U.S. tour. The concerts get underway on March 11 in Orlando. Dates, cities and venues can be found below; additional shows will be announced later. Check his website for more details.
Anderson actually began work on 1,000 Hands, which was then titled Uzlot, 30 years ago. Those sessions included both White and Squire, who lost a battle with cancer in 2015. "Before you knew it, I started getting involved in other projects and tours, and years went by," Anderson said. "I would listen to the tapes from time to time and think, 'This could have been a great album! One day I'll finish it.'"
Producer Michael T. Franklin returned to work on the project with Anderson about a year and a half ago. "Our ideas still matched," Anderson noted. "Michael knew everything I wanted to do and how I wanted the music to sound, so we agreed to go for it."
Anderson eventually added four more songs to the project. Newer sessions included a list of other musical friends that eventually grew to include Steve Morse of Deep Purple, Rick Derringer, Jonathan Cain of Journey and the Tower of Power horns, among others. "That's where the title 1,000 Hands comes from, all of the brilliant musicians who played a part in making the record," Anderson said.
Jon Anderson's '1,000 Hands' U.S. Spring Tour
3/11-12 – Orlando, FL, Disney Epcot
3/29 – Lynn, MA, Lynn Auditorium
3/31 – Cleveland, OH, Hard Rock Rocksino
4/1 – Annapolis, MD, Maryland Creative Arts Center
4/3 – Ridgefield, CT, Ridgefield Playhouse
4/4 – Englewood, NJ, Bergen PAC
4/6 – Collingswood, NH, Scottish Rite Auditorium
4/7 – Derry, NH, Tupelo Music Hall
4/9 – Reading, PA, Santander PAC
4/11 – St. Charles, IL, Arcada Theatre
4/12 - Waukegan, IL, Genesee Theatre
4/14 – Munhall, PA, Carnegie of Holmstead Music Hall
4/15 – Wilkes Barre, PA, FM Kirby Center
4/17 – TBD
4/19 – Milwaukee, WI, Marcus Center for the Arts
4/20 – Kansas City, TBD
4/23 – Tucson, AZ, The Fox Theater
4/24 – TBD
4/26 – Los Angeles, CA, Saban Theatre
4/27 – Las Vegas, NV, Cannery Casino
5/1 – TBD
5/3 – Houston, TX, TBD
5/4 – TBD
5/6 – Nashville, TN, Ryman Auditorium
5/8 – Clearwater, FL, Capitol Theatre
5/10 – Orlando, FL, Dr. Phillips Center Fundraiser
5/11 – Biloxi, MS, Beau Rivage Casino
5/12 – Arlington, TX, Kaaboo Texas
7/9 – Detroit, MI, Rocking on the River
See Yes Among the Top 200 '70s Rock Songs
Steve Howe Released One of Rock's Most Hated Albums
More From Ultimate Classic Rock