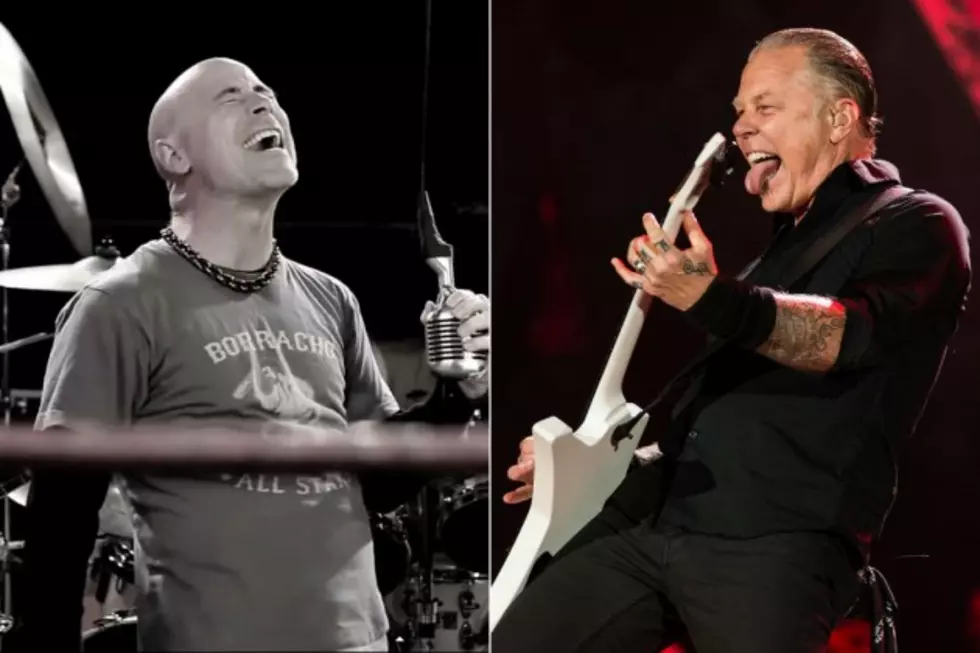 John Bush Doesn't Regret Turning Down Metallica
YouTube / Ian Gavan, Getty Images
For most of us, it can be hard not to wonder about the roads not taken in our lives — and given that Armored Saint singer John Bush once turned down a job offer from Metallica, it might be easy to assume he looks back and wonders what might have been.
But as Bush insists in a new interview with National Rock Review, he's actually very happy about the way things turned out. "What people don't understand is that even though Metallica was garnering fame and attention, Armored Saint was becoming popular and doing well," he explained. "For me to leave all the guys I grew up with wasn't something that sounded appealing to me at the time."
Of course, at the time Bush was offered the gig, Metallica were only one album deep into what ended up becoming a wildly successful career. But even after all the sales and accolades they've racked up, Bush believes the group's short-lived efforts to take some of the pressure off singer-guitarist James Hetfield by finding a full-time singer were destined to fail.
"It's something that always resurfaces in my life, and I find it funny," he continued. "I felt complimented when the band was proposing the ideas to me. But it just wasn't my destiny to be in Metallica. I would have changed the face of heavy metal, and I don't need that pressure. James is an incredible vocalist. He really developed through the years, and I can't imagine anyone else there."
Bush is equally philosophical about his stint in Anthrax, which ended with the return of the band's former singer Joey Belladonna. "I feel like we made some cool records along the way. We had a lot of history and a lot of experiences," he said. "It was time to move on for both parties. I think people are happy that Joey's back, and Armored Saint is a comfortable place for me to be. But it takes nothing away from what we did."
See Metallica and Other Rockers in the Top 100 Albums of the '80s
Metallica Albums Rated From Worst to Best
More From Ultimate Classic Rock