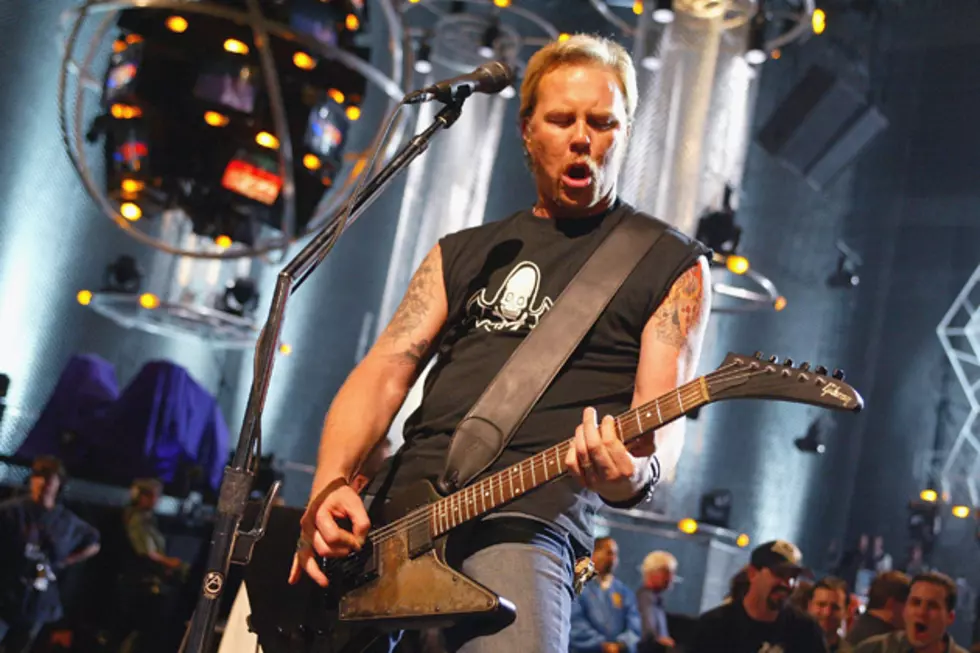 Metallica's 10 Angriest Songs
Kevin Winter, Getty Images
'Aren't all Metallica songs angry?" That's the response we got from our friends when we told them we'd been tasked with writing about the legendary metal band's angriest tracks.
And it's true, lyricist and singer James Hetfield isn't exactly known for coming up with a lot of cheery, good-times tunes. But as you'll see below, some of them clearly stand out as more pissed off than others. Whether he and his bandmates are railing about our treatment of the environment, corrupt politicians or even his parents, odds are you'll find plenty of things to get worked up about, too! So be sure to have your blood pressure checked, find your happy place, then check out our list of Metallica's Angriest Songs.
10

'Blackened'

From: '...And Justice for All' (1988)

Our first angry Metallica track finds the group ticked off about the way mankind has treated the environment. They warn that our actions are causing the "death of Mother Earth" in typically direct fashion: "See our mother put to death / See our mother die / Smouldering decay / Take her breath away / Millions of our years / In minutes disappears."

9

'Holier Than Thou'

From: 'Metallica' (1991)

Singer James Hetfield opens two cans of whoop-ass on those who spread gossip, uninformed judgement and lies on this compact blast of hatred from the group's 1991 self-titled commercial breakthrough: "No more! The crap rolls out your mouth again / Haven't changed, your brain is still gelatin / Little whispers circle around your head / Why don't you worry about yourself instead?"

8

'So What'

From: 'Garage Inc.' (1998)

OK don't get mad, but we're including this cover of a very pissed-off song from punk legends Anti-Nowhere League on our list. There's just too much venom to ignore, and it's a shining example of how willing Metallica are to step outside their own minds and into the heads of others to get their anger on.

Most of the lyrics of this song are unfit to print here, but we're sure with a little help from the internet you can read them in all their foul-mouthed glory. Suffice it to say, 'So What!' is the perfect song to play if you're in the mood to smash up a TV or two.

7

'Ride the Lightning'

From: 'Ride the Lightning' (1984)

It's pretty easy to understand why the protagonist of this song is so angry -- after all, it's told from the perspective of an inmate waiting on death by electrocution. Even as he admits to committing the crime, he's got a pretty big bone to pick with our justice system: "Death in the air / Strapped in the electric chair / This can't be happening to me / Who made you God to say 'I'll take your life from you!'"

Hetfield does a great job of putting us in the doomed man's shoes, convincing the listener that we are also about to be zapped for good with this pummeling little tune, which doesn't quite get the credit it deserves.

6

'...And Justice for All'

From: '...And Justice for All' (1988)

Ever get really aggravated while watching the non-stop parade of stories about corrupt politicians and businessmen and all the ways they seem to screw the little guy out of their chance at the good life? Well, so does Metallica, and they tackle the issue head on with the title track to their 1989 album '...And Justice for All.' "Halls of justice painted green / Money talking / Power wolves beset your door  / Hear them stalking / Soon you'll please their appetite / They devour / Hammer of justice crushes you"  

5

'St. Anger'

From: 'St. Anger' (2003)

You know what makes us furious? People who can't talk about anything else but the "trash can-sounding drums" when discussing this album. We're here to say that this a good song from an underrated album, and besides, with a title like that how could we possibly leave it off this list? It seems Hetfield is making a really strong effort to control and positively channel his rage here: "And I want my anger to be healthy / And I want my anger just for me / And I need my anger not to control / And I want my anger to be me / And I need to set my anger free."

4

'Ain't My Bitch'

From: 'Load' (1996)

In the five years between their self-titled "Black Album" and its 1996 follow-up 'Load,' Metallica became one of the world's biggest and richest rock bands. But if you thought all of that success would mellow them out, this provocatively-titled lead off track will set you straight pretty quick. "Draggin' me down, why you around?," Hetfield sneeringly demands of a selfish hanger-on, before declaring them, "So useless."

3

'Damage, Inc.'

From: ' 'Master of Puppets' (1986)

Metallica's got no time or patience for conformists living on their knees on this hard-hitting track from their 1986 masterpiece 'Master of Puppets.' Lyrics like "We chew and spit you out / We laugh, you scream and shout / All flee, with fear you run / You'll know just where we come from" show that Metallica, much like the Hulk, are always angry. Plus, at around 1:20 the guitars really kick in, and Kirk Hammett reminds us that sometimes a man with a guitar can be just as angry as one with a microphone.

2

'Welcome Home (Sanitarium)'

From: 'Master of Puppets' (1986)

Another inspired and enraged classic from 'Master of Puppets', 'Welcome Home (Sanitarium)' shows that a song can be both angry and extremely complex at the same time. Based on the novel 'One Flew Over the Cuckoo's Nest', the lyrics tell the story of a man who is wrongly caged in a mental institution: "They keep my locked up in this cage / Can't they see it's why my brain says rage?" Fortunately for our hero, and unfortunately for the staff, freedom is soon to be his for the taking.

1

'Dyers Eve'

From: '...And Justice for All' (1998)

This song finds Hetfield laying it out emotionally with a message directed squarely at his parents. Angry and extremely deep, this is one of many examples of just how much credit metal's most charismatic frontman deserves as a songwriter. He's unafraid to get personal and end this album on a heavy and surprisingly somber tone: "Dear mother, dear father / What is this hell you have put me through / Believer, deceiver / Day in day out, live my life through you / Pushed onto me what's wrong or right / Hidden from this thing that they call life." That honesty makes 'Dyers Eve' deserving of the highest spot on this list of Metallica's Angriest songs. Join us next week for our exclusive list of the Top 10 Metallica songs about Unicorns and Puppies.
More From Ultimate Classic Rock