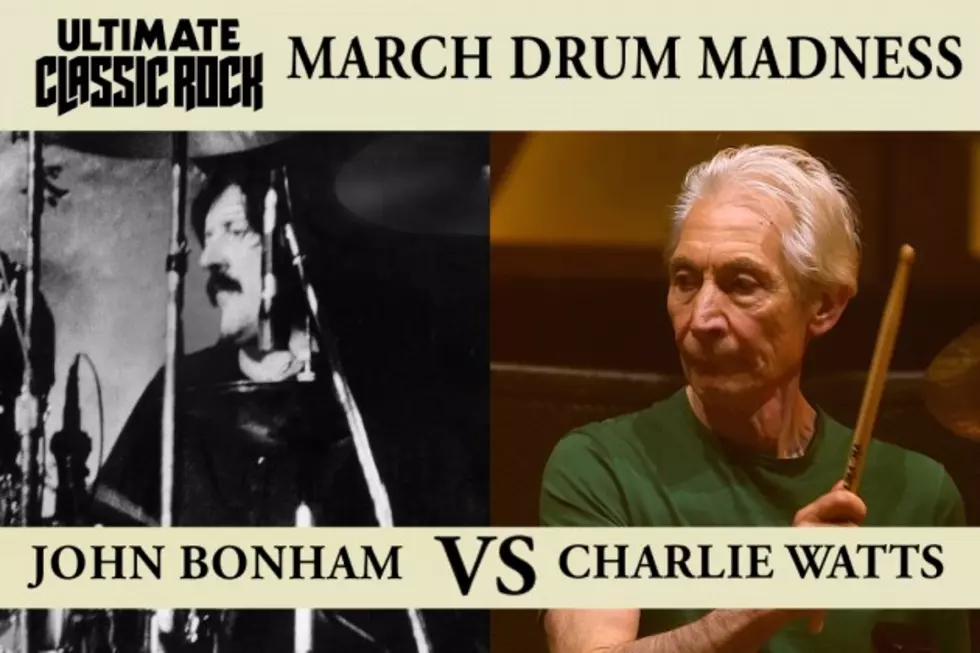 John Bonham Vs. Charlie Watts: March Drum Madness
Hulton Archives / Paul Kane, Getty Images
We placed 32 of the most famous drummers in classic rock history into our bracket. Now, we've arrived at the Elite 8, and we'll keep cutting that number in half until we arrive at your choice for the greatest rock drummer of all time.
Typically, there's little to compare Watts and Bonham, other than their vintage. Certainly, their styles couldn't be more different -- as Bonham made his legend with Led Zeppelin based on power, while Watts brings a jazzman's touch to the Rolling Stones.
They took remarkably similar paths of pure domination, however, on the way to this third round of voting in March Drum Madness. Watts most recently defeated Cheap Trick drummer Bun E. Carlos by a comfortable percentage of of 69 to 32. Bonham, meanwhile, had even less trouble with Alex Van Halen, besting the Van Halen drummer with 83 percent of the vote.
But who advances now? You can vote once per hour in each of our current March Drum Madness battles until the next round closes on March 30 at 11:59PM ET. The ultimate winner will be revealed on April 7.
See the Rolling Stones and Other Rockers in the Top 100 Albums of the '70s