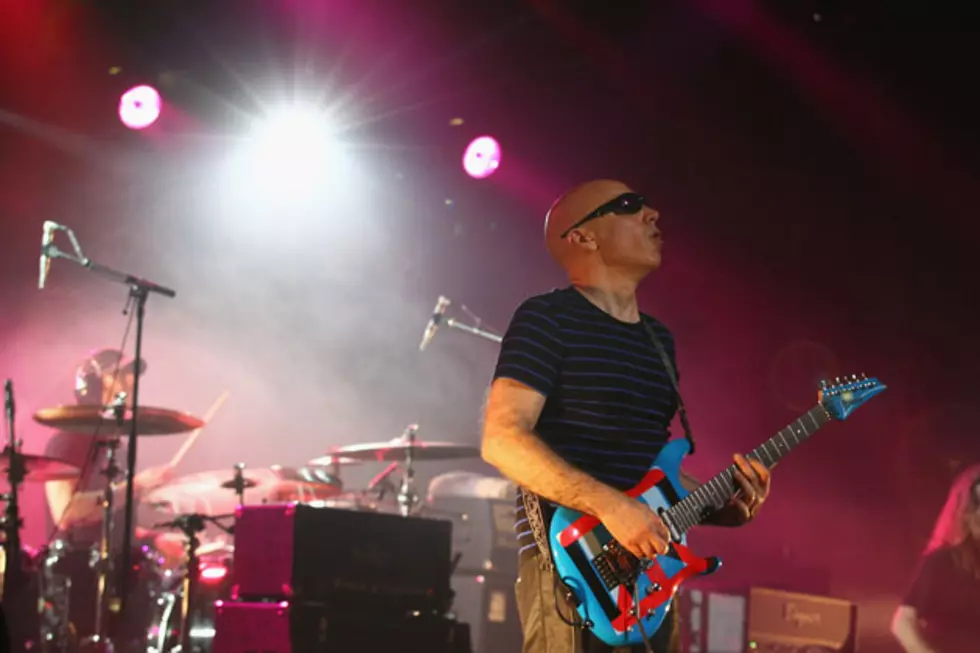 Joe Satriani Planning for Next Chickenfoot Album
Robert Clanflone, Getty Images
Recording the new Chickenfoot album is on Joe Satriani's calendar. The guitarist has just finished a solo European tour, but he's also been working on new music for the Sammy Hagar-fronted group. 'Chickenfoot III' was released in September 2011.
During a lengthy interview with Popdose, Satriani says he plans to sit down to have serious talks about the project in the next couple of weeks, with an eye toward recording this winter. "I'm keeping Christmas and the first couple of months of next year open for recording the record," he tells Jeff Giles and Matt Wardlaw, who also write for Ultimate Classic Rock.
Satriani and Hagar have been trading ideas since about February 2013 and, like he's done in the past, the guitarist says he plans to record demos on his own before the process begins. "I present the guys with lots of demos … I'll bring in maybe 16 songs and half of them they hate [laughs]."
From there they get to work and the songs take a life of their own. Based on this conversation it doesn't seem unreasonable to expect the new album in 2014. Chad Smith and Michael Anthony round out Chickenfoot.
Prior to talking about that collaboration Satriani talked about his own material, and the idea of reissuing his catalog. He offered some unique perspective on the topic, saying he's holding off because he doesn't know what "reissuing" will mean in the near future. Digital music has complicated the issue, and he suggests the new format is bound to make physical box sets archaic.
"No one is quite sure about when to jump off the CD," Satch said. As for vinyl? "Even though people say vinyl is coming back, it's not coming back … That's like me saying my hair is growing back. It's just not happening."
More From Ultimate Classic Rock