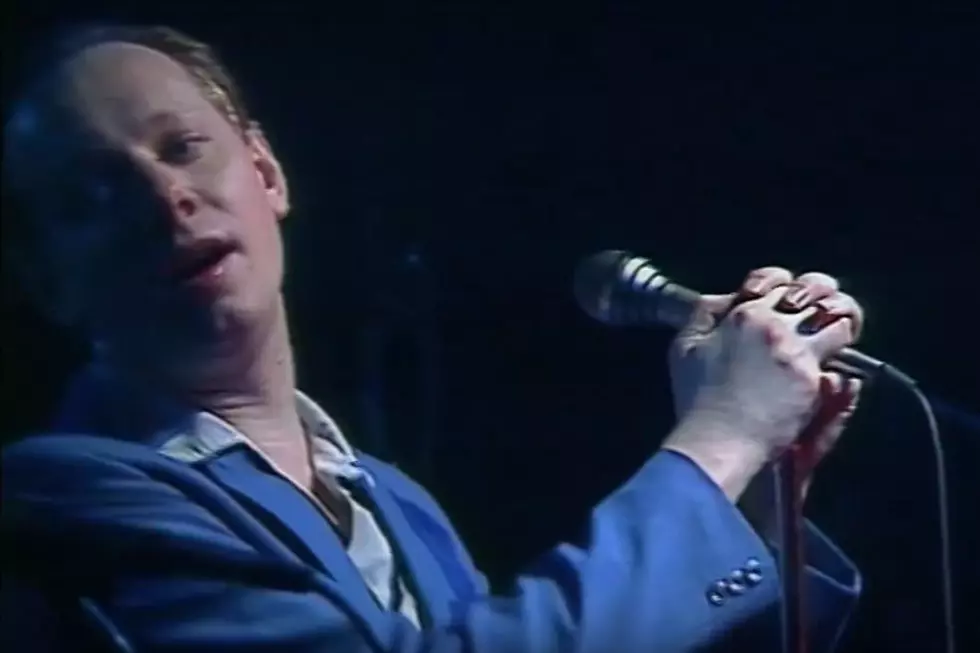 YouTube
Our list of the Top 10 Joe Jackson songs focuses exclusively on the albums he made between 1979 and 1986. But that's not because there was a significant decline in quality after that period (we're partial to 1989's Blaze of Glory and 2003's Vol. 4). It's just that he covered so much ground early in his career that simply cannot be ignored.
After having studied composition at London's Royal Academy of Music, the native of Portsmouth, U.K., kicked around before getting signed in 1978. His debut, Look Sharp, is a New Wave classic: A near-perfect blend of jagged, reggae-influenced rhythms, punk energy and three-minute pop smarts. But, like the records his label mates the Police were releasing at the same time, the sound masked the complexities of the music. And it was all filtered through his lyrical perspective, which was comprised of equal parts romantic and cynic.
Since then, Joe Jackson has followed his muse through a variety of projects, including urban synth-pop, various styles of jazz, film scores, classical and New Age. These excursions often came at the expensive of his commercial potential (he only placed four songs in the Top 40), but they've nonetheless painted a picture of a musically restless artist more interested in following his muse than current trends.
10

"Jumpin' Jive"

From: 'Joe Jackson's Jumpin' Jive' (1981)

The jump blues of the '40s is often overshadowed by Chicago and Delta blues as being influential on rock 'n' roll, but Chuck Berry and Little Richard learned a lot, particularly in performance, from the likes of Louis Jordan, Cab Calloway and Wynonie Harris. Jackson paid tribute to these masters a good 15 years before the swing revival of the mid-'90s. "Jumpin' Jive" was originally a big hit for Calloway, and a perfect distillation of the album's sound.

9

"It's Different for Girls"

From: 'I'm the Man' (1981)

Reaching No. 9 on our list of the Top 10 Joe Jackson Songs, his first great ballad finds him mining a territory that would become one of his lyrical trademarks: The conflicts in relationships caused by gender stereotypes. But Jackson changes things up here; this time it's the man looking for love and the woman only interested in a fling. In the early '90s, Jackson re-arranged "It's Different for Girls" as a B-side duet with Elaine Caswell.

8

"Home Town"

From 'Big World' (1986)

The nostalgic pull of a childhood, especially when the complexities of adulthood set in, is universal. On "Home Town," Jackson sorts through "bills, receipts and credit cards / Tickets and the Daily News' and longs for his native seaside Portsmouth. "We never leave the past behind / We just accumulate," he sings, against the same chord progression as Pachelbel's "Canon in D."

7

"Another World"

From 'Night and Day' (1982)

After Jumpin' Jive, Jackson dissolved his band and moved to New York. His next album, Night and Day, reflected the sounds of his new city. A glossy collection of urbane, sophisticated pop songs, Night and Day became his highest-charting record, reaching No. 4. "Another World," with its Latin jazz percussion and piano, kicks it off in grand style.

6

"You Can't Get What You Want (Till You Know What You Want)"

From: 'Body and Soul' (1984)

Night and Day's follow-up found Jackson going deeper into his jazz influences. And while Body and Soul may have curtailed the commercial momentum built by the success of his previous effort, he still managed to place "You Can't Get What You Want (Till You Know What You Want)," complete with a bebop-infused Vinnie Zummo guitar solo, into the Top 20.

5

"One More Time"

From: 'Look Sharp' (1979)

No discussion of Jackson is complete without mentioning bassist Graham Maby, whose blend of speed and counterpoint melody have graced all but a few of Jackson's albums. So we're putting "One More Time" in the middle of our list of the Top 10 Joe Jackson Songs as a tribute to Maby, because no matter how many times we've listened to it, we can never predict where he's going.

4

"Be My Number Two"

From: 'Body and Soul' (1984)

Not to be confused with his Top 20 hit "Breaking Us in Two," "Be My Number Two" has become one of his most beloved songs. On its surface, the story of a man admitting to the object of his affection that she's only a rebound is a bit callous, but Jackson's yearning vocal adds vulnerability, particularly in the middle.

3

"Steppin' Out"

From 'Night and Day' (1982)

Jackson took a Graham-Maby-plus-drum-machine groove, added some shimmering keyboards and rode it to No. 6 for his only Top 10 hit. Jackson also temporarily backed off his "no videos" stance and created a clip that made it into regular rotation on MTV. For his work, Jackson was nominated for two Grammy Awards, for Record of the Year and Best Male Pop Vocal Performance.

2

"Is She Really Going Out With Him?"

From: 'Look Sharp' (1979)

"Steppin' Out" may have been his highest-charting song, but, over time, "Is She Really Going Out With Him?" has proven to be his best-known song. Between Maby's bass line, the perfectly singable chorus and the "Look over there / Where?" call-and-response hook, "Is She Really Going Out With Him?" is, more-or-less, the sound of New Wave boiled down into three minutes and 35 seconds.

1

"A Slow Song"

From 'Night and Day' (1982)

Despite the two big hits, the song to lead our list of the Top 10 Joe Jackson Songs is a deep cut. Owing more than a nod to the Righteous Brothers' "Unchained Melody," "A Slow Song" finds the narrator in a club, where he's "brutalized by bass and terrorized by treble," as it builds to a gorgeously cathartic climax. For decades, Jackson has used it to close out his concerts.
More From Ultimate Classic Rock