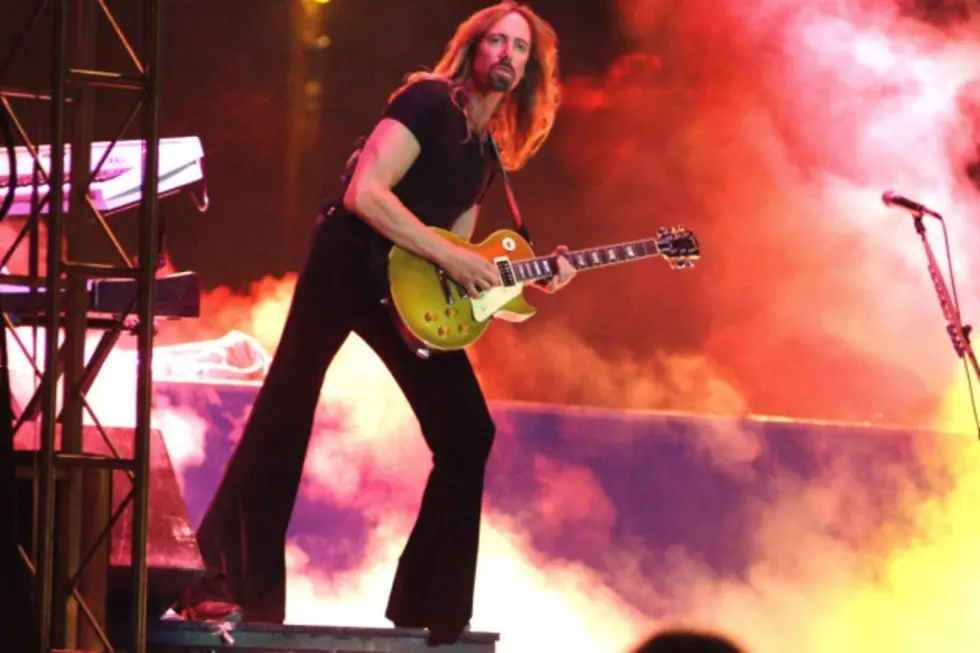 Former Night Ranger Guitarist Jeff Watson Talks New Music + Upcoming 'Randy Rhoads Remembered' Tour
JeffWatson.com
You can find some crazy things in your glove compartment, as former Night Ranger guitarist Jeff Watson recently learned. While digging around in his wife's car, he found a cassette tape that had five demos for the never-completed fourth album from Mother's Army, the heavy '90s-era supergroup featuring Watson, Ozzy Osbourne bassist Bob Daisley, Rainbow vocalist Joe Lynn Turner and drummer Aynsley Dunbar (who, by this time, had replaced original drummer Carmine Appice).
Watson will release the demos, once thought to be lost, one-by-one in the coming months. He's also been hard at work on new solo music, including "Squirrels & Kerosene," a recently released single that is quite appropriately titled. The fast-paced track quickly demonstrates that Watson hasn't lost an ounce of his skills on the fretboard.
After a few years away from the spotlight, a time in which he continued to stay busy with a variety of projects, Watson is finally putting himself back out there in the public eye. He stepped back onto the stage in early January to trade licks with Joel Hoekstra -- his replacement in Night Ranger (now playing guitar for Whitesnake) -- on the Randy Rhoads-driven Osbourne classic "Over the Mountain." Watson will be a guest player in an all-star lineup that will hit the road this spring and summer to continue the live exploration of Rhoads' legendary guitar work with the Randy Rhoads Remembered tour.
Breaking the silence for one of his first interviews, Watson sat down with Ultimate Classic Rock to talk about the upcoming trek, which features a band including former Ozzy drummer Brian Tichy and former Osbourne bassist Rudy Sarzo, his new music and the plans to release the Mother's Army material. He also shares some interesting insight regarding how he developed into one of the most unique guitar players of the '80s with his legendary 8-finger tapping technique.
For the past several years, Jeff Watson has been the definition of "off the grid." It's great to see you back with new music. Can you talk a little bit about what it was that brought you back around?
Well, several things. Once I left Ranger, there was a confluence of events going on in my personal life. We have a kid graduating high school this year. So you know, I had to get into home life. But studio stuff, I've been writing a ton of material -- and I've never stopped writing, since I was very young. I also did some film work on a couple of films and some TV work, scoring as well as participating in the film Enchanted and the filming in New York for that. I did some of the voiceover stuff here at my studio and you know, I play on other people's albums and things.
I would have to say that it was just time to kind of reevaluate what's going on. I also didn't want to be overexposed -- perhaps I'm underexposed….I may have taken it too far! But it feels like the right time for me, for some reason. I'm playing better guitar now than I was back in the day. I've really spent more time becoming a better player and honing my musical skills, as it were. So I think that's the best explanation I can have for the recluse years!
For folks that don't know, what was the story behind your departure from Night Ranger?
It's kind of a sad one and it's not something that I'd like to dwell on, really. It was almost biblical, how it affected me anyway. But it was a drag. It was unexpected and I really don't want to jump into the details. I think everybody just has to live with the outcome and that's all in the rear-view mirror, as it were. I have nothing but the best wishes for everybody in whatever they pursue in their life, I really do.
But that was a great time of my life when things were going well with the band in the '80s. It was really a lot of fun. Even the reunion stuff was a good time for us and we had some great shows together. It was a bit of a shock to have the tables turned, but things happen.
"Squirrels and Kerosene," your new single, certainly shows that your fingers are in good shape. Listening to it, I hear a Chet Atkins kind of vibe and the pacing certainly fits the squirrels part of the title. Where was your head at working on this tune?
I live up in the forest in Mill Valley in this house I've been in for over 30 years and my studio's here and we're literally in the forest with lots of animals. We have deer at the house every day and raccoons every night, mountain lions, coyotes, foxes, skunks, you name it...and lots of squirrels! We also have a cabin above Lake Tahoe where there's no electricity and there's no roads to get in and no phones. So the only thing to do there is either waterski or canoe or fish or read or play board games or play music.
I chose the latter, so I would teach myself songs up there and we'd go there every summer -- it's only open three months a year because it's at such a high altitude -- it's at 7,500 feet. It's kerosene lanterns there...it's the real McCoy for certain, for getting off the grid living. So it made sense to me to put those two types of songs together. When I was a small kid, my parents were in the Folk Music Society in Sacramento, so I grew up mostly around folk and bluegrass music. Late in my teens was when I first started playing electric guitar -- I started on 12-string guitar and flatpicking was everything when I was a little kid.
Then I saw a guy playing electric guitar in a band that came to my high school for an assembly and I was enamored. I thought, "Wow, that's a good band." From then on, I started digging in and listening to a few people and trying to find my own style and then I stopped listening to people several years later and I hate to say this, but I really don't listen to a lot of music. I mostly listen to what I'm composing and working on and that's how I come up with my unusual style. Like it or not, that's the weirdness of it! [Laughs] That's why some people think it's just off the charts weird, but that's me.
You have to probably realize that starting with a 12-string is a really interesting place to start as a player, when you see years later where other people started.
That's a very good point. I've been alerted to that because I've come into the 21st century and now I have the interwebs and all of that. People send me things or I'll watch something and I'm shocked at just how gifted some of these kids are that are just tackling it. They've been learning from the people that did it in the last 20 years, so I think it's like a snowball effect. They get good so young.
I was talking with Steve Lukather and Steve Morse, a couple of my friends, and we were just laughing about this. They're being born with more chops than any of us have put together these days. [Laughs] So I think that it's exciting. I'm not sure about their compositional skills -- I'm not sure what they're deriving from their musical direction. It's coming all from the Yngwie [Malmsteen] stuff or the [Tony] MacAlpine stuff or that sort of thing. I hope they listen to other types of material. I was more interested in the '70s music and then before that, like I said, the folk stuff. But I probably would have liked to have had an electric guitar when I was young.
Did it feel easier once you got your hands on an electric?
Oh yeah. Absolutely. And I taught myself to play, so I had no rules or guidelines to go by. I just had the guitar, guitar picks and myself in a cabin and I would just go, "Hmmmmmm," and things sounded good to me so I would pursue them. I pick oddly --- I pick with the front edge of my pick facing up as opposed to the front edge of the pick facing down. I also start most of my flatpicking with an upstroke and I do a lot of string skipping.
That's primarily due to the 12-string when I was a kid. That just carried over onto electric guitar. But to answer your initial question, it felt pretty easygoing to six lighter strings than the 12 heavy strings that were on that guitar -- and I'd love to have that guitar back, but I'm sure that's some sort of firewood by now.
It definitely seems like you would have a good amount of added dexterity with an electric, as you kind of spoke about, because you started on the 12-string.
Yeah, I would suggest that's correct. I think that I taught myself to move around a lot and having to get both octave strings held down, I had a pretty strong left hand. It's probably weakened as I've gotten older and don't play as much 12-string, but I think that definitely contributes to my abilities greatly. That's probably why I wrote unusual things, because I wasn't told not to.
Because I wasn't studying in a music school, I've always just tried to make my ears happy and a lot of the solos and songs that I've released over the years actually started out just sitting either here in the forest or up at our cabin with just a practice lick, trying to make my hands do something that they normally wouldn't want to do. There's no sense in practicing something over and over again that you already play well. That's one thing that I've realized in my life. You're not getting better, you're just pleasing yourself and it's not about showing off to yourself! [Laughs]
So I just sort of pick something that's very difficult and try to develop it and then once I accomplish that, I'll try something that's more difficult. A lot of those pieces that I wrote for myself on the guitar neck have since become either songs or signature types of solos for me. Like "Don't Tell Me You Love Me" or "Goodbye" or "Let Him Run" or "(You Can Still) Rock in America," there's certain specific things [in those songs] that started out as practice licks that I came up with, just sitting and looking at a lake.
As I understand it, you've got some other music in the can, right? Is the style of "Squirrels and Kerosene" indicative of the tone and feel of the rest of the material?
No. I used a lot of that type of approach, but at a much lesser tempo, when I was scoring Vertical Frontier, the film, a lot of acoustic or flatpicking stuff. Maybe I should do one called "Chipmunks on Meth" or something, but "Squirrels and Kerosene" was basically just a test. I'm not sure that I could pick up a guitar right now and play that song from top to bottom. It's right at the top of my ability. If I was to play it live, I would definitely pull it back a few beats per minute. It goes by quickly and it's something that was difficult to play all the way through for me in the studio. [Laughs]
But the other stuff, to answer your question, goes back a little more towards what I was writing before we started Night Ranger. I had a band of my own and I had more of a Deep Purple-ish [thing that was] more towards heavy hard rock than the rest of the guys. So when we put Ranger together, I came from the rock side of things, as did Fitz [former Night Ranger keyboardist Alan "Fitz" Fitzgerald], and the other guys came from more of a pop or funk side. It was kind of an interesting combination and that's what made it work with all of the different styles. But I'm pulling out some of the stuff and the styles that I was writing back in those days, because I never really released them. Nobody's ever heard them.
So that's kind of where I'm going. "Squirrels" is new and I've got another one that I want to release soon -- I have a guest star coming into play on it. Jeremy Colson has already done the drums for me, who is a great drummer who lives right down the street here in Tiburon and he plays with Steve Vai and [Joe] Satriani and Billy Idol and he's just a monster. So I cut the basics and I've got some of the solo stuff on it and I want to get a guest guitar player in here to play along with me on a couple of things and I think that will be my next release of the new stuff.
Additionally, I'm going to put out five songs slowly, one at a time, over the period of the next few months, of the Mother's Army Four record that we never went in and finished recording. We actually did five demos here. Bob Daisley and I wrote them with Joe Lynn Turner and Aynsley Dunbar played drums and we cut the demos for the songs on my two-inch machine upstairs and we put 16-track heads on the machines, so it sounds beautiful in that regard. The tape is ruined and we thought it was all lost, but in my wife's glove box in her car, there was this cassette.
I didn't know what was on the cassette. Well, on one side of the cassette, were the five songs that I had mixed of the demos of the MA4 album and there's no way to recreate [that] and get the guys back in from all over the world and get that energy back. So we mastered the cassette and I'm going to start releasing the Mother's Army Four songs coming up pretty quickly. They should be starting to come out, I would think, next month sometime. The first one should come out and it will come out on iTunes and Amazon and CDBaby.
Hearing that this was on a cassette that was in your wife's glove compartment, I think that's really incredible. The first question that comes to mind of course is what is this cassette doing in there and how long had it been there?
That's the interesting thing. I just talked to Bob Daisley, who is down in Australia and he's one of my best friends and a great bass player and a great writer. He and I wrote the first three Mother's Army records together and then Joe Lynn Turner came in to do more writing as we got farther into the second and third records. But Bob is a dear friend and he reminded me --- I thought it was 1997….I think we actually cut those demos in 1999 and then I'm sure I stuck them on a cassette to play in my wife's old car and I'm sure when I was cleaning it out,
I just pulled the cassette out and I flipped it over and it said "MA4 Demo" and I thought, "What?" I put it in and of course the tape breaks, so I got the tape and taped it back together and I cooked it enough in the oven, I warmed it up enough and I transferred it and I got it down to a friend named Thomas LeBlanc in Los Angeles, who is a mastering engineer. He mastered it and got them sounding as good as they can be sounding from a 15-year old cassette that's been baking in a car. I've got to tell you, they sound really good and all of the guys in the band were quite surprised when I sent them around. I said, "I want to put this out, because there's no way that we can recreate that energy and get everybody to do this again." It is what it is -- basically it's the "lost tapes," the "MA4 lost tapes." There's five songs and that is going to be all that comes out of that band, ever.
How many years had it been in there though?
Okay, let's see. What I probably did is I probably recorded something past those songs, because I wanted to demo something like a guitar idea. I'm sure the other side is full of just junky ideas. I must have stuck it in there to listen to something in the car, because it's a great listening environment when you want to check out your tones from the studio. I'm sure she probably pulled it out and put in something she likes to listen to. I mean, this is back when cars had cassette players in them, right? So anyway, it's been sitting in there, I don't know, it was probably in the car for 12 years? That's the only copy that exists and to be honest with you, I'm not even sure where it is right now. You've got me curious!
I have a house full of things, thousands of cassettes and CDs and two-inch tapes and guitars and amplifiers and pianos and keyboards. It's like the Winchester Mystery House out here, so finding that cassette would be definitely difficult to do again. But we have captured it digitally and it is ready to be released. They've mastered it and they're ready to go. We're just waiting -- we had to register the songs. They had not been registered and nothing had been done, because we disbanded. Everybody had to go off and do their things. I went back out and did shows with Ranger and Bob had to go out with whomever, Gary Moore or Ozzy or whatever. Everybody had their thing.
I know you've got the Randy Rhoads thing coming up and I want to talk about that, but staying on the solo tip for a moment, what's the thought as far as this new music that you've started to put out. Do you want to put together a solo band and play some live shows?
You know, I'm torn on that. I really like to play and I really enjoyed playing, especially with Brian Tichy, Rudy Sarzo and Joel Hoekstra, who has become just a sweetheart of a friend and he's an amazing guitar player. He's taken some of the things that I get credited with coming up with, like the 8-finger [tapping] thing and he's taken those and just really developed them into amazing musical approaches to guitar. I met those guys in L.A. and I played and it felt fun to be on stage again.
The only thing that I don't want to have happen is I don't want the spotlight to be on me all night. I don't enjoy a narrow spotlight -- I've always been a band guy. So I want a nice wide lens -- whatever I do, I want it to be collaborative and inclusive and sometimes that wasn't always the case in Ranger. So I think that the more I have to say about it, the more I want to make it very, very inclusive and go out with people and really showcase lots of musical talent.
I saw a band play here in the Bay Area -- I think it was Mike Landau and my drummer Todd Tribble, who is going to be here tomorrow night to rehearse with me, he took me to a show in the city. It was a very small club called Biscuits and Blues and we got there to watch these two guitar players, Mike Landau [and Kirk Fletcher] and the drummer was Gary Novak.
It was a monster band with a great bass player and a second guitar player and they just played in a shared [format] and it was very fun. It was not a huge crowd...it wasn't like going out there and trying to hit the state fairs or the arenas or even the big theaters, it was very intimate and it was just neat. These guys were just having a good time playing. There's other guys I know that are doing this. Isn't Eric Johnson doing this with…
Mike Stern.
Mike Stern. That's kind of fun. Now, that's on a different level of playing than mine. Those guys are the real players. I'm just an '80s guy that likes to pluck the guitar a bit, but those are the real cats, you know? I sit in with Steve Morse sometimes when he's in town -- he stays at the house and he drags me on stage and I'm always thinking, "Why are you doing this to me?" and, "What possibly can I add to this show that you haven't already played by the way, better than anybody ever could?" But he insists!
I think my ideal situation would be to be out there with a band with vocals. Because that's what I grew up on, listening to bands with singers where the guitarist is a supporting feature and not the primary feature and that's kind of what I'd like to be. I'd like to be supportive.
You mentioned Eric Johnson and with "Squirrels and Kerosene," I also thought that sounded like something that he might do. I think that's what's kind of cool about the fact that you put this out as your first bit of new music in a long time is that it's something that if people have heard your stuff over the years, whether it's with Night Ranger, solo or Mother's Army or whatever the case might be, it kind of gives a surprising new look at you as a player, in a good way.
That's interesting, because it's actually where I come from musically, was playing folk and bluegrass as a little kid. [Laughs] I haven't revisited that ever except when I'm just plucking around the house, I love fingerpicking and flatpicking acoustically. I don't think I'm qualified enough to be a Nashville studio guy in that regard, but it sure is fun for me to do. That's the thing. It's just enough to make my ears happy and I play right at my level and that's basically who I am. The soloing stuff, I've actually gotten better at soloing, but I also find that I care less and less about guitar solos.
Because I'm pretty sure that my cat and dog in this day and age can probably solo better than most of…..the whole world. There's a guy on the street in Argentina or somewhere.....I was just talking about Steve Morse and he was down with Deep Purple somewhere and there's only one way into the stadium and on the way out there was a guy sitting out there with a battery powered amplifier playing "Highway Star" and just shredding the hell out of it!
He was just an amazing player and I've seen him on YouTube. I sent it over to Steve and I said, "Is this the guy?" and he said, "Yeah, the guy is out there, with his hat out, trying to collect pesos, just ripping the heck out of me on guitar," and this is Steve Morse saying this. He goes, "It's just insane -- these guys are out there and I can't get to my car to get back to the airport to fly out of town without passing this guy just ripping the s--- out of all of our stuff!"
So it's pretty funny and he's saying that in a complementary fashion. So it's a world now where guitar players, I don't mean to say they are a dime a dozen, but there are definitely a lot to choose from. So maybe it does come down to a perspective of personality and content and musical direction and hopefully, contributory perspective on songs. Because at the end of the day, isn't it all about songs? I say this because when I'm working on something, I kind of know I'm going in a decent direction if people like my wife or her tennis friends or work people happen to be coming through the house or something and they'll go, "Hey, what was that? That's neat? What was that?"
And it's always the least thing I would expect them to be commenting on. Because I'm working on something difficult going, "Oh, this is cool!" and then I'll play something unusual that is kind of funky and weird and cool and they gravitate towards the stuff that will stick in their memory. It's very interesting how the non-musical people relate to music as opposed to all of us on this phone conversation.
You talked about Joel Hoekstra and you ended up jamming with him at the Rhoads tribute recently. He's been making a lot of noise in recent years and from what I know about him, in addition to being a great guitar player, he's just a good dude and a big music fan. Being around a guy like that is probably good energy to feed off of for you.
It's an amazing story how I met him. He had been in my old spot in Night Ranger for several years and he had actually said something in a magazine once that said, "You know, Jeff made my life a bit of a nightmare, because I'm having to cover these specific solos and these approaches of things" and he said, "That's the only downside is trying to play some of Jeff's parts," which I thought was really sweet and flattering. I mean, I'm sure he didn't intend it that way, but that's the kind of guy that he is.
My mom went and saw this band called Trans-Siberian Orchestra, which is a big production and Joel's part of that. She came down for Thanksgiving saying that she'd seen this thing and I find out from another friend that Joel is in that. So I reached out to Joel and I wrote him on Facebook and I said, "Joel, my name is Jeff Watson and I think you're playing some of the stuff I wrote 30 years ago and I hear you're doing a great job of it. I'm sorry to ask you this, but could I ask you a favor?"
He wrote back and he said, "Jeff, I've been wanting to get in touch with you for so long. I hope I'm carrying your namesake on well," or whatever, just the niceties. I said, "I've got a favor to ask -- could you possibly get a tour pamphlet signed by the guys. I want to present it to my mom for Christmas." Because my mom is 86 and she goes with her girlfriends and that's their thing, you know?
He goes, "Of course." So he called management in New York and by God, a week later, UPS Express, here comes the signed TSO color thing and everybody in the band signed it for my mom. It was the sweetest thing in the world. He wrote back after that and I said, "Thank you!" And he said, "Would you like to join us? Are you going to be NAMM?" And I said, "Yeah, I'm thinking about NAMM." I haven't gone in a couple of years...I was going every year since 1978.
But I decided the last couple of years, eh, it's a bit noisy and I end up mostly signing things for people and getting a bit distracted and I had decided to pass on it. So he said, "Well, if you're coming to NAMM, would you like to play with me at this Randy Rhoads show? I think it would be great for you to play. It will blow people's minds if the two Night Ranger guitar players got together...that will turn some heads. It will be great for your career. I think you need to be out there."
It was very, very sweet. He gave up half of his spotlight that night to allow me to come up and we had fun with it. That's what started this all, so I owe a lot of it to Joel going, "Come on down, let's do this!" We would Skype each other and learn the song a bit and I don't know how well I played it. I don't often play other people's music. That's another problem with my style is that I never played in cover bands.
Ever since I was a little kid, I've only played songs that I've written, right up and through Ranger and then through Mother's Army, with the exception of guesting on other people's albums, where I'll go in and learn the part. So that's one area where I'm weak. People say, "Come on up and let's do some songs, sit in!" Holy s---, you know? That's where I draw a blank, because I've only played my own music. I'm a very odd cat I guess, in that regard. So I apologize to everybody out there for not being able to sit in and play….name a song, I can't play it. I don't know anything. [Laughs]
I think that there's a lot of people that are a fan of you as a guitar player would be surprised to hear you say that. In the context of Night Ranger, did that make things difficult for you in the compositional process at points where you guys were jamming on stuff to work out and develop new material?
No, I think it was a benefit at those times, because my mind was a blank. I only knew what I would come up with on the spot. Jack [Blades] had so many great ideas. You know, he was very prolific with ideas, so we were just filling in the blanks and writing parts and throwing things together. I think that was a benefit that I wasn't drawing on years of playing in cover bands. Because otherwise, I don't think we would have had our own identity, to a degree. I think that might have been a plus for us in that regard.
With Joel, it has been mentioned that you were hoping to collaborate with him on this next single that you put out. Is that still the plan?
That's hopefully the plan. We're going back and forth. As you mentioned a few moments ago, he's very, very busy right now. He's so apologetic. I just got another email, he's really working -- they're releasing the new Whitesnake, preparing for tour and so he's trying to fit it in and I think between [my manager] Joey, myself and Joel, we can find a way. He just has to learn a couple of parts that I recorded. I sent him the parts -- they're kind of difficult. They're not hard for me to play because of my picking style, but he'll probably have to be tapping them. It's hard to explain.
But once he grabs that, it will be easy for him and we can fly the parts in. I've outlined it for him and shown him where I need him to play. So it's just a matter of him finding a couple of days to get in there and a little bit of woodshedding. I'd like him to be on this song a lot -- I think it would be a real eye-turner for people and it will be a lot of fun. It's a very cool tune. But it's not like "Squirrels," it's more uptempo and aggressive...it's much more rock-oriented.
You've gotta be looking forward to hitting the road with this Randy Rhoads Remembered tribute. That looks like it's going to be a really fun evening of music. You're one of the guest "guitar lords" at the event. Do you know yet how much you'll get to play at these shows?
You know, I really am not sure. I would like to know soon, so I can do my homework and play well for the guys. I'm not really sure how much I'm playing. I'm not sure how much anybody is playing. I'm looking forward to doing it with a bit of trepidation, because I've not been out there in a few years and I don't want to let anybody down. Traveling is different now than it was a few years ago, so yeah, it's kind of that nervous excitement. I mean, I'm happy to be on stage as long as I know that I'm playing the right parts. [Laughs]
I guess that's the bottom line, once I find out what I'm playing, I think I'll be fine. The guys I am playing with are all so good. Brian Tichy is a great drummer, Rudy plays well...I've known Rudy for a very long time. He used to live next to us in the apartments in L.A. when we were cutting the first Night Ranger records. All of the guys on the list are just all hotshots. So I'm probably going to be the old guy in the back of the bus with my banjo and my straw hat going, "Get the hell off my porch!" [Laughs] They're all real capable folks, so I'm real grateful for them to invite me to come along.
See the Top 100 Albums of the '80s
The 10 Worst Rock and Roll Hall of Fame Snubs
More From Ultimate Classic Rock