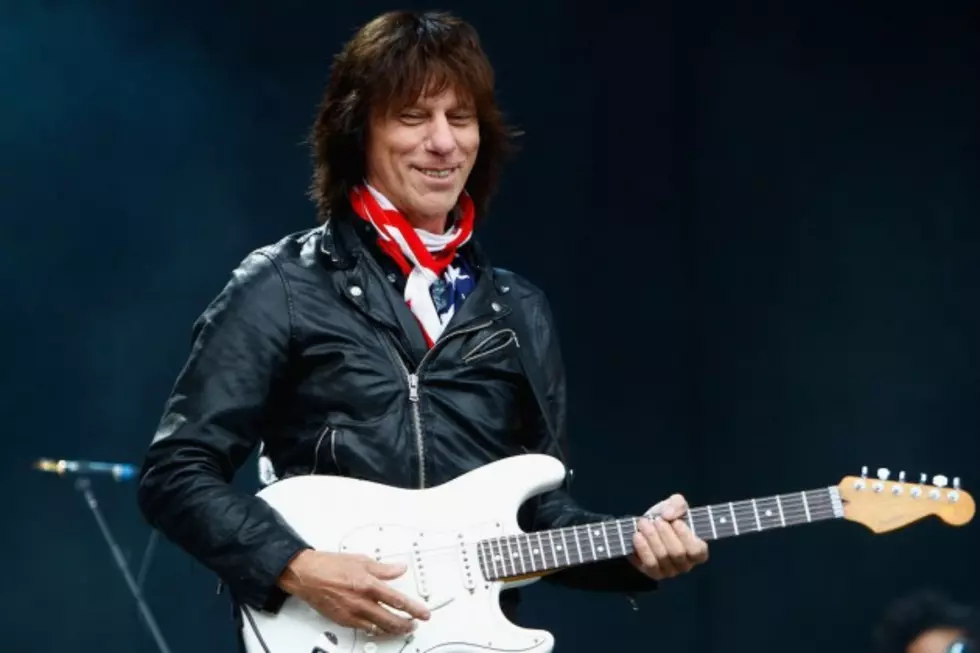 Jeff Beck Releases New Song, 'Tribal'
Simone Joyner, Getty Images
Jeff Beck is gearing up for the May 19 release of his new Live+ LP by giving fans an early glimpse of the record — starting with one of the set's two new studio tracks, "Tribal."
Rolling Stone offers the exclusive premiere of the song, which finds Beck hammering out a series of walloping riffs and leads over Veronica Bellino's driving beat and Rhonda Smith's thudding bass, while guest vocalist Ruth Lorenzo howls on top. You can listen to it below:
As Beck tells the magazine, the song came together quickly during the sessions. "'Tribal' was the first thing I came up with, on day one of the L.A. recording sessions," he explained. "It was meant to be for extreme club/dance-type music, and it went through several radical changes that just didn't work. So with Ruth's vocal we stripped it back to just me and Veronica, with Rhonda's bass dubbed later, which brought back the wild roughness that I was originally after."
The studio portion of Live+ is rounded out with another new track, "My Tiled White Floor," that — like "Tribal" — is said to be musically in line with the new studio LP Beck is readying for release later this year. The rest of the record collects performances from his 2014 tour, and offers concert renditions of Beck classics along with a handful of covers. Take a look at the complete track listing below. The album is now available for pre-order now.
Jeff Beck Live+ Track Listing
"Loaded"
"Morning Dew"
"You Know You Know"
"Why Give It Away"
"A Change Is Gonna Come"
"A Day in the Life"
"Superstition"
"Hammerhead"
"Little Wing"
"Big Block"
"Where Were You"
"Danny Boy"
"Rollin' and Tumblin'"
"Going Down"
"Tribal" (New Studio Recording)
"My Tiled White Floor" (New Studio Recording)
See Jeff Beck and Other Rockers in the Top 100 Albums of the '60s
Rock's Most Criminally Underrated Albums
More From Ultimate Classic Rock