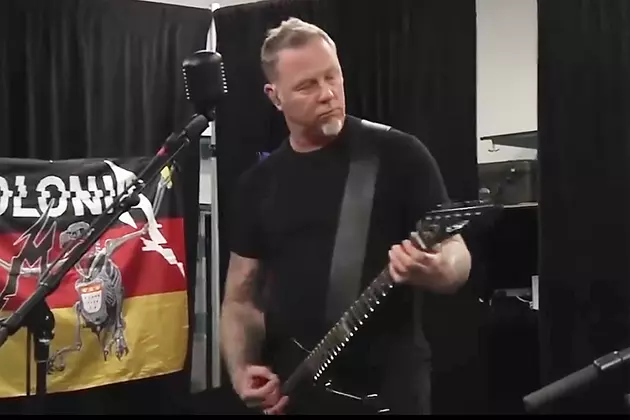 Watch James Hetfield Play Ghost's 'Cirice'
YouTube
You can watch the video clip below, along with the original version, which appeared on Ghost's 2015 album Meliora.
Hetfield has been a fan of the Swedish band for a number of years. "I heard the music first and I thought it was very great, very unique, very melodic and a breath of fresh air for metal," he said in 2011. "It reminded me a bit of '70s kind of rock that I liked, as well. So yeah, I love the band."
Speaking during the radio show in which the Ghost leader confirmed his identity last year, Tobias Forge sent a message to his late brother, who was a big Metallica fan. "I sometimes meet some of your idols," he said. "[Sex Pistol] Steve Jones interviewed me and he actually liked Ghost. I've gotten to know Metallica – I have James [Hetfield's] number and we speak at times. You didn't see that one coming! And I've just come home from a seven-week tour with Iron Maiden. Did I tell you about the Grammy? I got one of those. Mother is very proud and tells everyone who I am, even if it's supposed to be a secret – but fuck that now, I suppose."
Metallica's All Within My Hands charity foundation undertakes its first day of service today. The band asked fans to volunteer at their local food banks. It follows the band's donations to food banks during stops on their 2017 U.S. tour.
More From Ultimate Classic Rock