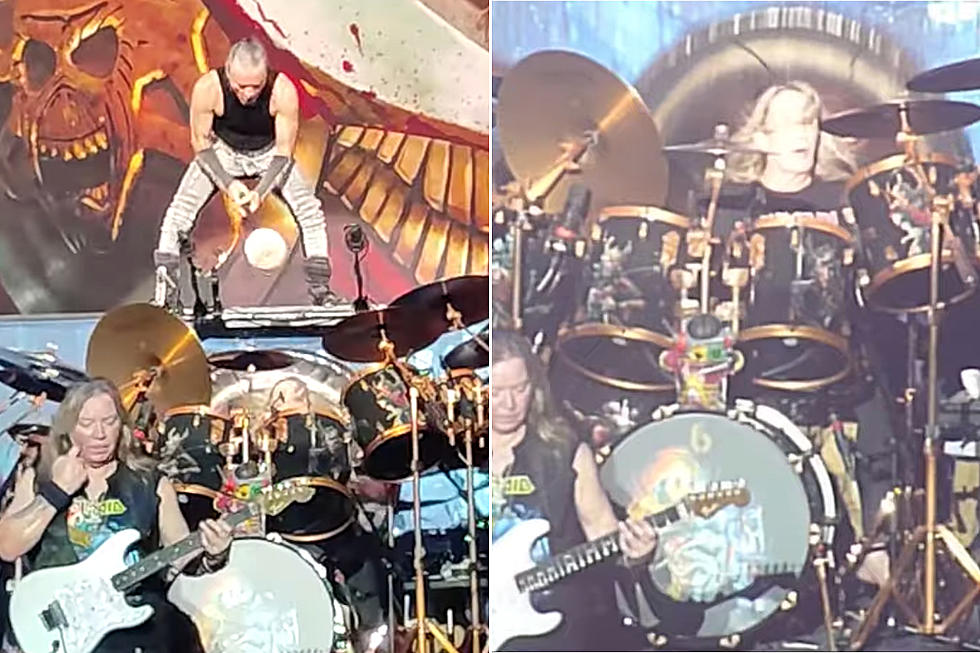 Watch Iron Maiden's Nicko McBrain Gets Hit by Falling Gong
YouTube
Things got a little heavy for Iron Maiden's Nicko McBrain during a recent concert in Dublin, when the drummer was hit by a falling gong after it had been struck by frontman Bruce Dickinson.
The metal giants were rocking through their song "Alexander The Great" when Dickinson climbed upon a riser at the back of the stage. The singer made his way towards a large, 40-inch symphonic gong that had been affixed behind McBrain. As the epic tune (which runs longer than eight minutes) reached one of its emphatic points, Dickinson struck the gong with a large mallet, sending it crashing down on his drummer's back.
Dickinson appeared momentarily stunned by what happened, only to then crack a smile as he returned to his customary center stage position. Despite obviously feeling significant impact from the falling gong, McBrain, impressively, continued playing through the whole incident.
Watch fan-shot video of what happened below.
"Alexander the Great" is a new addition to the Iron Maiden set list. Though the track was originally released on the 1986 album Somewhere in Time, Setlist.fm notes that the song wasn't performed in concert until May 28 this year.
Iron Maiden is in the midst of their Future Past tour, a trek which kicked off in May and will see the band performing all over Europe. Earlier on the tour, bassist Steve Harris seemingly bristled with Dickinson's onstage antics, when the singer placed a Roman-style helmet on Harris during a performance in Prague. That incident, coincidentally, also happened during a rendition of "Alexander the Great."
Iron Maiden will return to the States for a performance at the highly anticipated Power Trip festival in October.
Iron Maiden Albums Ranked
When ranking Iron Maiden albums, perhaps the most striking thing is that they succeeded despite changing lead singers on three separate occasions.
More From Ultimate Classic Rock