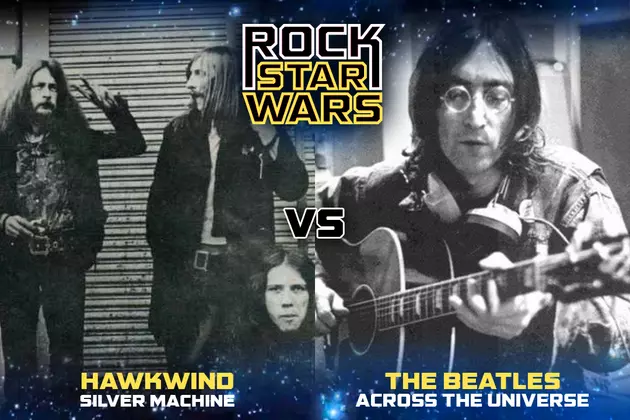 Hawkwind, 'Silver Machine' vs. Beatles, 'Across the Universe': Rock Star Wars
Ultimate Classic Rock
The Beatles' "Across the Universe" and Hawkwind's "Silver Machine" share a launching pad for the first round of our Rock Star Wars battle. You decide whose rocket ride plummets back down to earth.
To try and fill our days between now and the new Star Wars: The Force Awakens movie, we've tracked down 32 space-themed classic rock songs and paired them off against each other in 16 first-round battles. The field will be halved every week based on your votes, until only the spaciest song in rock history remains standing.
Of course, on the face of it, the Beatles and Hawkwind may not seem to have much in common. The circuitous route taken by these two songs, however, are not at all dissimilar.
The cosmic-minded "Across the Universe" memorably arrived as part of 1970's Let It Be, but John Lennon originally came up with the idea back in 1967. The track even showed up in an early form on an earlier charity compilation album called No One's Gonna Change Our World, before Phil Spector reworked it for inclusion on the Beatles' swansong album.
"Silver Machine," meanwhile, was originally recorded live with vocalist Robert Calvert and included on a 1972 compilation called Glastonbury Fayre. By the time Hawkwind convened in the studio, however, Calvert had been hospitalized, leaving Lemmy Kilmister to take over a lyric that has fun with the idea of space travel.
So, which of these songs will emerge victorious from this round? It's your choice. You can listen to both tracks below, and vote once per hour in each of the this round's Rock Star Wars battles until polls close on Nov. 23 at 11:59PM ET. Your choice for our Rock Star Wars champion will be revealed on Dec. 22, 2015.
Listen to the Beatles 'Across the Universe'
Listen to Hawkwind's 'Silver Machine'
Beatles Albums, Ranked Worst to Best
More From Ultimate Classic Rock