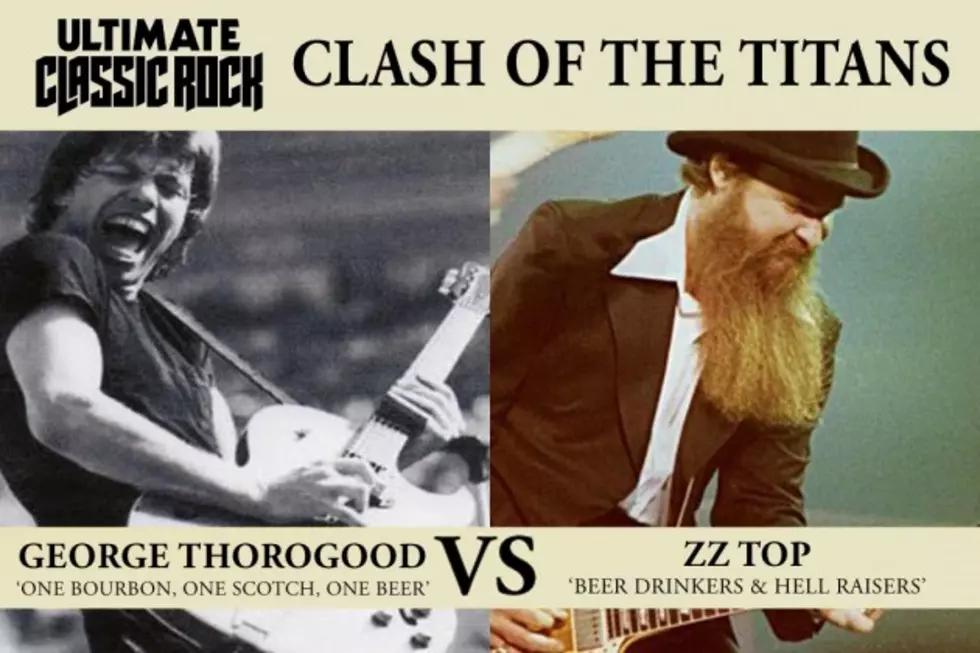 Clash of the Titans: George Thorogood's 'One Bourbon, One Scotch, One Beer' vs. ZZ Top's 'Beers Drinkers and Hell Raisers'
Beer Clash of the Titans
A cool new book by Ultimate Classic Rock's very own Jeff Giles sparked this week's spirited Clash of the Titans debate: Who made the best beer song?
Giles' latest publication, Uncle John's Beer-Topia, promises "a rich, deep-bodied keg of beer knowledge, beer trivia, beer history, and beer fun." The only thing missing? Some great music to accompany all of this book learning and beer swilling.
That's where you come in. On the one hand, you have George Thorogood's "One Bourbon, One Scotch, One Beer," from his 1977 debut album, George Thorogood and the Destroyers. "Beer Drinkers and Hell Raisers" traces further back, to ZZ Top's 1973 gem Tres Hombres.
Both have their timeless charms. George Thorogood, channeling John Lee Hooker, tells a down-on-his-luck tale of a guy unable to pay his rent. Left with few choices on how to come up with the required payment, a growling Thorogood finds himself thrown out on his ear. What's left to do but drink your troubles away? "Beer Drinkers and Hell Raisers," meanwhile, finds Billy Gibbons and Dusty Hill sharing lead vocals on a lyric that portrays a dangerous juke joint scene held together only by ZZ Top's relentless groove.
So which classic gets your vote in this boozy Clash of the Titans? You can cast your ballot once every hour between now and 11:59PM ET on Sunday, May 17. Check out both songs below, and grab your copy of Uncle John's Beer-Topia over at Amazon.
Listen to George Thorogood's 'One Bourbon, One Scotch, One Beer'
Listen to ZZ Top's 'Beer Drinkers and Hell Raisers'
ZZ Top Albums, Ranked Worst to Best
More From Ultimate Classic Rock