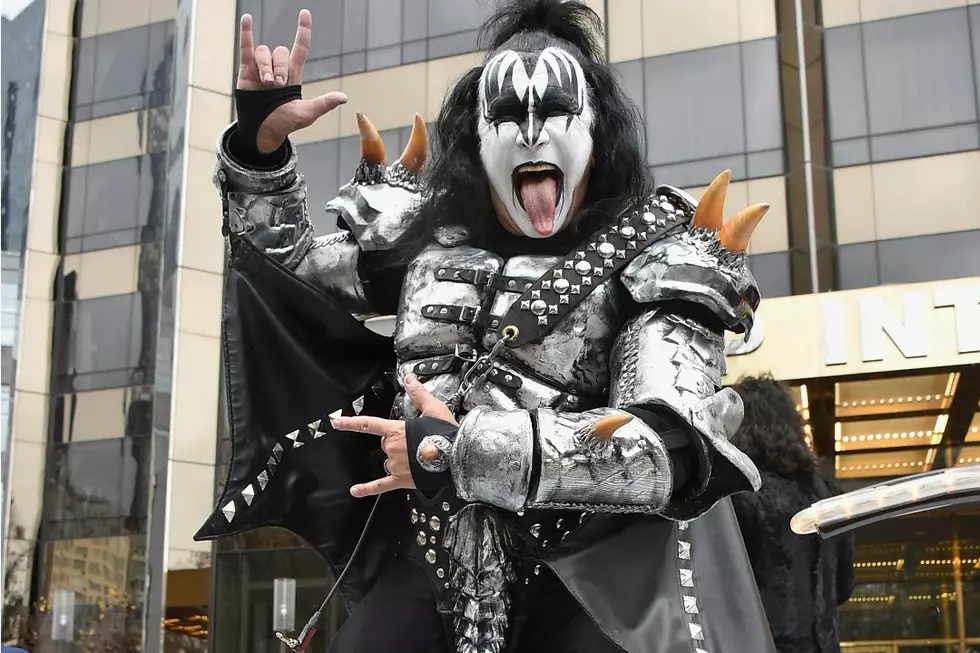 Gene Simmons Shrugs Off Devil Horns Trademark Criticism: 'I Can Do Anything I Want'
Theo Wargo, Getty Images
Gene Simmons may have withdrawn his bid to trademark the "devil horns" hand gesture commonly associated with rock 'n' roll, but it doesn't sound like he regrets the decision to pursue it in the first place.
"I regret nothing," Simmons told the Windsor Star when the subject of his widely criticized trademark application came up during a recent interview. "Let your conscience be your guide."
As previously reported, the Kiss co-founder made headlines several weeks ago after registering his claim with the U.S. Patent and Trademark Office, claiming he'd first made the gesture on stage in 1974. Simmons' bid was publicly mocked by an array of peers — including Wendy Dio, widow of singer Ronnie James Dio, whose public persona was closely associated with that hand sign.
"To try to make money off of something like this is disgusting," said Dio. "It belongs to everyone; it doesn't belong to anyone. … It's a public domain; it shouldn't be trademarked."
Simmons reportedly withdrew his application shortly after filing it, but he shrugged off the question of regrets with the Windsor Star, suggesting the horns gesture is just one of many seemingly un-ownable images and phrases to which he's staked a claim.
"Did you know I own the money bag logo? The dollar sign with the bag of money. I own all kinds of things," said Simmons. "I own 'motion pictures' as a trademark. Anyone who thinks that's silly — the silliest thing I've ever done is wear more makeup and higher heels than your mommy. People said, 'You can't do that.' Actually, bitch — I can. I can do anything I want."
Kiss Albums Ranked Worst to Best
More From Ultimate Classic Rock