John Fogerty / ZZ Top 'Blues and Bayous' Tour: A Tale of the Tape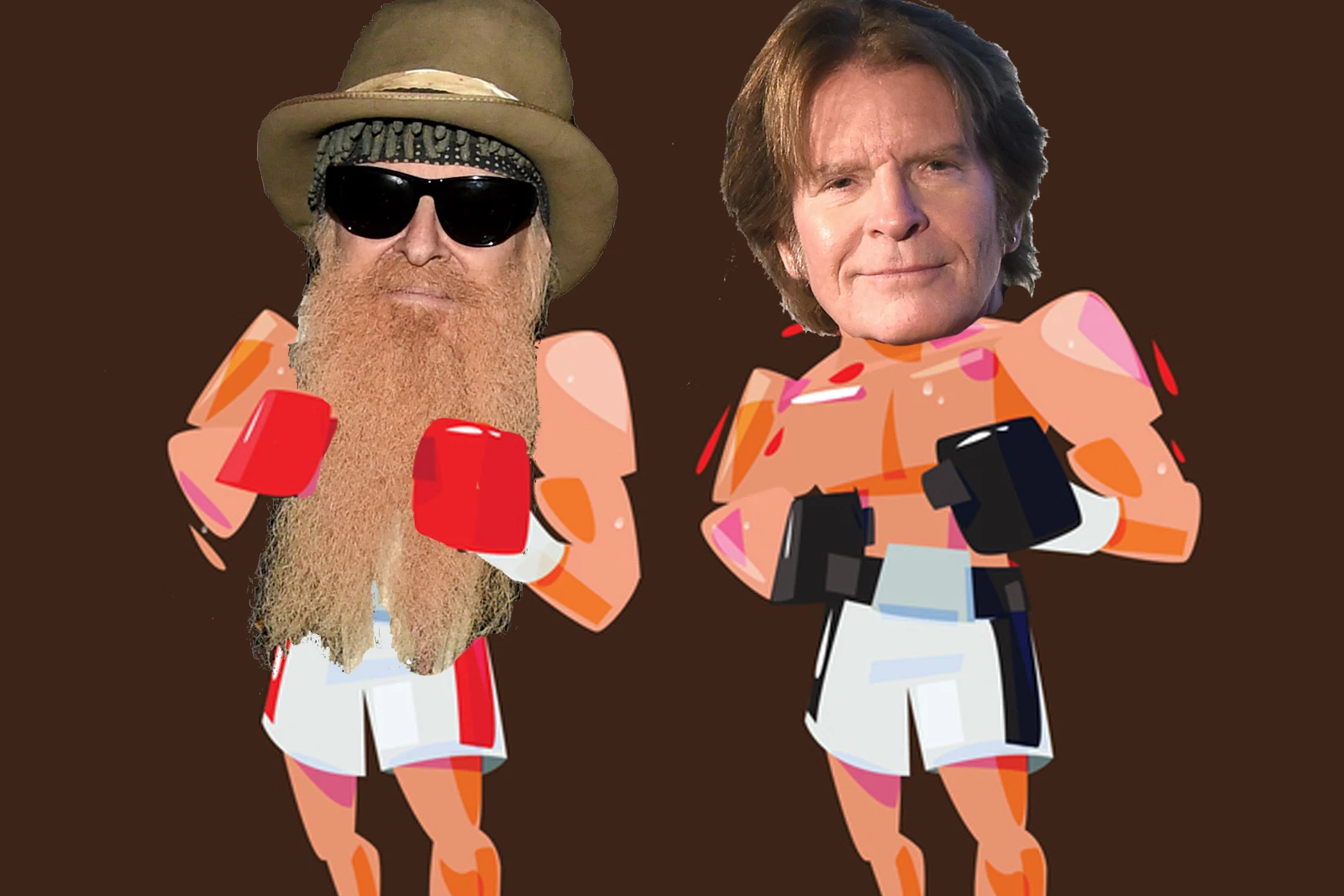 On paper, it's pure chooglin' boogie paradise. One night, two great shows: John Fogerty and ZZ Top. The Creedence Clearwater Revival mastermind and "That Little Ol' Band From Texas." "Proud Mary" doin' the "Tube Snake Boogie." "The Old Man Down the Road" heading "Down on the Corner." A "Fortunate Son" hangin' with a "Sharp Dressed Man." We can do this all day.
The Fogerty and ZZ Top Blues and Bayous Tour kicks off tonight in Atlantic City and runs for 24 shows, through June 29. These are indeed two heavyweight acts occupying the same stage. Let's see how they stack up.
CURRENT LINEUP
John Fogerty Band: John Fogerty (guitar and vocals), Shane Fogerty (guitar), Rob Stone (saxophone), Kenny Aronoff (drums), Bob Malone (keyboards), James Lomenzo (bass), Devon Pangle (guitar)
ZZ Top: Billy Gibbons (guitar), Dusty Hill (bass), Frank Beard (drums)
Fogerty's touring band is something of a family affair, with son Shane trading licks with his dad on guitar. Kenny Aronoff (ex-John Mellencamp and Chickenfoot touring drummer) is on board to keep time. Fogerty recently finished a Las Vegas residency and will begin another in October. ZZ Top have the same lineup they've sported since 1970, with the same beards they've sported since 1978.
FORMED / HOMETOWN
John Fogerty: 1945, Berkeley, Calif.
ZZ Top: 1969, Houston
FIRST SHOW
John Fogerty: 1959, Berkeley, Calif. (in Tommy Fogerty and the Blue Velvets, an early version of Creedence)
ZZ Top: 1970, Beaumont, Texas
According to Fogerty's website, the classic Creedence lineup first formed in 1959 as Tommy Fogerty and the Blue Velvets, with Fogerty's brother Tom fronting the band. They played local dances before beginning their recording career as the Golliwogs and, later, Creedence Clearwater Revival.
As mentioned in The Houston Chronicle, Billy Gibbons formed the first version of ZZ Top in 1969, with his Moving Sidewalks bandmate Dan Mitchell on drums and local Houston bassist Lanier Greig. Over the course of the year that followed, Greig was replaced by Dusty Hill and Frank Beard took over the drum stool, forming the version of the band that remains to this day.
FIRST ALBUM
John Fogerty: Creedence Clearwater Revival (1968) / The Blue Ridge Rangers (1973)
ZZ Top: ZZ Top's First Album (1971)
Creedence were a great singles band from the get-go; it took a couple tries before they got the hand of making albums that were singular statements. As such, the band's self-titled debut sounds tentative, and the standout cuts were covers: Screamin' Jay Hawkins' "I Put a Spell on You" and Dale Hawkins' "Susie Q." After the band broke up, Fogerty recorded a solo album under the name the Blue Ridge Rangers, playing all the instruments himself. It was an album of traditional country music covers, and though it has aged well, it was not a hit, and all of Fogerty's subsequent solo endeavors would be released under his own name.
Similar to Creedence's debut, ZZ Top's first record features all the things they would one day become really good at (bluesy rock music, amusing single and double entendres, record production, maybe even spinning guitars), just not right away. Still, the boogie is real; you can almost smell the huevos rancheros they surely had for breakfast while recording this. It's an auspicious start to a wild ride.
BREAKTHROUGH
John Fogerty: With Creedence: Green River (1969); Solo: Centerfield (1985)
ZZ Top: Eliminator (1983)
Creedence's first No. 1 album, Green River, is the first album on which they got everything right — it's not merely a collection of tunes; it's a perfectly voiced statement, made across nine great songs, including the classic title track, as well as "Commotion," "Bad Moon Rising," "Lodi" and "Wrote a Song for Everyone." For a decade before releasing Centerfield, his only No. 1 solo album, Fogerty found himself stuck in a morass of legal activities, which stifled him creatively and robbed him of years he could have spent adding to his deserved reputation as a great songwriter and performer. Though its '80s production is dated, Centerfield re-established Fogerty as a creative force, with swampy classics like "The Old Man Down the Road" and "Searchlight," as well as the wistful "I Saw It on TV" and the jukebox thumper "Rock 'n' Roll Girls."
Eliminator's synthy boogie came along at the perfect time — two years into MTV's initial wave — and gifted Gibbons and company with radio and video hits, cementing their place in pop culture. Anyone who was 10 or older in 1983 or 1984 knows "Sharp Dressed Man" and the long beards. There's much more to enjoy on the album in addition to the hits, from the naughty character study of "Got Me Under Pressure" to the even naughtier come-on of "I Got the Six."
GOLD, PLATINUM AND DIAMOND ALBUMS
John Fogerty: Solo: One Platinum, Four Gold; Creedence: One Diamond, Eight Platinum, Four Gold
ZZ Top: One Diamond, Six Platinum, Four Gold
Creedence's eight platinum-certified albums include all the studio albums the band released in its lifetime, with the exception of its final album, Mardi Gras, which sold the least of any Creedence record, though it still went gold. Most of the remaining gold and platinum albums in the Creedence discography are compilations, including the diamond-certified (10 million or more copies sold) Chronicle: 20 Greatest Hits. Fogerty's Centerfield is his sole platinum seller; his remaining gold records include two studio albums, one live album and one compilation.
ZZ Top began collecting gold records with their third album, Tres Hombres (1973). Everything else through El Loco in 1981 also went gold, with 1979's Deguello (the one with "Cheap Sunglasses" and "I'm Bad, I'm Nationwide") also hitting platinum status. After Eliminator, though, it's a decade-plus of platinum, with that album itself attaining diamond certification.
TOP 10 SINGLES
John Fogerty: Ten (Nine with Creedence; one solo)
ZZ Top: Two
Creedence hold the distinction of having the most No. 2 hit singles on the Billboard Hot 100 singles chart, without ever reaching No. 1. "Proud Mary," "Bad Moon Rising," "Green River" and two double-A-side singles ("Travelin' Band" / "Who'll Stop the Rain" and "Lookin' Out My Back Door" / "Long as I Can See the Light") all hit that penultimate position without ever reaching the top. Fogerty hit the Top 10 once as a solo artist, with Centerfield's first single, "The Old Man Down the Road," which reached No. 10 in 1985.
Even though ZZ Top were ubiquitous on MTV and pop radio in the mid-'80s (and rock radio a decade before that), the only two singles the band ever put into the Top 10 were "Legs" (1984) and "Sleeping Bag" (1985), both of which topped out at No. 8 ("Sharp Dressed Man," surprisingly, stalled at No. 56).
ROCK AND ROLL HALL OF FAME
John Fogerty: Yes (with Creedence)
ZZ Top: Yes
John Fogerty was inducted with Creedence in 1993, one of the typical no-brainers in the Hall of Fame's early slates of inductions. He appeared at the ceremony, but refused to play with ex-bandmates Stu Cook and Doug Clifford, getting onstage only to accept the honor and to play some Creedence songs at the show-closing jam. At the time, he was engaged in a lawsuit against the pair, who had cut a side deal on Creedence copyrights with their old record company's chairman, Saul Zaentz, for whom Fogerty had no small amount of animosity (remember "Zanz Kant Danz," from Centerfield?). "I'm just not going to stand on a stage with those people, three in a row, play our songs and be presented as a band," Fogerty wrote in his memoir, Fortunate Son, "particularly because these guys just sold their rights in that band to my worst enemy. I also made it very clear that if I didn't play at all, that was fine too."
There was no drama at ZZ Top's induction in 2004, unless you count Keith Richards' barely coherent induction speech, his most embarrassing three minutes since he put "Too Rude" on Dirty Work. Gibbons, Hill and Beard gave grateful acceptance speeches, then set fire to the stage with hits like "La Grange" and "Tush." MOST RECENT STUDIO ALBUM
John Fogerty: Wrote a Song for Everyone (2013)
ZZ Top: La Futura (2012)
Fogerty achieved his highest chart position since Centerfield when Wrote a Song for Everyone debuted on the Billboard 200 albums chart at No. 3. The album, released on Fogerty's 68th birthday, featured collaborations with other artists on Creedence and solo classics and deep cuts.
La Futura saw ZZ Top return to the Top 10 for the first time in 22 years, as the album debuted at No. 6. It featured the track "Flyin' High," an early version of which was played on a Russian Soyuz spacecraft, shortly before takeoff on a mission to the International Space Station. American astronaut Mike Fossum, a friend of the band, was on board and wanted a Texas-sized send-off for the mission's crew.
RECENT TOUR GROSSES
John Fogerty: $1.6 million in March 2017 residency at Encore Theater, Las Vegas
ZZ Top: $11.2 million in 2017
SONG WE'D ADD TO THE SET LIST
John Fogerty: "Rock 'n' Roll Girls"
ZZ Top: "(Somebody Else Been) Shaking Your Tree"
While it's tempting to wish for a Creedence deep track like "Ramble Tamble" or "Effigy," we'd really love to hear Centerfield's second single, "Rock 'n' Roll Girls," an ode to blessed slothfulness and the power of the sounds coming out of the radio. Fogerty dusted off the song during his most recent Vegas gigs, and we think amphitheater audiences would dig it too.
ZZ Top's first album kicks off with "(Somebody Else Been) Shaking Your Tree," one of Gibbons' first and finest metaphors for doin' the nasty, along with a mid-song breakdown that causes anyone within earshot to nod his or her head in time with the groove. It deserves a fresh airing to old and new fans, as a reminder of how cool these guys have been from the very beginning.
Best of Ultimate Classic Rock