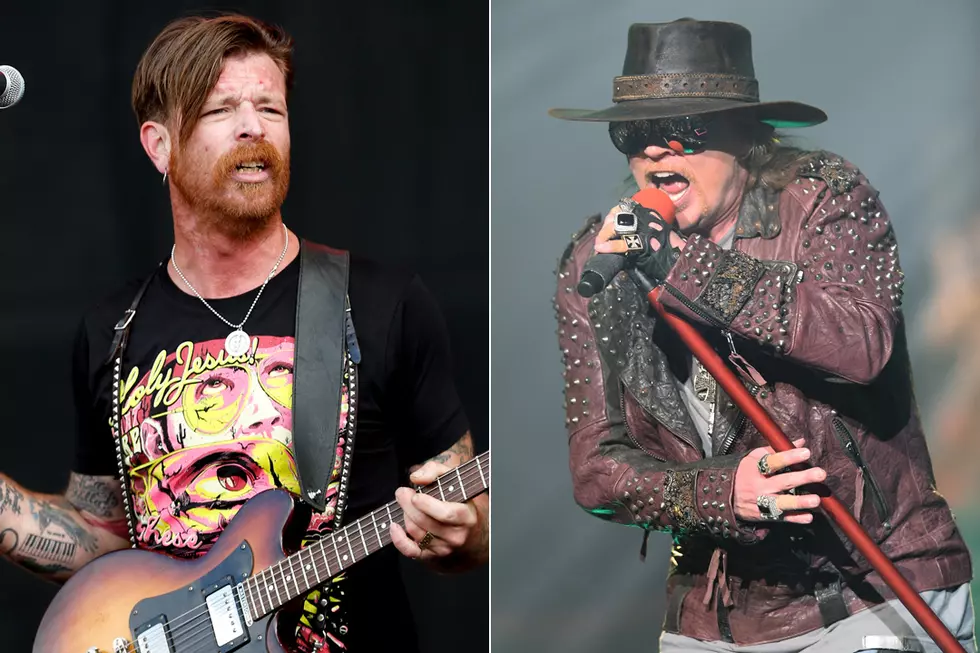 Eagles of Death Metal Singer Wants to Record a Christmas Single With Axl Rose, Who Once Fired Him
Simone Joyner / Ethan Miller, Getty Images
Despite having been booted off a Guns N' Roses tour nine years ago after just one show, Jesse Hughes, the singer of the Eagles of Death Metal, still tries to keep the line of communication with Axl Rose open. In fact, Hughes even wants to record a Christmas single with him, in keeping with the season's message of peace and forgiveness.
"You know what, man," he told BraveWords, "every year, since Axl Rose fired us from the tour, I have sent him a very sincere request - around Christmas time - inviting him to come in the studio and record two Christmas songs, and be released as 'The Pigeons of S--- Metal.' And I always close it with a very judgmental, 'Because I want you to know, Axl, I'm willing to forgive you, and I feel like the rest of the world is, too.'
The name "Pigeons of S--- Metal" comes from what Rose called Hughes' band onstage on Nov. 24, 2006 after an opening slot was met with hostility by the audience. Rose told the crowd that he wouldn't work with them again and fired them the next day.
Hughes then took exception to the idea that Rose is out there working under the band's name even though he's the only original member. "Axl Rose unfairly - and incorrectly - is identified as 'Guns N' Roses,' he continued. "And I take umbrage to that. To me, Guns N' Roses is Duff McKagan, Izzy f---in' Stradlin, Slash, and Steve Adler, and then Axl. When Axl was alone in the band, it was just 'G n' R.' The 'uns' and the 'oses' became Velvet Revolver [...] I think if Guns N' Roses really wants to play again, then Axl should grow the f--- up, and let THE Guns N' Roses play. And that ain't gonna happen unless it's the actual members. Unless you want to turn Guns N' Roses into a band like Menudo, or if it's trying to turn it into Ringling Bros. and Barnum & Bailey Circus. I mean, the Ringling brothers are dead, but you can still go to their circus, I guess."
The Eagles of Death Metal's new album, Zipper Down, was released on Oct. 2.
See Guns N' Roses and Other Rockers in the Top 100 Albums of the '80s
Watch Slash Say Nice Things About Axl Rose
More From Ultimate Classic Rock