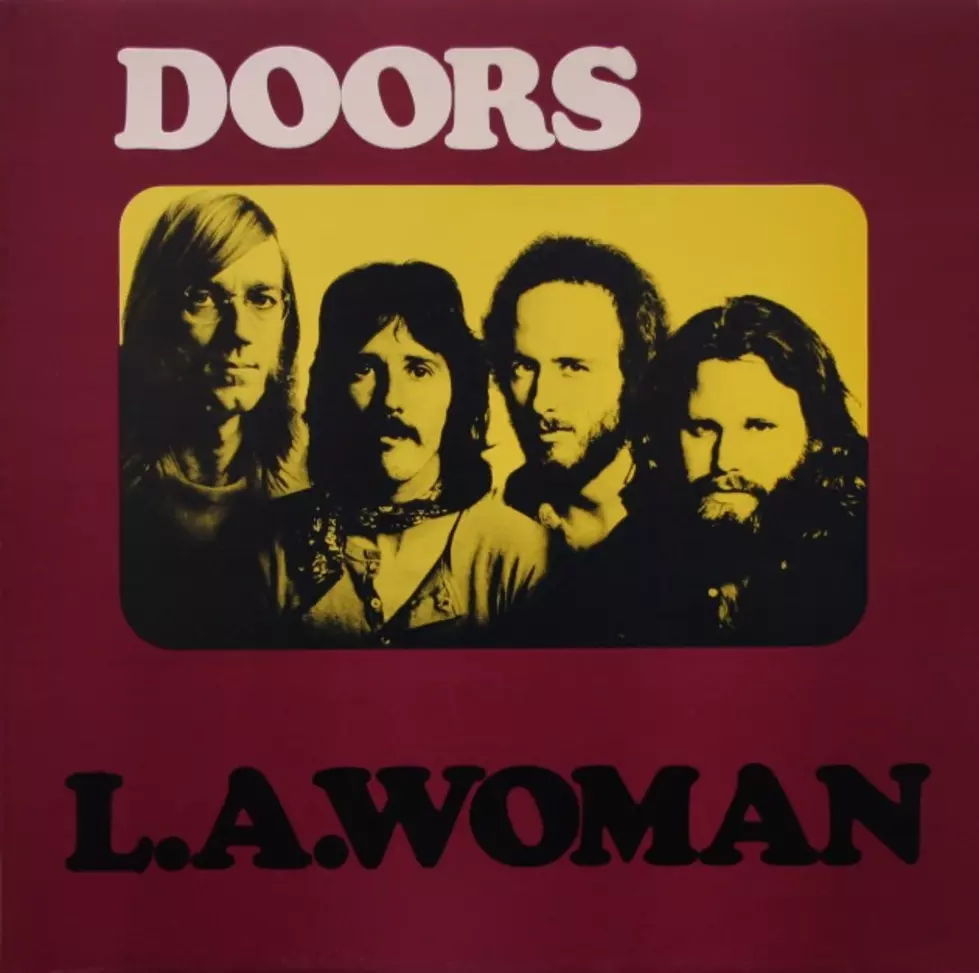 Revisiting the Doors' Last Album With Jim Morrison, 'L.A. Woman'
Elektra
At an uncertain creative crossroads and increasingly overshadowed by the antics of frontman Jim Morrison, the members of the Doors had reason for concern regarding the longterm future of the band when they convened to record their sixth album in late 1970. Their worst fears would soon be confirmed — but first they managed to rebound with a set of songs that served as a triumphant reminder of the band's appeal.
Which is not to say that things always went smoothly during the recording of the LP, which would be titled L.A. Woman and released April 19, 1971. In fact, before they even really got started, the band had to deal with the abrupt departure of longtime producer Paul Rothchild, who ended an early listening session by insulting the Doors' musical direction and walking out.
"We were bummed," admitted guitarist Robby Krieger during a retrospective interview with MOJO. "Because he had done all the other ones and...it was sort of like he didn't like the music. 'It sounds like cocktail music,' he said about 'Riders on the Storm.' We were going, 'Oh s---, what do we do now?' We'd never been in this position before."
"We were giving Paul a preview and he was bored. We played the songs very badly – with Jim – but there was no chi, no energy," added keyboard player Ray Manzarek in a separate interview. "We didn't want to be back in [Sunset Sound Recorders], and Paul couldn't bring us back to life. In that instant he was right. As soon as he left the room, that's when L.A. Woman started."
Listen to 'L.A. Woman'
"I quit because I'd grown tired of dragging the Doors from one album to another, especially an unwilling Jim, and he had virtually dried up," shrugged Rothchild. "Two out of three times, Jim would either not want to work, or would go into the studio drunk. He would intentionally disrupt things…never fruitfully. Most of my energies were spent trying to coordinate Jim with the group."
They ended up replacing Rothchild with sound engineer Bruce Botnick, whose taking of the reins made Rothchild's departure a blessing in disguise. "As great a producer as Paul was, he tended to overproduce, a little bit like Hitler in the studio. Jim might've needed that, but on the other hand, if it had been a little more fun in the studio it might've gotten a little better," explained Krieger. "With Paul everything just took so long and was so drawn out that it would make Jim bored and want to go and drink. By the time it was his turn to sing, he was all messed up."
"The man did not like authority," Botnick said of Morrison. "Which goes back to his father. And Paul, through the years, had become the General – because of Jim sometimes being out of control – God and master. After a while, Jim rebelled against that. Because it wasn't a group effort at that time. It was Paul's show."
As L.A. Woman took shape in the Doors' rehearsal room, which they'd converted into a makeshift studio for the album, the band brought in bassist Jerry Scheff and guitarist Marc Benno to round out their sound, and the augmented lineup started cutting tracks live — a process Manzarek looked back on fondly.
"We were going for a much rawer sound – the spontaneous Zen moment. Two weeks, man," he explained. The songs were all together. L.A. Woman just f---ing exploded in the recording studio, with Jerry Scheff and Marc Benno. God, did we capture it! We smoked a joint and locked in."
That locking in even extended to the band's mercurial frontman, whose growing reputation for bad behavior wasn't a factor during the sessions. "He was punctual, professional, all those boring things," said Botnick. "Some sessions even began in the afternoon! The Doors were making the record Jim wanted, rather than what was expected. His notion of the Doors was as a blues band, and not a pop group."
Botnick's thoughts were echoed by Benno, who saw Morrison on a creative high during the making of L.A. Woman. "Morrison was a nice guy who was on a roll. He reminded me of a wild gorilla at the sessions. He had a hand-held microphone and a telephone book full of songs," he recalled. "We worked the tunes up on the spot, and did very few takes. ... He cut loose completely while recording, and the result was a very spontaneous album."
Listen to 'Riders on the Storm'
According to Manzarek, even the sessions' obstacles ended up providing landmark moments on the album. Remembering the recording of "Riders on the Storm," he recalled, "We had a bit of a problem figuring out the bass part. I sang it to Jerry Scheff, and he said, 'That's really hard to play,' and I said, 'No, no, no – look, it's easy, a little easy triad.' He said, 'Yeah, that's the way it lays out on the keyboard, but watch what I have to do on the bass.' And when he started to play that bass line, man, it was just spooky. That song became itself in the recording studio."
As smoothly as the band may have operated during the recording of L.A. Woman, the writing was already on the wall for Morrison, whose slide into ill health continued unabated. According to Manzarek, you can see the singer's sad fate unfolding on the album cover: "In that photo you can see the impending demise of Jim Morrison. He was sitting down because he was drunk. A psychic would have known that guy is on the way out. There was a great weight on him. He wasn't the youthful poet I met on the beach at Venice."
Youthful poet or no, Morrison remained a rock star in 1971, and the Doors were still one of the bigger bands in the industry — a status reflected by L.A. Woman's Top 10 chart placement. Before the record's run was finished, the group would add a pair of Top 20 singles ("Love Her Madly" and "Riders on the Storm") to their tally.
Listen to 'Love Her Madly'
Sadly, they'd also have to say goodbye to Morrison, who left the U.S. for Paris while mixing on the record was still being finished. What was supposed to be a temporary leave of absence turned out to be a final farewell; on July 3, 1971, Morrison died, bringing one of rock's most tumultuously dynamic careers to a bitter conclusion and effectively ending the Doors. While they'd continue on for a short spell, releasing a pair of albums with Krieger and Manzarek sharing vocal duties, the band had already effectively been over for some time when they officially split in 1973.
Ultimately, although L.A. Woman marked the end of an era for the surviving members of the Doors, Manzarek never lost his fondness for the album. Calling it his favorite of all the band's releases during a 1997 interview with Mojo, he explained, "It represents to me a drive across the great American South West. Driving on the freeways and highways through the desert – Arizona or New Mexico – or driving up the coast of California on Highway 1, from L.A to San Francisco. It's alive, it's free, it's young and it's wild."
Doors Albums Ranked 
More From Ultimate Classic Rock