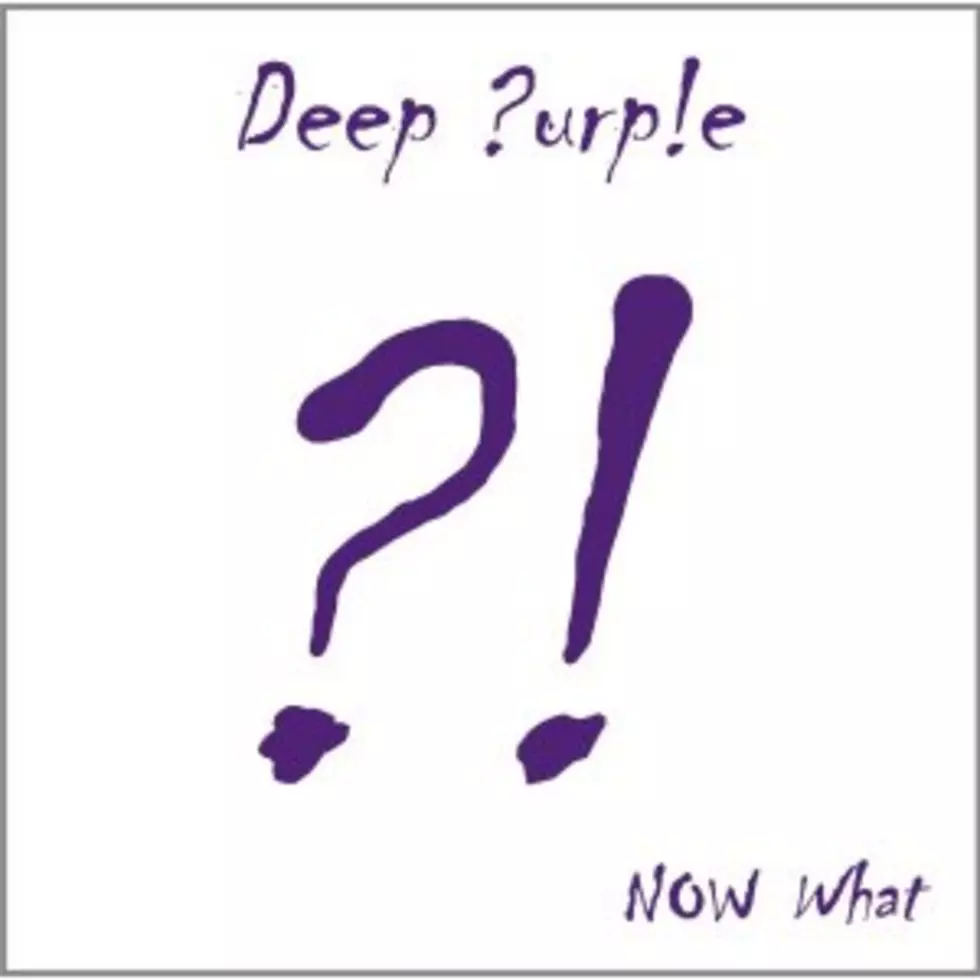 Deep Purple, 'NOW What?!' – Album Review
earMUSIC
Classic rock stalwarts Deep Purple released their new album, titled 'NOW What?!,' last Tuesday (April 30). By the standards which we might reasonably expect to measure new work from an older band, it's very good -- or at least, the parts of it that are any good are very good.
It's always difficult for bands with decades of history to move forward in recording new material. They're forced to walk a fine line between repeating themselves, and re-inventing themselves to such a huge degree that they no longer capture the classic sound for which they were famous. On top of that, they're facing tough competition -- themselves, in a younger, hungrier version.
And so it is with Deep Purple. A press release for the new album promised that it "was recorded with no musical rules, and it shows a modern and fresh production . . . to the point that Deep Purple have never sounded so close to the spirit of the '70s in the last 20 years as they do now." And there's good news for longtime fans -- that's essentially true on many of the tracks. The strength of 'NOW What?!' is largely in its adherence to the overall classic Purple sound, and many of the tracks are very strong, particularly instrumentally.
Guitarist Steve Morse and keyboardist Don Airey are particularly important in making the new material sound classic. The blend of distorted guitar and distorted organ together drives many of the best tracks on 'NOW What?!,' including the album opener 'A Simple Song,' which begins with a sleepy verse before kicking into a high-energy riff that announces the return of Deep Purple -- complete with a cool organ solo.
'Weirdistan' is a top-notch track, featuring a wash of vocal effects and bizarre, straight-outta-the-'70s atonal keyboard solos. 'Out of Hand' allows Morse a showcase for his particular brand of rapid pick articulation, married with the dark tone that is another of his trademarks. 'Apres Vous' is highlighted by a section of tradeoff and unison solos from Morse and Airey that rivals the best of '70s progressive rock, and the album closer, 'Vincent Price,' features Morse playing in a more restrained way to create tension before cleanly dropping into harmonized lines.
Producer Bob Ezrin knows a thing or two about great classic rock productions, having helmed classics from Kiss ('Destroyer'), Pink Floyd ('The Wall'), and a stack of early Alice Cooper albums, among many more. He brings a retro cool to 'NOW What?!,' making many of the better tracks sounds like an amalgam of classic Deep Purple mixed with more progressive influences like ELP. The tracks with that focus are undoubtedly the strongest on the album.
'NOW What?!' also contains a number of slower, blander tracks that just don't work, and tend to weigh down an otherwise appealing album. The lead single 'All the Time in the World' is (fortunately) not at all representative of the overall vibe, nor is its other A-side 'Hell to Pay,' though it comes a little bit closer. 'Body Line' has some cool elements, but it's hampered by a truly dumb lyric, while 'Above and Beyond' doesn't deliver on its title, riding a relatively ploddy, pedestrian riff that sounds like it could have been a B-side from Emerson, Lake and Powell. 'Blood From a Stone,' similarly, has some interesting musical elements, but just doesn't seem fully formed.
Ian Gillan is consistently singing in his mid-range on most of this material, and in many places he sounds as if he's straining fairly hard to do so. That's not to say he's terrible -- Gillan still sounds good compared to many singers his age, but he's not singing with the same kind of power and expression that characterized his performances when he was younger. Ezrin tries to get around some of that by producing many of the vocal tracks in multiple overdubs and treating them with a wash of vocal effects, which works well on several tracks, but is going to prove difficult for Gillan to replicate live. Still, Gillan does shine on a few tracks, including 'Weirdistan' and 'Vincent Price.'
Overall, 'NOW What?!' is almost like two albums that have nothing to do with one another, that have been rolled together -- one very cool '70s progressive album rock record, and one bland, forgettable album of unfinished B-sides. Deep Purple would have been better served to make a shorter, better record -- but even so, compared to most of the music their contemporaries are making now, the new album has many strong moments, and is more worthwhile than not for fans of the band's classic era.
More From Ultimate Classic Rock