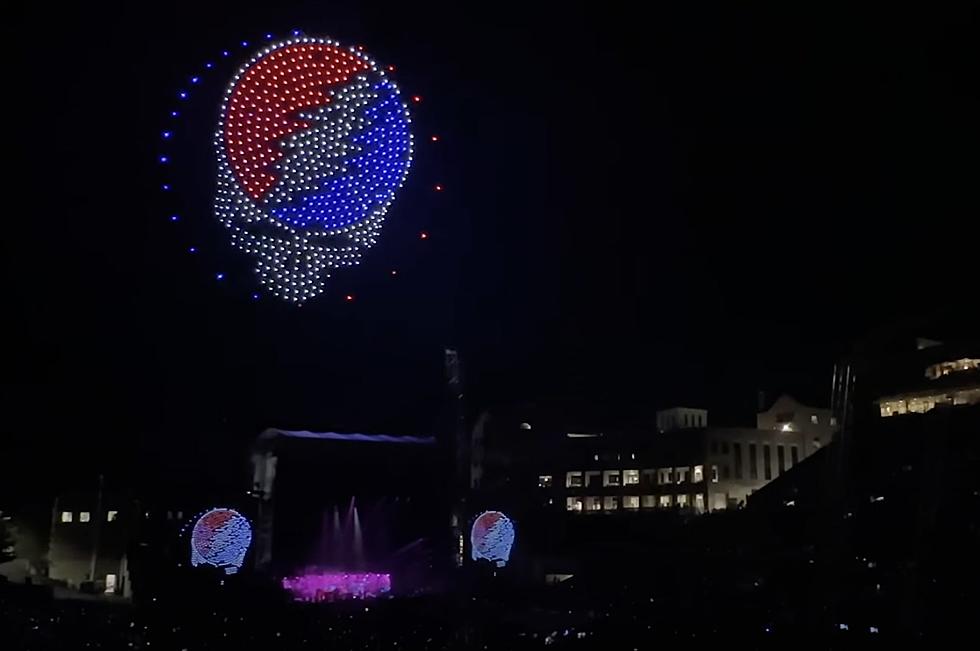 Watch Dead and Company's Dazzling Drone Show
YouTube
Dead & Company displayed a spectacular drone show at their concert in Boulder, Colorado, on Monday.
According to a social media post by the band, the concert used 600 drones that were arranged in the shapes of various Grateful Dead iconography, like their skull and lightning bolt logo, dancing bear and red rose.
This wasn't the only surprise at the show. Dave Matthews joined Dead & Company for a set of covers that included Bob Dylan's "All Along the Watchtower" and  "Knockin' on Heaven's Door," the Crickets' "Not Fade Away" and the Band's "The Weight."
You can see fan-filmed footage of the drone show below.
In recent years, drones have offered a safer and more environmentally friendly alternative to fireworks and other pyrotechnics at concerts, sporting events and other large gatherings. Dead & Company isn't the only band to use drone technology.
Matthews displayed a similar show in 2022 during his Labor Day weekend run at the Gorge Amphitheatre in George, Washington. Other drone shows have taken place at festivals like Coachella.
Acts like Phish and Roger Waters have also used them to control inflatable objects that can travel freely above the heads of concertgoers. Phish brought a giant drone-controlled whale to their concert at Madison Square Garden last year; Waters has used similar inflatables at his concerts.
Drones have a practical use, too, and are often used to film content for festivals and artists and provide an added level of security and surveillance. But there are also federal regulations regarding both personal and company drone usage; rules cover everything from where drones are permitted to altitude limitations.
Still, some artists find them to be a distraction. Axl Rose requested that drones stop being flown at Guns N' Roses concerts in 2022.
"However much fun anyone's having, you're still trying to stay focused ... [and] give the fans the best show you can," he said. "We get it can be 'fun' to get your drone bootleg vid, but we'd appreciate it if anyone planning to be a drone pirate took the fans and the band into consideration and played with your toys somewhere else."
Grateful Dead Albums Ranked
Even the Grateful Dead's most ardent supporters admit that making albums wasn't one the band's strengths.
More From Ultimate Classic Rock