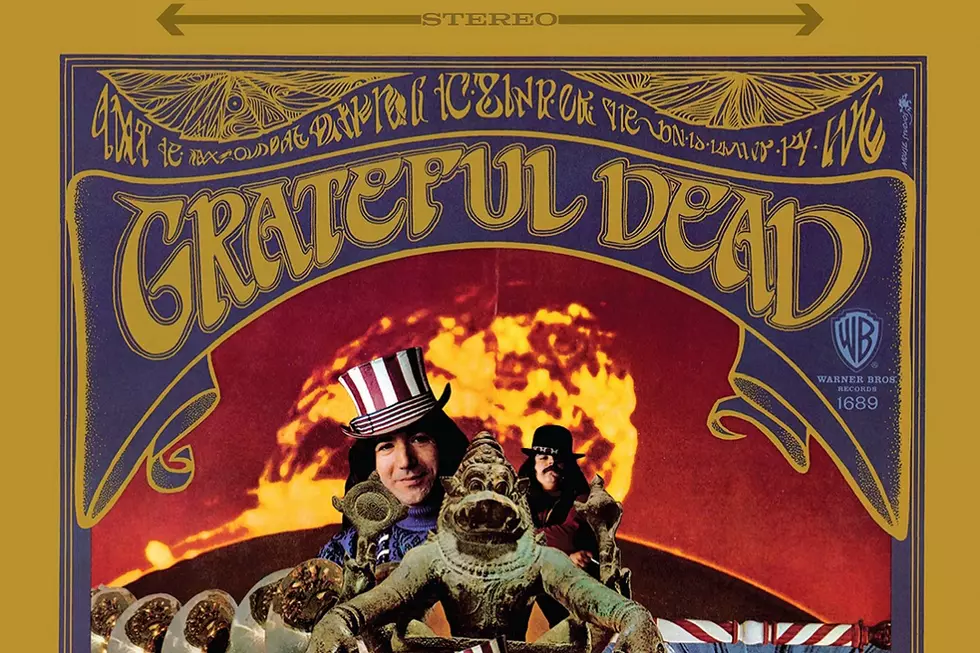 Why the Grateful Dead's Debut Was So Hastily Recorded
Warner Bros.
The Grateful Dead's self-titled debut album, in its original form, ran for 35 minutes. That's about as much time as it would take the band to play "Dark Star" in concert.
It was always an uneasy alliance between the Dead and the recording studio: "I hate all my records," Jerry Garcia told Relix in 1976. "The Grateful Dead don't make good records." For a band that focused on jamming, improvising and performing extended workouts of material onstage, cutting tracks in a studio just didn't have the same allure.
This was never more true than in the Dead's early days in mid-'60s San Francisco. "We were primarily a dance band. We were there to swing," rhythm guitarist Bob Weir told Jas Obrecht in 1996. "And in the studio, it was too sterile of an environment for us because there was nobody there to swing with us – just a bunch of microphones."
Most bands earn their stripes by playing live, and it was no different with the Grateful Dead. Formed from a folk outfit that went electric after the Beatles hit America, the quintet of Garcia, Weir, Phil Lesh, Bill Kreutzmann and Ron "Pigpen" McKernan had earned a reputation in hippie-friendly San Francisco for bringing a psychedelic perspective to roots music in the group's concerts. As other local groups, including Jefferson Airplane and Moby Grape, began to land record deals, so did the Grateful Dead: They were signed by Warner Bros. in 1966.
The bandmates, who knew little about recording, traveled down to Los Angeles' RCA Studio A in January 1967, with the plan of tracking their versions of traditional blues, folk and country songs. Garcia suggested teaming with producer David Hassinger on the album that because The Grateful Dead, because of his work on Jefferson Airplane's Surrealistic Pillow. Untested and unproven, the Dead were given little time in the studio: four days to record an eponymous debut LP.
With little time, the sessions were a straitlaced affair, at least for this band. "We never did drop acid in the studio back in those early days. And I'm not entirely sure why not," Weir told Obrecht. "It probably would have been unproductive, and it didn't seem like a business-like thing to do. … And to blow a whole day on dropping LSD and then the next day be sort of down for the count anyway, which is pretty much what happened – we didn't feel we could afford that."
So, the Grateful Dead recorded relatively tidy versions of old blues tunes such as "Sitting on Top of the World" and "Good Morning, Little School Girl," dusty folk songs like "Cold Rain and Show" and Jesse Fuller's country tune "Beat it on Down the Line." Garcia wrote the original, somewhat political "Cream Puff War," while the whole group collaborated on jangly opener "The Golden Road (To Unlimited Devotion)," which also became the lead single.
"This was recorded after we recorded the body of the album, and the actual song is a new song," Garcia told FM radio disc jockey Larry Miller in 1967. "We were thinking specifically of a single, so we just played around, and came up with some nice changes and cooperated on the entire thing, and came up with 'The Golden Road,' which is a good song. … This is the only one that has any kind of recording stunts on it, so there are two flattop guitars and three electric guitars and so forth. We got twice as many voices as normal."
The Grateful Dead took advantage of the studio on "The Golden Road," but album closer "Viola Lee Blues" was the only track that band members thought bore a resemblance to what they were doing onstage in 1967. In his autobiography, Lesh indicated that the 10-minute recording was the one track on which he didn't feel rushed. "Viola Lee Blues" displayed the band stretching out, shifting tempos and exploding into a guitar freak out.
"Each night when we went into the studio, we played 'Viola Lee Blues' for as long as we wanted to play it, and we recorded it," Garcia said in 1967. "And at the end of the week, we went through and listened to them and the one that turned us on was the one. ... It isn't as good as it could have been, but it's still okay."
With a cover designed by psychedelic artist Stanley Mouse, The Grateful Dead was released on March 17, 1967. Although "The Golden Road" flopped as a single, the debut LP received a rapturous response in the Bay Area, pushing the record to No. 73 on the chart. The Grateful Dead would learn from the recording experience, bringing in more of the band's live aesthetic the next time the members entered the studio.
Top 25 Psychedelic Rock Albums
Blues, folk, world music – no genre escaped the kaleidoscopic pull of the '60s' trippiest sound.
A Grateful Dead Member Is Part of Rock's Tragic '27 Club'
More From Ultimate Classic Rock