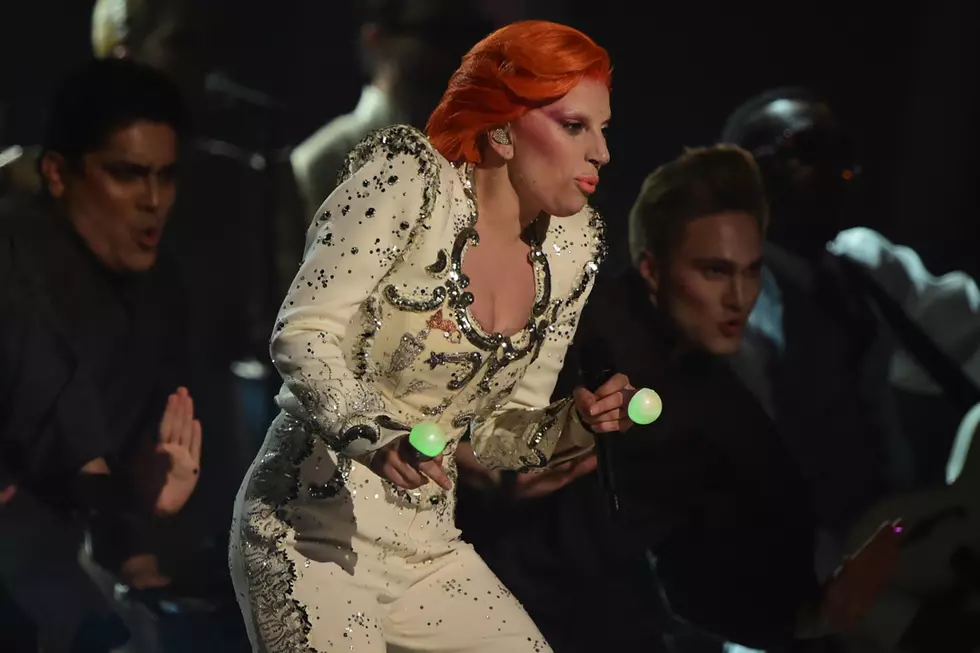 Lady Gaga Steers Her David Bowie Grammy Tribute Into Cruise Ship Hell
Robyn Beck
Lady Gaga, who has described herself as one of David Bowie's biggest fans, took the stage tonight (Feb. 15) at the Grammys in tribute to her fallen hero. Unfortunately, unlike her tasteful and impressive performance of the National Anthem before last week's Super Bowl, Gaga fumbled here.
She crammed entirely too many songs into her brief allotment of airtime, and as a result the whole thing came off sounding quite generic – casting neither Gaga, Bowie, or all of his incredible songs in their best light.
Things began promisingly enough. The camera started close up on Gaga, wearing Ziggy Stardust-style makeup while spiders, dripping gold and stars were projected onto her face, as she sang the opening bits of "Space Oddity." But whenever a song threatened to catch fire, Gaga abruptly and sometimes awkwardly jumped to the next one: "Changes," "Ziggy Stardust," "Suffragette City," "Rebel Rebel," "Fashion," "Fame," about three seconds of "Under Pressure," "Let's Dance" and "Heroes."
Bowie's son, acclaimed filmmaker Duncan Jones, seemed to share our opinion, quite wittily using the dictionary definition of Gaga's chosen surname to describe the performance. (Of course, it's possible he's talking about something completely unrelated...)
Nile Rodgers, who produced Bowie's chart-topping 1983 smash Let's Dance, served as musical director for the segment but, like Gaga, he was handcuffed by the format of the performance and never really given a chance to shine.
This was obviously all done with the best of intentions. Gaga had earlier gotten a huge Bowie tattoo, walked the Grammy Awards red carpet tonight in an outfit that paid tribute to his legendary character Ziggy Stardust, and shared an emotional moment via Instagram in remembrance of Bowie. "She's perfect for it," Grammys executive producer Ken Ehrlich said, in the days leading up to the show. It would have been cool to hear what the tribute would have sounded like if each song was given more time to breathe, to more properly show the breadth of Bowie's songwriting talent.
Lady Gaga was already scheduled to appear for the fourth time on a Grammy Awards broadcast. Her song "Til It Happens to You," co-written with Diane Warren, was nominated for Best Song Written for Visual Media this year. (She lost to "Glory," by Common featuring John Legend, from the movie Selma.)
Here's Who Should Have Won Every 'Best Rock Album' Grammy Award
More From Ultimate Classic Rock