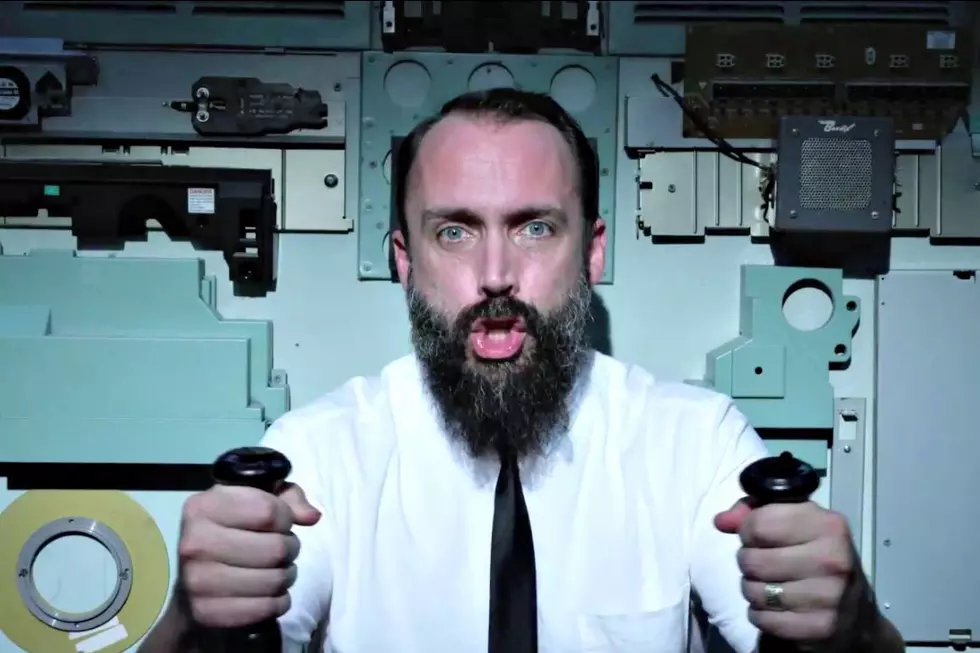 Watch the Video for Clutch's New Single, 'X-Ray Visions'
YouTube
Clutch's new Psychic Warfare LP won't be out until October, but you can watch the video for the record's first single, "X-Ray Visions," right now.
The band worked with director Dan Winters for the clip, which you can watch above. Winters was also responsible for the Psychic Warfare cover design, which the group revealed earlier this month when they shared the track listing and background information for the album. As singer Neil Fallon explained at the time, "The title Psychic Warfare is taken from the track 'X-Ray Visions.' It's a tale about an unnamed protagonist who is forced to seek refuge in a flophouse motel. He is hiding from several nefarious psychic forces, the worst of which is his own sleep-deprived paranoia."
Psychic Warfare begins its digital pre-sale July 31, and fans who pre-order the album will receive an instant download of "X-Ray Visions." In the meantime, the members of Clutch are gearing up for a tour, which begins in mid-August and is currently scheduled to continue through Oct. 31. Corrosion of Conformity and the Shrine will come along as special guests for a series of dates, and Clutch will co-headline a run of shows with Mastodon starting in late October; members of the band's fan club are now eligible to pre-order tickets. Check out the complete list of dates below.
Clutch 2015 Tour Dates
8/15 - Richmond, Va. (Gwar-B-Q)
9/04 - Las Vegas, Nev. (special guests of Primus)
9/19 - Baltimore, Md.*
9/20 - Clark, N.J.*
10/03 - Ft. Lauderdale, Fla.**
10/04 - St. Petersburg, Fla.**
10/06 - Nashville, Tenn.**
10/07 - Charlotte, N.C.**
10/09 - Hampton Beach, N.H.**
10/10 - Clifton Park, N.Y.**
10/11 - New Haven, Ct.**
10/13 - Indianapolis, Ind.**
10/14 - Chicago, Ill.**
10/15 - Grand Rapids, Mich.**
10/16 - Sauget, Ill.**
10/17 - Lincoln, Neb.**
10/18 - Fargo, N.D.**
10/20 - Billings, Mont.**
10/22 - Spokane, Wash.**
10/23 - Boise, Idaho**
10/24 - Elverta, Calif.*
10/25 - San Bernardino, Calif.*
10/26 - Tucson, Ariz.***
10/28 - Austin, Texas***
10/29 - Dallas, Texas***
10/30 - Houston, Texas***
10/31 - New Orleans, La.*
* = Festival date
** = Clutch headline show, support: COC / The Shrine
*** = Clutch co-headline show w/ Mastodon, special guest: COC
See 2015's Biggest Rock News Stories
25 Interesting Rock Movie Facts
More From Ultimate Classic Rock