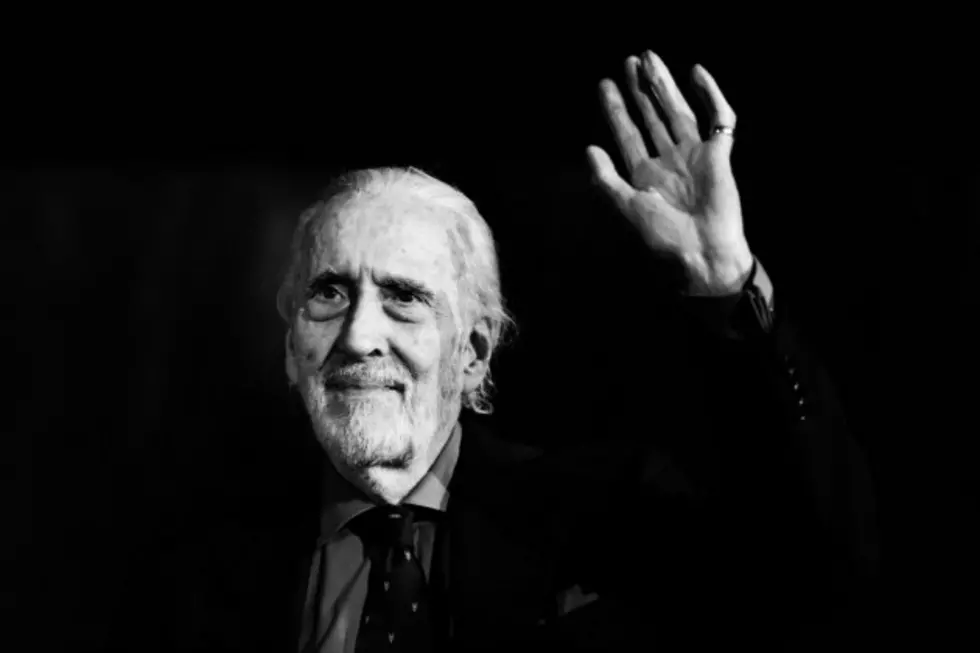 Acting Legend and Unlikely Metal Star Christopher Lee Dies at 93
Vittorio Zunino Celotto, Getty Images
Christopher Lee, the knighted British actor who made a name for himself playing Dracula in a series of Hammer Film Productions releases before enjoying a late-career rebirth with roles in the Star Wars and Lord of the Rings franchises — and an unlikely second act as a heavy metal singer — has died at the age of 93.
Born May 27, 1922, in the Belgravia district of London, Lee volunteered for duty in World War II, joining the Finnish forces during the Winter War of 1939. He later volunteered for the British Royal Air Force, although an optic nerve problem kept him from flying, and he later transferred to the service's Intelligence branch, where he was attached to Special Forces for a period during WWII.
After the war, Lee slowly segued into an acting career, serving an "apprenticeship" of roughly a decade, during which he was relegated to background and brief supporting roles in a series of productions that, as he later told Total Film, helped prepare him for what became his life's calling. "Initially, I was told I was too tall to be an actor," the 6'5" Lee chuckled. "That's a quite fatuous remark to make. It's like saying you're too short to play the piano. I thought, 'Right, I'll show you...' At the beginning I didn't know anything about the technique of working in front of a camera, but during those 10 years, I did the one thing that's so vitally important today – I watched, I listened and I learned."
From the late '50s through the mid-'70s, Lee acted in a slew of films for the British Hammer studio, where he frequently played Dracula (often, he later claimed, under duress). This period also found the distinctive-looking star lending his imposing figure to such future horror classics as 1973's The Wicker Man, but he eventually moved away from horror, broadening his résumé with appearances in films such as the 1974 James Bond film The Man With the Golden Gun, in which he played the assassin Francisco Scaramanga.
Lee's output slowed somewhat during the '80s and '90s, but he found himself back on the big screen in a major way after the turn of the century, when he landed the role of Saruman in Peter Jackson's immensely successful Lord of the Rings trilogy around the same time he was picked to play Count Dooku in George Lucas' Star Wars prequels. This kicked off a period of renewed acting activity for Lee, who could also be seen in a wide array of new releases that included Tim Burton's Charlie and the Chocolate Factory and Martin Scorsese's Hugo.
During this period, Lee — who had occasionally sung in his movies and on their soundtracks — embarked on a surprising second career as a heavy metal singer, releasing the symphonic metal concept album Charlemagne: By the Sword and the Cross in 2010. The album won the "Spirit of Metal" award at the Metal Hammer Golden Gods ceremony that year, and it was followed in quick succession by a series of releases that included a pair of Heavy Metal Christmas albums, 2013's Charlemagne: The Omens of Death and a 2014 covers EP, Metal Knight.
Lee passed away on June 7, succumbing to respiratory problems and heart failure at the London hospital where he'd been undergoing treatment for several weeks. He is survived by Birgit, his wife of 54 years, and their daughter Christina.
See Other People We've Lost in 2015
More From Ultimate Classic Rock