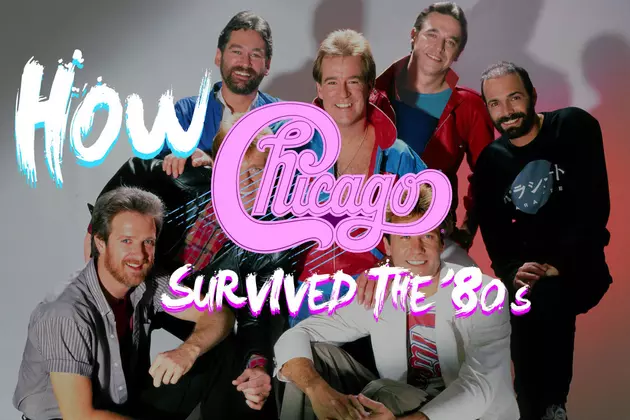 How Chicago Survived the '80s
Harry Langdon, Getty Images
Chicago owned the '70s with a string of hit singles and multi-platinum LPs that made them one of the most commercially successful American bands of all time — but they entered the '80s hanging on by a thread.
The group's punishing touring and recording schedule would likely have caught up to it at some point, and toward the end of the decade, the band seemed to be struggling to fill the LPs that once sprawled into double-disc sets. But they were first truly thrown off their stride by tragedy, when lead guitarist Terry Kath died in a shooting accident on Jan. 23, 1978. Although Chicago quickly soldiered on, releasing their Hot Streets album with new guitarist Donnie Dacus that October, it was impossible not to notice the loss of momentum.
Dacus lasted for only one more album, 1979's Chicago 13, before exiting the lineup — and his replacement, Chris Pinnick, was shunted off to sideman status for 1980's Chicago XIV. The band was in creative and personal disarray at this point, with longtime producer James William Guercio forced out and various members struggling with a mixture of grief and personal and/or chemical issues. The result was the group's lowest-selling release to that point — delivered just after Chicago had signed an expensive new deal with Columbia Records, guaranteeing them a lucrative advance for each new LP.
Seeing the steep downward sales trend established by Hot Streets, 13 and XIV, the label acted quickly and bought Chicago out of their contract, leaving the band without a record company just as some of its members were questioning whether they should even continue. "That was a turning point for me," bassist and singer Peter Cetera told this writer of the period surrounding Chicago XIV. "I figured I either had to get out or bring the group back to the top. We were just not functioning. It was one or two cylinders or something."
"You gotta remember, that was a really tough time," added drummer Danny Seraphine. "Terry died. And so, I'm not making excuses, but you have to understand that when you've got guys in the band that have serious drug problems and alcohol problems, you've got Peter, who was about ready to leave the band — he had one foot out of the boat and was ready to go, he just wasn't happy — it was a very, very tough situation."
Chicago's label problems were solved when they signed a deal with Full Moon, an imprint established by renowned manager Irving Azoff, that included an option for solo records from Cetera. He quickly took advantage of it, and although his 1981 self-titled debut didn't do much in terms of moving copies — as he put it, "it was nothing more than cannon fodder as far as [the label was] concerned" — that experience would prove a fateful turning point for the band later on in the decade.
The problem of a producer had proven more difficult to solve. After ousting Guercio from behind the boards, Chicago turned to Phil Ramone for Hot Streets and 13, then hired Tom Dowd for XIV — but neither of them, distinguished discographies aside, were the right fit for the band's crowded menagerie of opinions and egos. While the rest of the group floundered, Seraphine made three moves that would end up cementing their commercial fortunes for the rest of the '80s.
"I was probably one of the only coherent ones at the time. I wasn't really elected as leader, but I kind of took over," Seraphine recalled. "The things that I did that were probably most instrumental during that era were, I went out and got David Foster to produce Chicago, I got Howard Kaufman and Irving Azoff to manage the band, and lastly, I brought Bill Champlin into the band, because after Terry departed, there was a big void as far as an R&B voice. So, those three things, I think, were really instrumental as far as bringing the band back."
Azoff's involvement would pay dividends behind the scenes. But as far as fans were concerned, the changes with the most immediate impact where the introductions of Champlin — who started sitting in with the band in late 1981 — and Foster, who'd end up helming their 1982 comeback effort Chicago 16.
Watch Chicago Perform 'Hard to Say I'm Sorry'
"A lot of people think Foster brought me into Chicago, and it's the other way around, I actually brought Foster into Chicago," said Champlin. "Danny called me and said, 'What do you think of David Foster as a producer?' I said, 'You'll probably end up rewriting a lot, but I think Foster would be great for you guys.'"
Champlin's words proved prophetic. Unlike previous efforts, which contained self-written material often dominated by contributions from founding keyboard player Robert Lamm, Chicago 16 included songwriting and musical contributions from ringers like Jay Gruska, members of Toto and Foster himself. Lamm was limited to a co-write earned through the instrumental tag on the eventual hit ballad "Hard to Say I'm Sorry," while trombonist James Pankow picked up three co-writing credits and Champlin and Seraphine collaborated on another track. The bulk of the record ended up being written by Cetera and Foster.
It was a definite change for Chicago, but it was hard to argue with the results. Chicago 16 broke the Top 10, their highest chart placement in years, and "Hard to Say I'm Sorry" topped the charts, further cementing their status as an adult contemporary act who'd strayed far from their roots as a progressive-leaning rock band with horns. If the '80s ended up being the decade when it truly became fashionable for artists to overhaul their sound to stay commercially relevant, Chicago were one of the first to demonstrate how it could work.
The band's drift toward the middle of the road may have pained some longtime fans, but behind the scenes, it was a different story. All the members of the Chicago enjoyed their unlikely second wind on the charts, but as far as Cetera was concerned, Foster's leadership imposed an order that had been decidedly lacking during their more creatively democratic years.
"It's so painful to me to listen to anything before Chicago 16, when David Foster came into the picture and he and I kind of put that album together," he recalled in 1992. "Anything before that, I just never felt all that secure about, because there were always too many opinions. Too many people didn't butt out."
The Cetera/Foster formula was repeated with Chicago 17 in 1984, and this time, the results were absolutely irrefutable. The album peaked at No. 4 on the chart, selling more than six million copies and spinning off four Top 20 hits, all of which substantially featured Cetera's lead vocals: "Hard Habit to Break," "Stay the Night," "You're the Inspiration" and "Along Comes a Woman." Again, contributions from outside writers were used; again, Cetera and Foster featured heavily in the songwriting credits.
Watch Chicago's Video for 'Hard Habit to Break'
After another round of touring, Cetera was ready to test his wings as a solo artist — and willing to make a permanent break when his bandmates were reluctant to allow him extra time between Chicago records for an album of his own. In the summer of 1985 — not long after "Along Comes a Woman" made its chart run — he exited the lineup.
"I had always wanted to the solo thing, and then after the first album, Chicago kinda promised me that I could do the solo thing, and then they sort of reneged on it, and never gave me the opportunity to do it," he explained. "They wanted to go one way, and I wanted to go another way, so we decided on a mutual parting. I did not, in fact, quit the group. If anything, I was fired for not going along with what they wanted to do."
They might have been willing to let Cetera walk, but the remaining members of Chicago weren't ready to tinker with the formula that had put them back on top of the charts. After a search that included a flirtation with future Mr. Mister frontman Richard Page, they enlisted another bassist with a tenor voice: Jason Scheff, son of Elvis Presley sideman Jerry Scheff. Even better, Scheff was a songwriter in his own right, and could help fill the substantial gap left by his predecessor's departure.
With Foster back behind the boards, Chicago regrouped for 1986's Chicago 18, which skirted the outer reaches of the Top 40 while keeping the band in heavy radio rotation with the outside contributions "Will You Still Love Me?" and "If She Would Have Been Faithful ... "; Cetera, meanwhile, went double-platinum with his own 1986 release, Solitude/Solitaire, which included a pair of No. 1 hits in "The Glory of Love" and "The Next Time I Fall."
Watch Chicago's Video for 'Will You Still Love Me?'
While Chicago and Cetera seemed strong enough on their own in the short term, the pop ballad formula they'd both become known for started to wear thin by the end of the decade. Cetera's 1988 effort One More Story failed to build on Solitude/Solitaire's momentum, and while Chicago 19 — again released the same year as Cetera's album — extended the group's streak of Top 40 hits with "I Don't Wanna Live Without Your Love," "You're Not Alone" and the No. 1 "Look Away," none of those singles did much to move the needle in terms of record sales. As the '80s faded, Chicago had become a singles act, and one whose latest hits stood in direct competition to the soundalike ballads they'd put out just a few years before.
Perhaps fittingly, Chicago's '80s resurgence ended with a best-of compilation released in the waning weeks of the decade. Greatest Hits 1982-1989 went quintuple platinum on the strength of those evergreen adult contemporary singles, adding one last big '80s hit, the slightly remixed Chicago 19 track "What Kind of Man Would I Be?," to the list. When Chicago returned in 1991 with Twenty 1, they found a substantially less welcoming marketplace, and the same held true for Cetera with his World Falling Down release the following year.
Listen to Chicago's 'What Kind of Man Would I Be?'
Chicago's '80s output — and Cetera's overall influence — remain a topic of debate among longtime fans who can't help wishing the band had found a way to remain commercially relevant without chasing hits or redefining their sound. But the group remains on the road today, as does Cetera as a solo artist, and they've continued recording sporadically — something that might not have been possible without that second round of big radio hits.
"We had a great time playing the big time again," said trumpeter Lee Loughnane. "It was the second big wave. People would give their eye teeth for the first amount of success that we had in the '70s, and to be able to do it for the second time is a major milestone in the history of rock 'n' roll as well as our history. Not too many people have had this opportunity, and we had a lot of fun with it."
"You know, I can't argue with people's' tastes. Either you like it or you don't like it. But it doesn't stop us," Lamm told Ultimate Classic Rock. "It doesn't stop us from being musicians. You know, the reason we're still around is that we have constantly experimented, absorbed, listened and played our music. Hey, some things were pretty awful in the '70s too. There's good and bad in every era, but I don't really take to heart anybody's particular animosity or disappointment in a few power ballads."
30 Most Outrageous '80s Rock Fashions
More From Ultimate Classic Rock