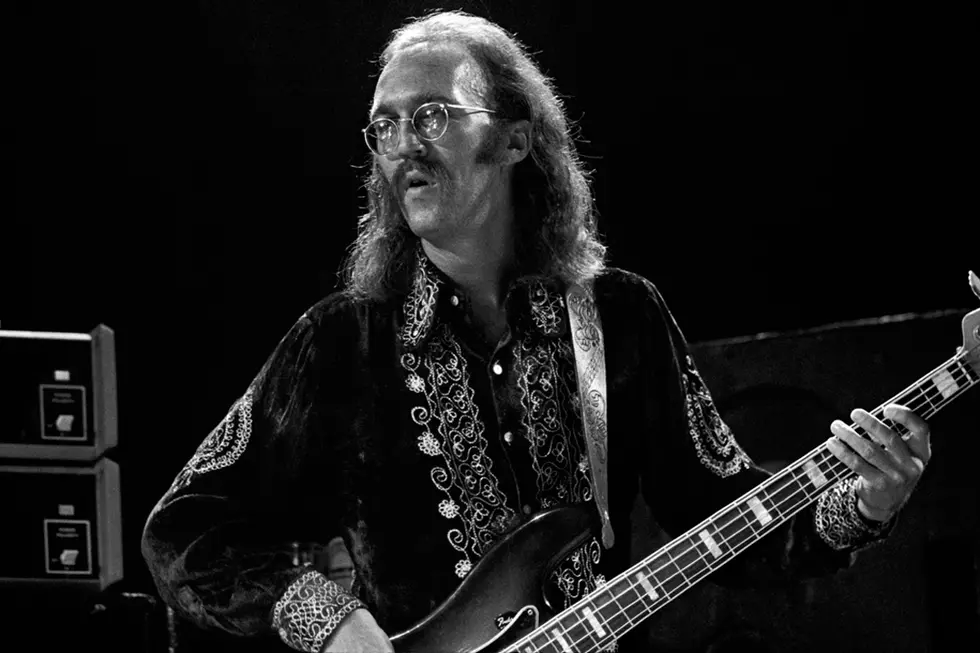 The Death of Derek and the Dominos Bassist Carl Radle
Fin Costello, Getty Images
Much of the time, the bass player is the glue that holds a song together, and his contributions are often felt as much as they're truly heard. Carl Radle, the Tulsa native who grew up to play for and alongside a long list of artists that included Eric Clapton, George Harrison, and Joe Cocker, had more feeling than most.
Born June 18, 1942, Radle was bitten by the music bug early, and had the good fortune to spend his formative years playing and gigging alongside a group of local peers who'd go on to have a profound impact on his career: JJ Cale and Leon Russell. It was Russell who offered Radle his entree into the music business, inviting him out to California to participate in a number of early gigs that led to the duo's stint together backing Gary Lewis and the Playboys.
After leaving the Playboys, Russell made another fateful intervention when he connected Radle with Delaney and Bonnie Bramlett, thus helping form the nucleus of Delaney and Bonnie and Friends, the group whose low-key charms showed Clapton what he was missing when they opened for Blind Faith during the supergroup's ill-fated tour.
Before the end of 1970, Radle joined up with fellow Friends alumni Bobby Whitlock and Jim Gordon to back Clapton on the Derek and the Dominos's LP Layla and Other Assorted Love Songs. But first, he had some other high-profile gigs, including reuniting with Russell to tour with Cocker as part of the Mad Dogs and Englishmen band, and chipping in during the sessions for Harrison's All Things Must Pass.
Radle's association with Clapton ended up bringing him his greatest renown. Following the Layla album, the Dominos dissolved and Clapton descended into a lost period marked by heavy drug use. Radle turned to session work, but never lost touch. In a Rolling Stone interview, Clapton credited Radle with drawing him out of seclusion and back to music, saying the first spark came in the form of a demo he mailed to Clapton. "I listened to it and played along with it and it was great," Clapton recalled. "I sent him a telegram saying, 'Maintain loose posture, stay in touch.' And at some point after that, I started to get straight."
That experience ultimately led to 1974's 461 Ocean Boulevard, which Clapton recorded in Miami with Radle and the musicians he'd been playing with on the demo, keyboardist Dick Sims and drummer Jamie Oldaker. This core group anchored Clapton's tours and albums for the next five years, a period that included massive hits such as Slowhand and Backless.
Radle also stayed busy with session work during this period, amassing an impressive list of credits that brought him to the attention of everyone from Buddy Guy to the Band (with whom he can be spotted playing during The Last Waltz). Even after Clapton decided to dissolve his group in 1979, Radle's career seemed to hold boundless promise and opportunity.
Sadly, he wouldn't live long enough to fulfill that promise. Radle passed away on May 30, 1980, succumbing to what his website said were "the effects of alcohol and narcotics" at the age of 37. He still had so much left to play when he died, but Radle's influence continues to be felt by subsequent generations of musicians: He was posthumously inducted into the Oklahoma Music Hall of Fame in 2006, and testimonials from the likes of Bass Musician Magazine to his simple yet distinctive style.
Eric Clapton Albums Ranked
Eric Clapton had already carved out a respectable career for himself before he issued his first solo album.
See Eric Clapton's Guitar Hero Yearbook Picture
More From Ultimate Classic Rock