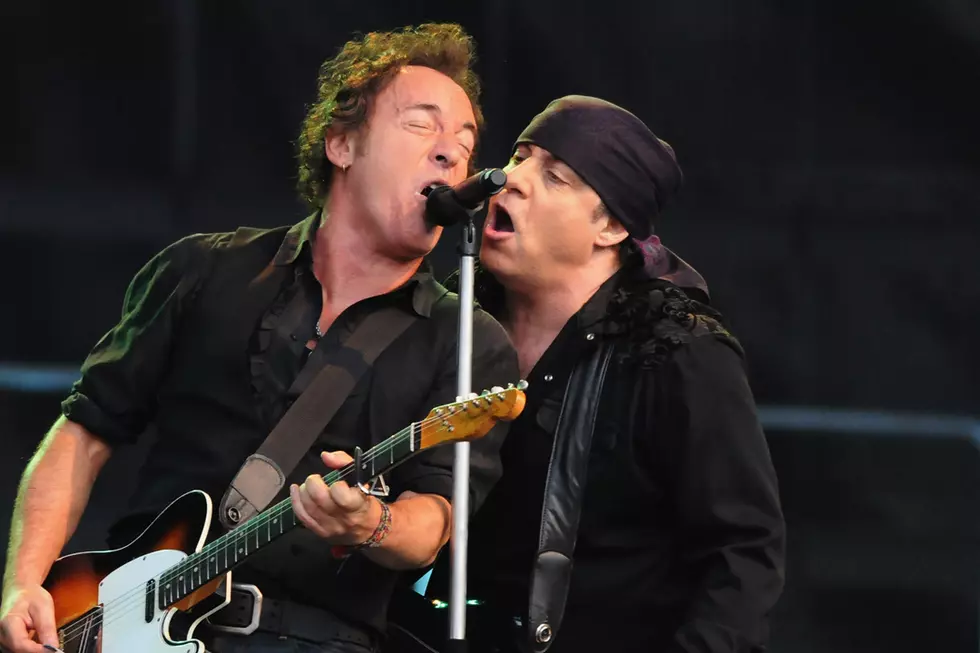 Bruce Springsteen Releases Rarity-Filled Concert From 2008
Jim Dyson, Getty Images
With his tour of Australia and New Zealand completed, Bruce Springsteen has resumed releasing classic concerts from his vault. Yesterday (April 14), he gave fans his Aug. 23, 2008 show from the Scottrade Center in St. Louis.
The blurb on the concert's listing reads, "On the 2007-08 Magic tour, fans began bringing song-request signs. Bruce seemed to revel in the challenge, while the suggestions also appeared to inspire him to resurrect songs he hadn't played in decades. There's no finer show to capture this fan-artist dynamic than this outstanding performance in St. Louis on 8/23/2008 including the surprise opener of the Crystals' 'Then She Kissed Me' and Chuck Berry's 'Little Queenie' during the encore."
In addition to those two covers, Springsteen also aired out rarely-played-these-days songs like "Rendezvous," "For You," "Drive All Night" "Detroit Medley" and Harold Dorman's "Mountain of Love," which he hadn't performed since a New Year's Eve concert at Philadelphia's Tower Theater in 1975.
This marks the first archival concert from Springsteen this year. Shortly before Christmas, he gave an official release to his Nov. 22, 2009 concert from the HSBC Arena in Buffalo, N.Y. It contained the only full-album performance of his debut, Greetings From Asbury Park, N.J., and was the final E Street Band show with Clarence Clemons, who passed away a year and a half later.
You can purchase the show from his website.
Bruce Springsteen and the E Street Band, Scottrade Center, St. Louis, Aug, 23, 2008 Setlist
1. "Then He Kissed Me"
2. "Radio Nowhere"
3. "Out in the Street"
4. "Adam Raised a Cain"
5. "Spirit in the Night"
6. "Rendezvous"
7. "For You"
8. "Mountain of Love"
9. "Backstreets"
10. "Gypsy Biker"
11. "Because the Night"
12. "Not Fade Away" / "She's the One"
13. "Livin' in the Future"
14. "Cover Me"
15. "Mary's Place"
16. "Drive All Night"
17. "The Rising"
18. "Last to Die"
19. "Long Walk Home"
20. "Badlands"
21. "Girls in Their Summer Clothes"
22. "Jungleland"
23. "Detroit Medley"
24. "Born to Run"
25. "Dancing in the Dark"
26. "American Land"
27. "Thunder Road"
28. "Little Queenie"
Bruce Springsteen Albums Ranked Worst to Best
More From Ultimate Classic Rock