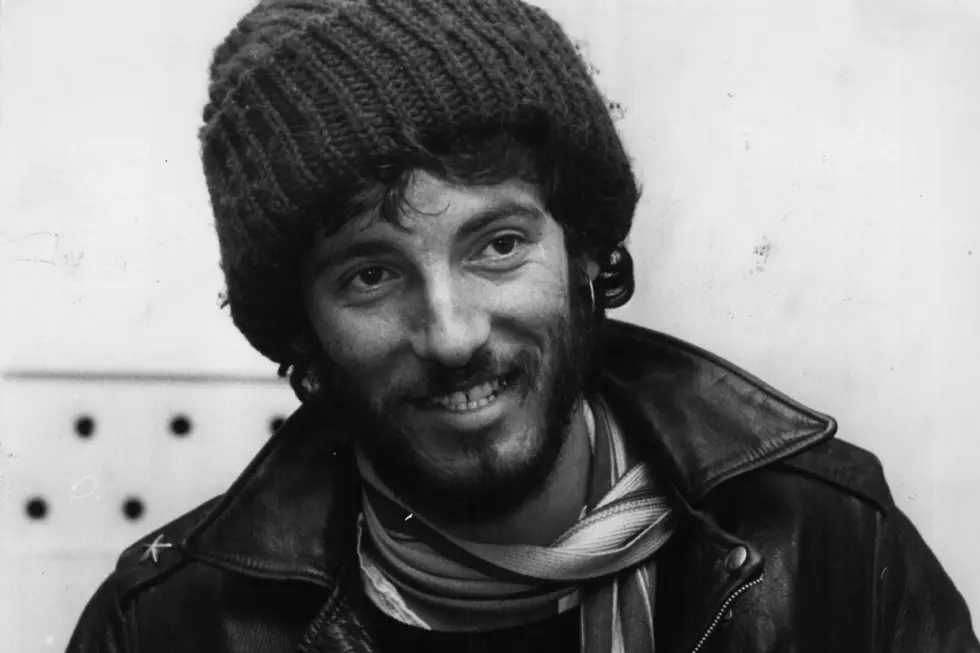 Top 10 Bruce Springsteen Love Songs
Monty Fresco, Getty Images
Bruce Springsteen love songs aren't your traditional "moon in June" exercises. Just like in the real world, love is much more complicated. The Boss sings about love like it's something that requires battle armor, something for which you need to steel yourself.
Being in love would sound awful, if Springsteen also didn't make it sound like the only thing that matters. He's delivered songs about heartbreak and passion, lust and disgust, secret gardens and hungry hearts. He's told us how love can rip you apart or put you back together. How it can illuminate the truth or spin you around until you don't know anything anymore. That's what love can do.
Springsteen has covered love from so many perspectives, it's difficult to run the gamut in a mere 10 songs. But let's give it a try. If you're rough and ready for love, check out the list below.
10

"Two Hearts"

From: 'The River' (1980)

This power pop chestnut contains what might as well be Bruce's credo: "Two hearts are better than one." It informs so many of Springsteen's love songs, written before and after this one. No one was born to run alone – Wendy's gotta come with. He tells us that the journey to true love is riddled with heartbreak and foolish ideas, but the end result is worth it. You can find solace, acceptance and deliverance, if you can just discover your "special one." In concert, Springsteen makes a pretty compelling argument, with the help of Stevie Van Zandt on vocals. It takes two.

9

"Girls in Their Summer Clothes"

From: 'Magic' (2007)

Springsteen's Grammy-winning single takes us on a walk around town with an older guy named Bill. Kids are playing in the streets, downtown shops are bustling and the girls are looking pretty good in their seasonal attire. It's a perfect summer evening, conveyed by the Boss's full-throated vocal and the song's Pet Sounds-meets-E Street orchestration. It's not until two-thirds into the song that we learn that poor Bill is nursing a broken heart. But, after he leaves his house (maybe for the first time in a while), he feels rejuvenated by what he sees. He's not out to score; he's just happy to win a glance from one of the beautiful girls that passes him by. Bill's conclusion: "Love's a fool's dance / I ain't got much sense but I still got my feet." It's never too late.

8

"Candy's Room"

From: 'Darkness on the Edge of Town' (1978)

This song began as "Candy's Boy," a sauntering little ditty where Candy's boy ends up being hunted by Candy's man (you can hear that version on 2010's The Promise). But "Candy's Room" focuses less on plot and more on feeling. Springsteen howls about a wild, blood-rushing, eye-melting desire – the kind that only burns hotter when obstacles are placed in front of it. The song is a three-minute burst that rushes from a whisper to an adrenaline-fueled charge and reaches its breaking point with Springsteen's needle-nosed solo.

7

"Reno"

From: 'Devils & Dust' (2005)

When Springsteen released his third folk album, Devils & Dust, more than a few fans were unsettled by the "adult" lyrics in this song, about a man's encounter with a prostitute. But to skip this track is to miss an absolutely devastating portrayal of lost love and one man's desperate attempt to glimpse it once more. He and his companion agree to terms. As she begins to work, the synthesizers swell and the man envisions paradise – the days he spent surrounded with Maria's love. So does this little exercise make him feel better? Spoiler alert: The last line of the song is "Not even close."

6

"Because the Night"

From: 'The Promise' (2010)

This smoldering gem went from Darkness on the Edge of Town leftover to Top 20 hit when Springsteen gave it to punk poet Patti Smith – who added a few lyrical touches. (Springsteen's studio version went unreleased until 2010's The Promise collection, although it became a concert staple.) Regardless of who's singing it, "Because" is an anguished ode to lust and love. This is the kind of passion that seems to protect two people from the rest of the world. It can even make the world disappear, even if only for a night.

5

"Brilliant Disguise"

From: 'Tunnel of Love' (1987)

This list could have contained a bunch of Springteen's love songs from Tunnel of Love, the album in which he stopped crafting widescreen epics and started making home movies. The Roy Orbison-esque "Brilliant Disguise" is a deeply personal song that explores the mysteries and frailties of marriage. It's frustrating when something so bad comes from something that was so good; it's maddening when you don't quite know why. In the bridge, Bruce warbles, "I want to know if it's you I don't trust / 'Cause I damn sure don't trust myself."

4

"Rosalita (Come Out Tonight)"

From: 'The Wild, the Innocent and the E Street Shuffle' (1973)

Springsteen once called this concert showstopper one of his best love songs. It's hard to argue with that. "Rosalita," in all its exuberance, captures the gleeful excitement of young love. There are no shadows or uncertainties – just parents who won't let Rosie out to play. And Bruce is determined to "liberate" her and run away with his record contract money to San Diego. It's a precursor to the "escape" songs of Born to Run. Where those songs are about getting out while you can, "Rosalita" is about getting out because it sounds like a blast. There's no desperation, just an unyielding desire to run away with your girlfriend. Wild and innocent, indeed.

3

"The River"

From: 'The River' (1980)

It's a short drive from dreams of desire to the stark realities of life. In this centerpiece of The River double album, Bruce sings of a teenage couple who get pregnant. Nearly every detail that follows is a punch to the gut: a joyless wedding, a young man who can't provide, a woman who feigns indifference … just because it's easier. It gets so bad that they can't even find joy in their memories of the times when they used to dream about the future. Springsteen sings, sadly and soulfully, "Is a dream a lie if it don't come true, or is it something worse?"

2

"I'm on Fire"

From: 'Born in the U.S.A.' (1984)

Compared to other classic Springsteen love songs, the sparse "I'm on Fire" is practically a haiku. But Bruce makes every word count, quietly moaning about an itch that has gone unscratched. This midnight locomotive of a song is a powerful portrait of sexual obsession, made all the more unsettling by his reserved delivery. Someone who's ranting and raving about a six-inch valley in the middle of his soul is just having a moment of weakness. But this guy, with his quiet determination, has been thinking about this for a little too long. For this guy, love is a bloodsport.

1

"If I Should Fall Behind"

From: 'Lucky Town' (1992)

Has a pledge of fidelity ever been expressed so gently, so truthfully, so lovingly in song? This sweet little tune debuted on Lucky Town, but the definitive version was performed during the second encore of the 1999-2000 E Street Band reunion tour (Springsteen, Van Zandt, Nils Lofgren, Patti Scialfa and Clarence Clemons all took turns at the mic). The song features a mature view of love that acknowledges the inevitable pitfalls of relationships. "If I Should Fall Behind' doesn't claim that the sheer force of passion will overcome the odds. No, patience will win out – as long as each person is committed. "I'll wait for you / Should I fall behind, wait for me": it's just that simple, and just that difficult.
More From Ultimate Classic Rock