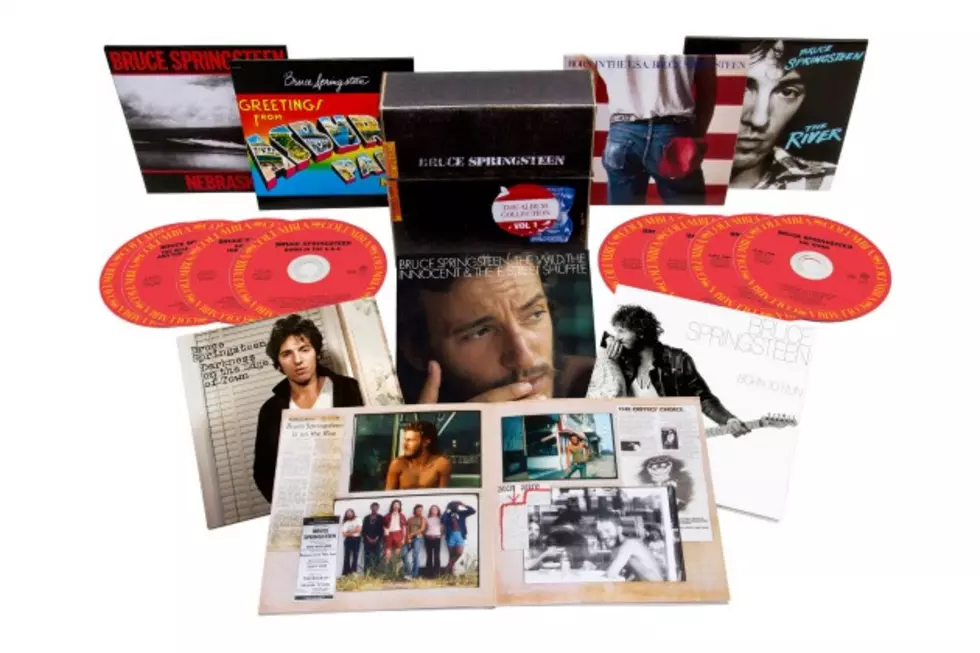 'Bruce Springsteen: The Album Collection Vol. 1 1973-1984′ Arriving in November
Sony
Got any Bruce Springsteen fans on your holiday shopping list? The folks at Legacy just made your job a little easier.
On Nov. 17, Springsteen's first seven albums -- 'Greetings From Asbury Park, N.J.' (1973), 'The Wild, The Innocent and the E Street Shuffle' (1973), 'Born to Run' (1975), 'Darkness on the Edge of Town' (1978), 'The River' (1980), 'Nebraska' (1982) and 'Born in the U.S.A.' (1984) -- will be collected in a new box, the descriptively titled 'Bruce Springsteen: The Album Collection Vol. 1 1973-1984.'
All seven of these releases have been newly remastered from the original tapes by renowned engineer Bob Ludwig, who worked alongside his colleague Toby Scott with input from Springsteen. Somewhat surprisingly, given how thoroughly the major labels have plundered their vaults for reissues over the years, this marks the first time that five of these albums have been remastered for CD: 'Greetings,' 'Shuffle,' 'River,' 'Nebraska' and 'Born in the U.S.A.' are all making their audio face lift debut.
Saying Springsteen "wanted to make his early catalog have optimum quality going forward," Ludwig told Backstreets that the remastering process for the albums was unusually in-depth, owing to the development of a new technique called the Plangent Process. "It yields better separation, less distortion and a solidity to the sound that can be really remarkable," he explained. "I didn't expect that the first three albums especially would sound so suddenly clear and full of depth. ... I was hearing parts that had never stood out before, and the arrangements seemed to come together in a way that I was literally hearing for the first time. The horns and percussion on 'E Street Shuffle,' the guitars on 'Sandy' ... it's all great."
'The Album Collection' -- which also includes a 60-page book offering rare photos, memorabilia and original press clippings collected from the era covered in the box -- will arrive alongside fresh vinyl remasters for all seven of the albums. It follows a similarly titled import release from 2010, which offered the albums in mini LP-style packaging, but included neither the book nor the remasters.
More From Ultimate Classic Rock