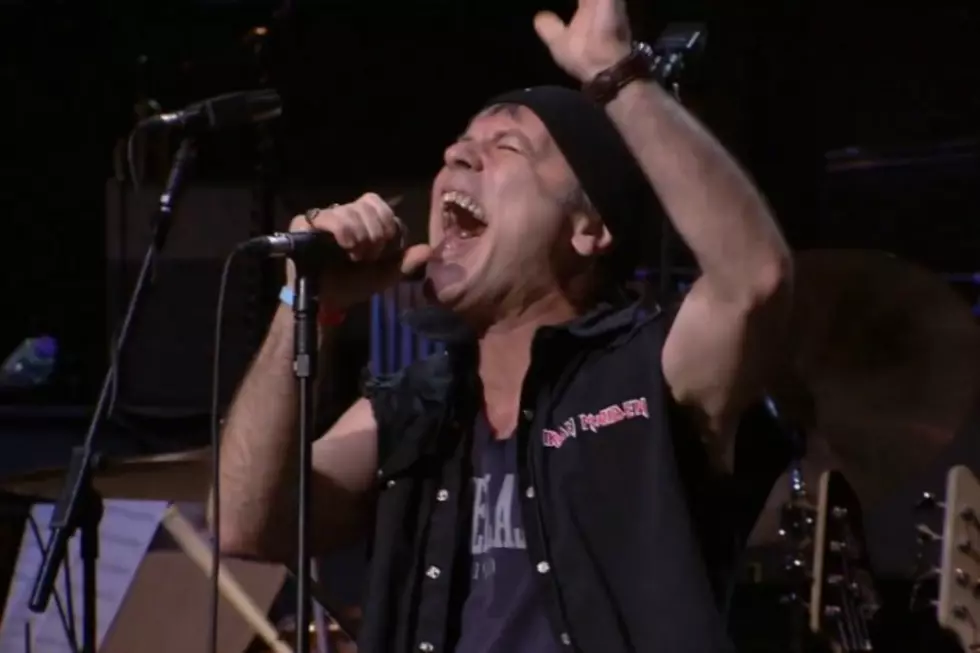 Watch Bruce Dickinson and Glenn Hughes Perform Deep Purple's 'Burn'
YouTube
We're still weeks away from the Sept. 26 release of the live film and CD 'Celebrating Jon Lord at the Royal Albert Hall,' but you can catch an early glimpse of the concert's contents right now.
As we previously reported, 'Celebrating Jon Lord' brings together some of the former Deep Purple keyboardist's friends and peers to pay tribute to his life and musical legacy, cut short when he passed away in 2012 after being diagnosed with pancreatic cancer.
Divided into three sets, with the third devoted to a performance from the current Purple lineup, the collection will be available on DVD, CD and digital download formats, as well as in a deluxe box that bundles an assortment of extra content (including a shirt, a copy of Lord's score for 'Sarabande' and the concert's program) along with a pair of limited-edition 7" LPs and the concert on Blu-ray and CD.
Check out Hughes and Dickinson's performance above, and take a look at the complete track listing below.
First Set
Comments from Vicki Lord
Introduction: Bob Harris
'Fantasia from Sarabande' – House Band (Nigel Hopkins, Wix Wickens, Murray Gould, Jerry Brown, Neil Murray, Mario Argandona) and orchestra
'Durham Awakes' from 'Durham Concerto' – Jacqueline Martens, Matthew Barley, Kathryn Tickell, Nigel Hopkins, orchestra
'All Those Years Ago' – Steve Balsamo, Anna Phoebe, Micky Moody
'Pictured Within' – Miller Anderson, Matthew Barley
'Sarabande' from 'Sarabande' – Rick Wakeman, House Band, orchestra
'One From the Meadow' – Margo Buchanan, Wix Wickens, Murray Gould
'Bourree from 'Sarabande' – House Band, orchestra (world premiere of orchestral introduction for Jon Lord)
'Afterwords' – Jeremy Irons, Paul Mann

Second Set
Remarks by Joe Brown
'I Take What I Want/Things Get Better' featuring Paul Weller
'Silas and Jerome'
'I'm Gonna Start Drinking' featuring Phil Campbell, Bernie Marsden, Andy Wallace, Nick Fyffe, Ian Paice
'Soldier of Fortune' featuring Steve Balsamo and Sandi Thom
'You Keep on Moving'
'Burn' featuring Glenn Hughes, Bruce Dickinson, Ian Paice, Don Airey, and Rick Wakeman
'This Time Around' featuring Glenn Hughes

Deep Purple Set
'Uncommon Man'
'Above and Beyond'
'Lazy'
'When a Blind Man Cries'
'Perfect Strangers'
'Black Night'
'Hush'