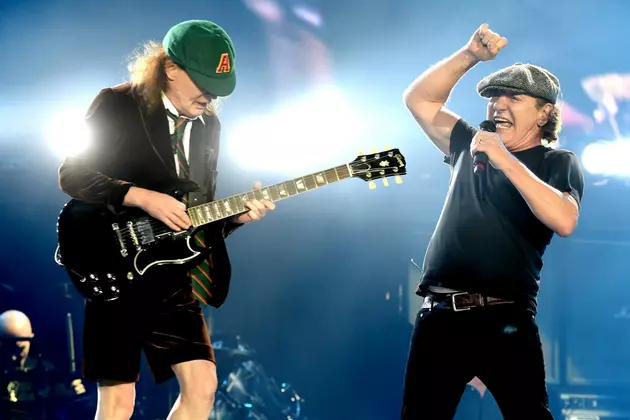 Has Brian Johnson Been 'Kicked to the Curb' by AC/DC?
Kevin Winter, Getty Images
Brian Johnson's hearing loss may not be as bad as initial reports suggested — but AC/DC might be moving on without him anyway.
Word of Johnson's reportedly tenuous future comes courtesy of comedian Jim Breuer, a friend of the singer who discussed their latest visit during an episode of his The Metal in Me podcast, which you can stream below. According to Breuer, whose commentary was earlier reported by the Canton Repository, Johnson has essentially been "kicked to the curb" by group leader Angus Young after fronting AC/DC for 36 years.
UPDATE: Breuer has since posted a series of follow-up comments on Facebook. The first one says, "I definitely exaggerate and sometimes I get a little carried away!! And this was one of those times!" In the second, posted a few hours later, Breuer says, "All Brian said was "I feel down & want to finish the job and hope it happens!" The rest was ME GOING OFF." Then, in a video, Breuer adds, "I'm not quoting Brian Johnson. It's me venting. He didn't say a lot of those things."
I have seen some stories circulating about my podcast. As a friend, I saw Brian withdrawn for the first time in my life....

Posted by Jim Breuer on Tuesday, March 15, 2016
Just to Clear the air- I was NOT QUOTING Brian Johnson- I was sad to see him depressed . I was Venting Things I felt to...

Posted by Jim Breuer on Tuesday, March 15, 2016
 
Breuer describes Johnson as "really depressed" on the original podcast, saying he got the singer's side of the story during a visit to his home in Florida. Although Breuer repeatedly stressed that he's only heard Johnson's version of events, he came away with a picture of an inner dynamic that sounds surprisingly dysfunctional for a band that's managed to stay together this long.
As Breuer tells it, Johnson sought a second opinion after being warned that he faced total hearing loss if he continued to tour, and was told that the damage wasn't actually as bad as he'd initially been led to believe. It was apparently too little, too late for Young, however — the next thing Johnson knew, "all his luggage that he ever toured with showed up in his driveway." Adding insult to injury, Breuer said Johnson told him that "there's been no calls" from anyone in the band — either to explain their decision or to simply check on his well-being — and said "I feel like I've been kicked to the curb."
The band is reportedly seeking guest vocalists for the remainder of their current tour, but Breuer says Johnson suspects they've already lined up a replacement for what he described as a "karaoke guest stars" series of events. Also according to Johnson via Breuer, Young may want to carry on with some version of AC/DC for another decade — one more album, and one more tour.
Of particular interest to longtime fans is Breuer's description of Johnson's state of mind regarding his place in AC/DC. He described the singer as feeling like a "hired gun" even after all these years, and said that when he expressed incredulity toward the notion that none of the band members has even discussed the move with him, Johnson shrugged that communication in the group is "not what you think." This is all yet to be confirmed, but the connection between Breuer and Johnson is well-documented, and the situation is definitely worth keeping an eye on. Check out the complete episode below.
AC/DC Albums Ranked Worst to Best
More From Ultimate Classic Rock